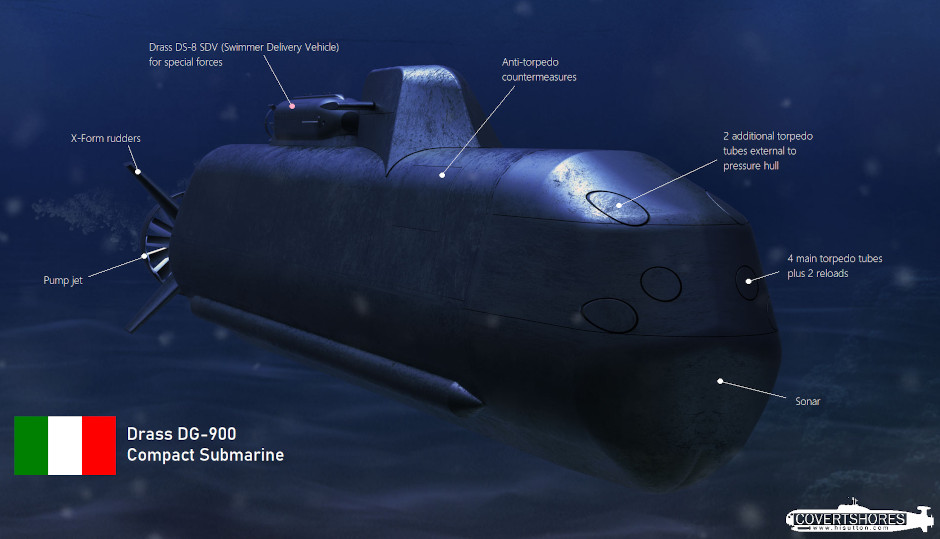 CLICK to enlarge. Original graphic by Drass, annotated by me.

Drass DG-900 Compact Submarine

There is renewed attention on Italy's tradition of midget submarine design and construction. Qatar has ordered two subs from an unreported Italian midget submarine manufacturer. One of the possible firms is Drass (the other being GSE Triste). The DG-900 represents the most capable design in the current Drass range. (Main Drass article Here, company website Here)

This design is particularly interesting because it is essentially coming at patrol submarines by scaling up proven midget submarine technology. Conceptually this may have some advantages versus trying to scale down traditional submarine designs.

The secrecy surrounding Italian midget submarine manufacture is legendary. Drass are an established name in the defense industry supplying hyperbaric chambers for diver decompression. They also offer a range of SDVs and midget submarines which are the evolution of the previous Cos.Mo.S designs. Their connection to Cos.Mo.S has been known in relevant circles but it is only very recently that they went public with their new-build offering.


The DG900 is the largest design in Drass' compact submarine range. As the name implies, it displaces 900 tons. The operational is that the submarine is large enough to function as a regular patrol submarine, yet still compact enough to operate in the special inshore roles. Relative to Drass' smaller types it offers improved underwater performance, endurance and armament.

The most distinctive feature is its novel sail design with sculptured forward surfaces and the dive planes mounted relatively far aft. This contains several non-penetrating masts including a DRASS optronic mast. The hull uses a double-hull construction but with the pressure hull frames on the inside. This unusual arrangement is the evolution of the Cos.Mo.S midget submarines design. At the stern new X-form control surfaces lead to a large-diameter basic pump jet.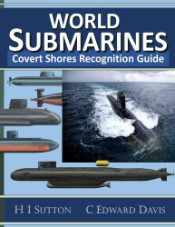 Get The essential guide to World Submarines
This Covert Shores Recognition Guide Covers over 80 classes of submarines including all types currently in service with World Navies.
Check it out on Amazon

Inside it is comparatively traditional, at least compared to the smaller Drass designs. There are four 533mm (21 inch) torpedo tubes in the bow. These enter a torpedo room with capacity for two reloads. And two additional torpedoes can be mounted under the casing in external tubes. Beneath the tubes is a modest cylindrical array sonar.

In common with other Drass types the design emphasizes minimum crew needs. It is also able to host AUV (Autonomous Underwater Vehicles) and SDVs (Swimmer Delivery Vehicles). Drass builds both.

DG-900 Specifications
Displacememt: 790 tons surfaced, 900 tons submerged
Length: 50 m
Width: 5.5 m hull diameter, 5.5 m overall
Height: 9.8 m
Crew: 18 + 9 PAX (increased to 16 if no torpedo reloads are carried)
Range: 5,500 nm, 250 nm on batteries
Speed: 16 kt max submerged, 5 kt cruising, 9 kt surfaced
Operating depth: 250 m
Armament: 4 x 533mm torpedo tubes plus 2 reloads standard, plus 2 x 533mm torpedoes externally, 12 bottom mines
Other: 1 x 8-person SDV (swimmer delivery vehicle), or 3 AUVs (Autonomus underwater vehicle). Or 3 ROVs (remote operated vehicles) or 1 UAV (uncrewed air vehicle)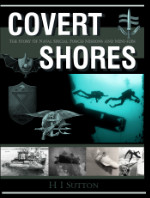 The ultimate book of Special Forces subs Covert Shores 2nd Edition is the ONLY world history of naval Special Forces, their missions and their specialist vehicles. SEALs, SBS, COMSUBIN, Sh-13, Spetsnaz, Kampfschwimmers, Commando Hubert, 4RR and many more.
Check it out on Amazon


The SDV carried is likely to be the Drass DS-8 which is generally analogues to the US Navy's SDV Mk.VIII Mod-0 and newer Mk.XI. It is larger than the rival Italian Deep Shadow from CABI Cattaneo.

This 9 meter long wet-sub can transport 8 combat swimmers 60 nautical miles at depths of up to 30 meters (100 meters transit depth). It is 1.42 meters wide and capable of 7 knots.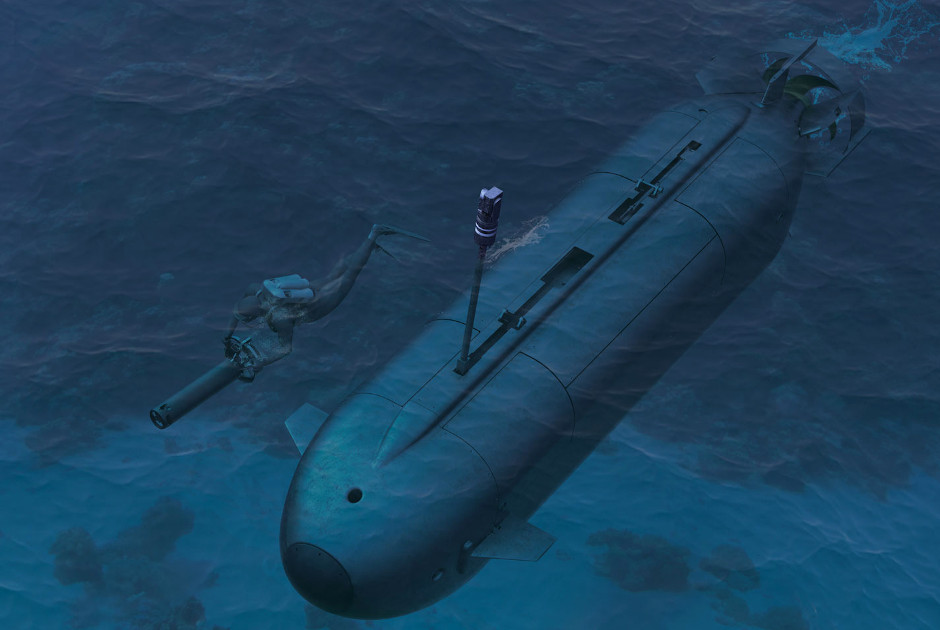 DS-8 SDV. Image, Drass

---
Related articles (Full index of popular Covert Shores articles)



Cos.Mo.S CE2F chariot



Iranian Fateh Class submarine w/Cutaway



Cos.Mo.S Nessie Fast SDV submersible boat




Cos.Mo.S CE4F 4-man SDV




Vogo 'Chariot' SDVs (SDV-300, SDV-340...)




COMSUBIN's submersible boat




Mignatta first human torpedo



Decima MAS attack on New York 1943 (CA Class)



Deep Shadow SDV




EMT FWS-1 to -5 Barracuda SDVs