Updated. Originally posted 8th Dec 2016


After years of a methodical national program Iran has finally joined the exclusive club of nations able to design and build large submarines. Starting with very crude midget submarines in the 1980s, the Iranian indigenous submarine program has progressed through several midget submarines and now, with the commissioning of Fateh, full-size submarines. There has been significant external influence along the way, notably from North Korea who very visibly supplied MS-29 Yono Class midget submarines which were put into serial production locally as the IS-120 Ghadir Class. And there has also been some liaison with Russian and Chinese organizations. Ultimately however the Fateh is a legitimate indigenous product and Iran deserves some credit in this regard.

Original artwork based on photo analysis - CLICK IMAGE FOR HIGH-RESOLUTION:


The resulting boat is all the same small and limited in comparison to contemporary submarine designs. Having said that, thanks to its larger weapons capacity and longer endurance it will, individually, be more potent than Iran's midget submarines and allow more effective operations in the Arabian Sea. It is therefore militarily useful.

IRIS-Fateh was launched in September 2013 with the hull number 961, and subsequently refitted following sea trials before being commissioned into the Iranian Navy on 17th February 2019 with the hull number 920.


Photographs by Mohammad Aqa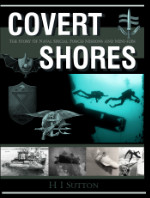 The ultimate book of Special Forces subs Covert Shores 2nd Edition is the ONLY world history of naval Special Forces, their missions and their specialist vehicles. SEALs, SBS, COMSUBIN, Sh-13, Spetsnaz, Kampfschwimmers, Commando Hubert, 4RR and many more.
Check it out on Amazon

Whether it will be seen as worthwhile putting into serial production remains to be seen. Possibly Iran will continue to strive for larger and more capable indigenous submarines to ultimately replace the imported Russian KILO Class which is over twice the size of the Fateh. It's also possible that Iran will focus on an indigenous ballistic missile submarine although there is currently no convincing evidence of a submarine launched ballistic missile program.


*Photographs by Mohammad Aqa*
After her pre-commissioning refit Fateh was fitted for a special forces container behind the sail. The design appears to be the same as the one fitted to the Ghadir Class, and can be used for inflatable boats and stores which cannot be taken out of the submarine's lock-out chamber.

Specification
Displacememt: 527 tons surfaced
Length: 48 m
Hull diameter: 4.4 m
Speed: 11 kt surfaced, 14 kt submerged
Operating Depth: 200 m
Test Depth: 250 m
Endurance: 35 days
Powerplant: diesel-electric
Armament: 4 x 533mm (21") torpedo tubes with two reloads (6 total)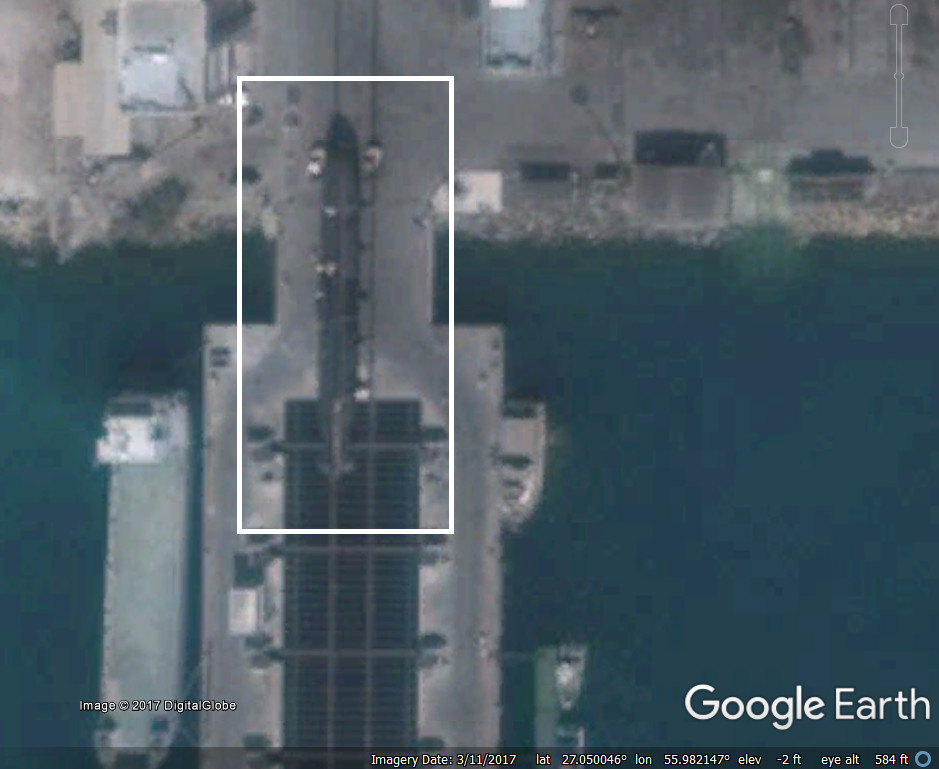 Interior


Photographs by Mohammad Aqa
The new class of submarine is significant for several reasons. Firstly she is much larger than previous Iranian made boats and can carry at least four torpedoes. Her length is estimated to be 48m and her beam about 4.4m, giving her a displacement in the region of 500 tons.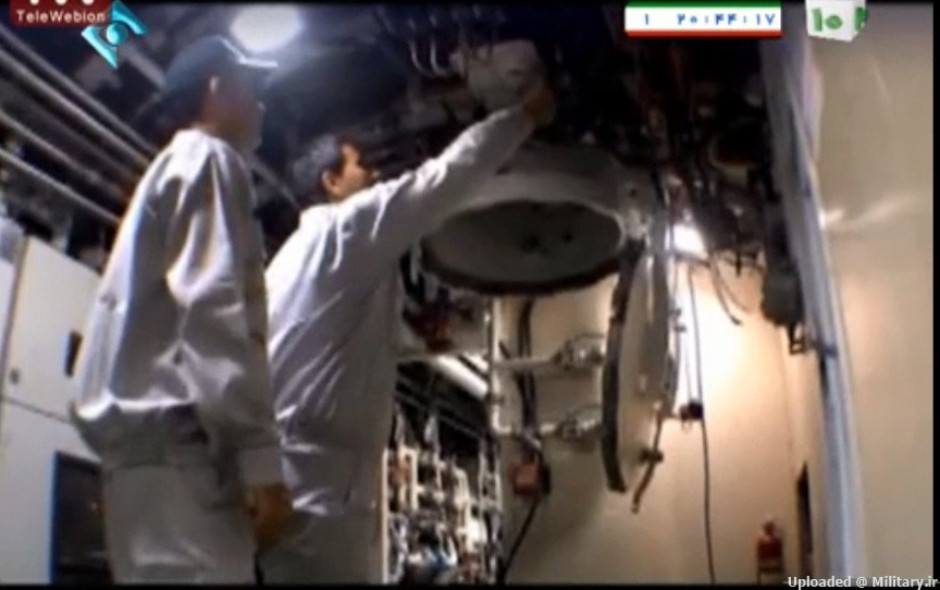 The diver lock-out trunk appears similar to the Ghadir Class, and is mounted forward of the Control Room under the sail

She will be suitable for anti-ship missions but will be sorely limited against other submarines. Indications are that its sensor fit is modest (possibly much borrowed from the Ghadir although it should be assumed to likely more effective), and there are limited noise-reduction features.

Weapons
The main armament is likely to be the locally produced YT-534-UW1 heavyweight anti-ship torpedo, which is an improved version of the North Korean PT-97W /YT-534-W1.

Fateh could possibly be equipped with the indiginous Jask-2 submarine-launched anti-ship missile which is was reportedly tested at Velayat-97 war games. The Jask-2 is based on the small Nasr-1 missile. In practice submarine launched anti-ship missiles are relatively short ranged unless they have off-board targeting, which is unlikely in this case, both tactically and technologically. The engagement range of the missile would be approximately 15-25 nautical miles depending on target size, limited by the height of the submarine's radar mast.

If the Iranian copy of the Russian VA-111 Shkval supercaviating rocket-torpedo, known as Hoot in Iran, enters production, then Fateh is an obvious platform. Although impressive engineering, the Shkval would be of limited use tactically. The example Iran has shown was wire guided.

1. 2. 3.

YT-534-UW1 torpedo. 2. Iranian submarine launched anti-ship missile (TBC). 3. Hoot.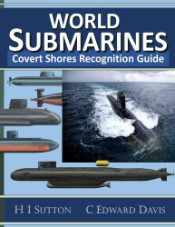 Get The essential guide to World Submarines
This Covert Shores Recognition Guide Covers over 80 classes of submarines including all types currently in service with World Navies.
Check it out on Amazon

Selected older photos








Ghadir submarine - a much smaller imported design used by both the Iranian Navy and the Revolutionary Guard Navy (IRGCN).

Origins


Design
The Fateh is about 48m long with a generally conventional hull form with blunt vertical bow and tapered stern. This is similar to the German Type-206 series deigns and former-Yugoslavian 821 (Heroj) and 831 (Sava) classes. A useful load of six torpedoes or approximately twelve mines can be carried.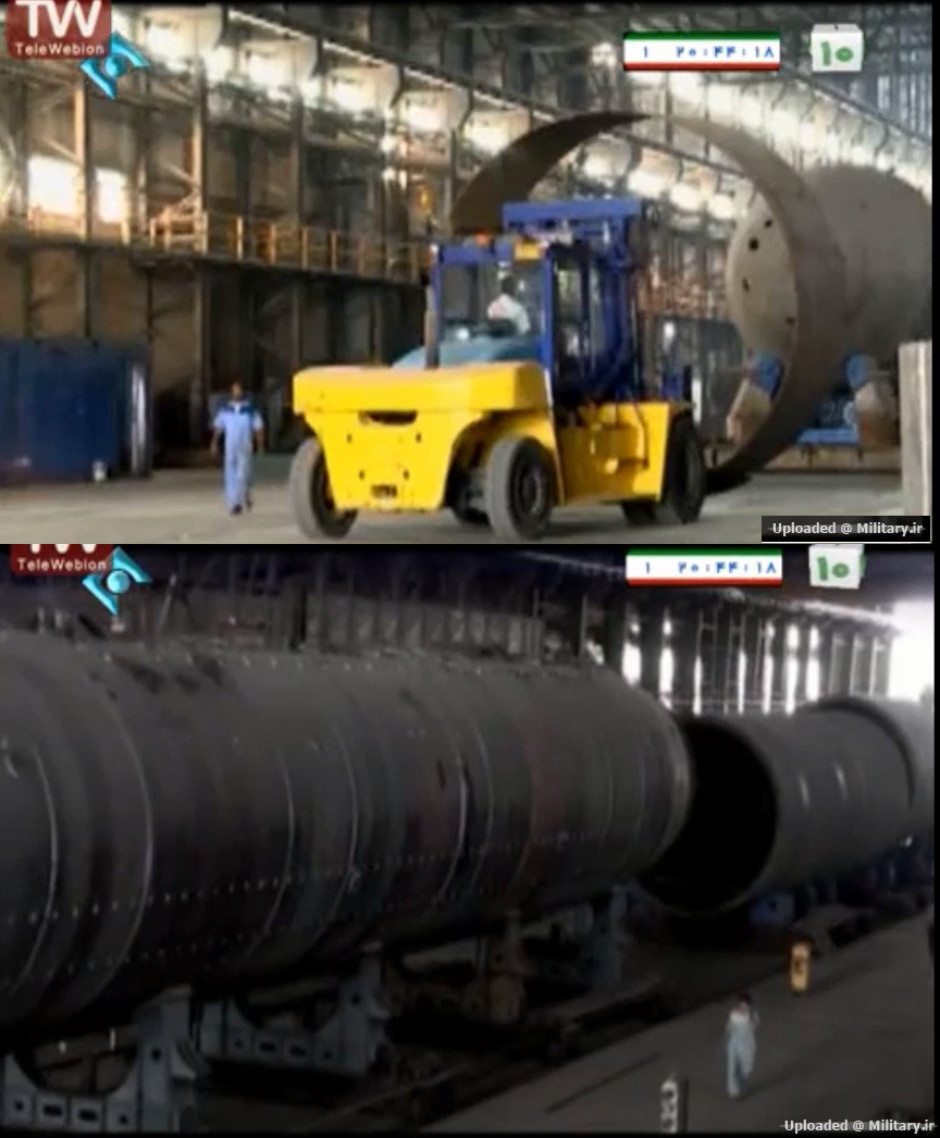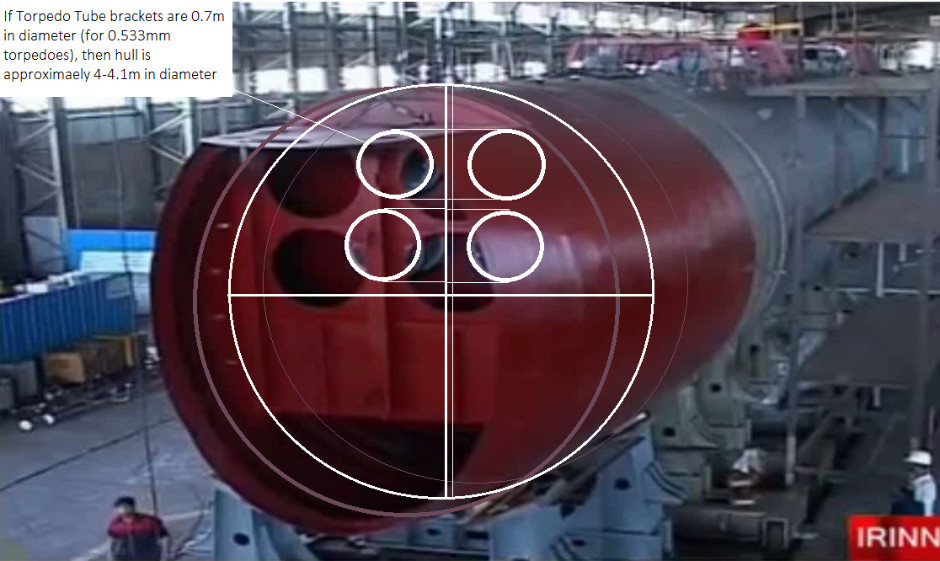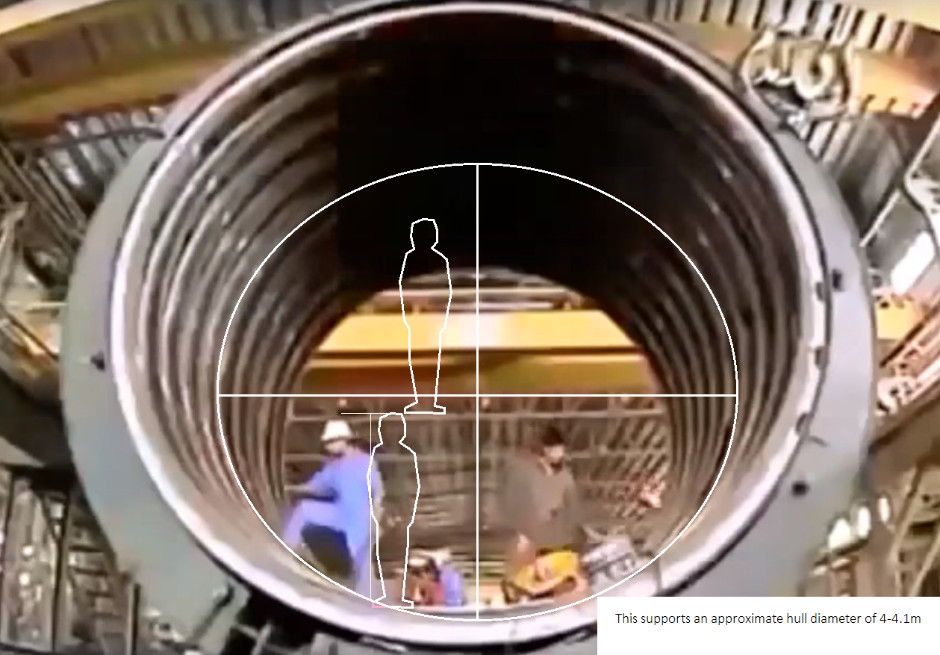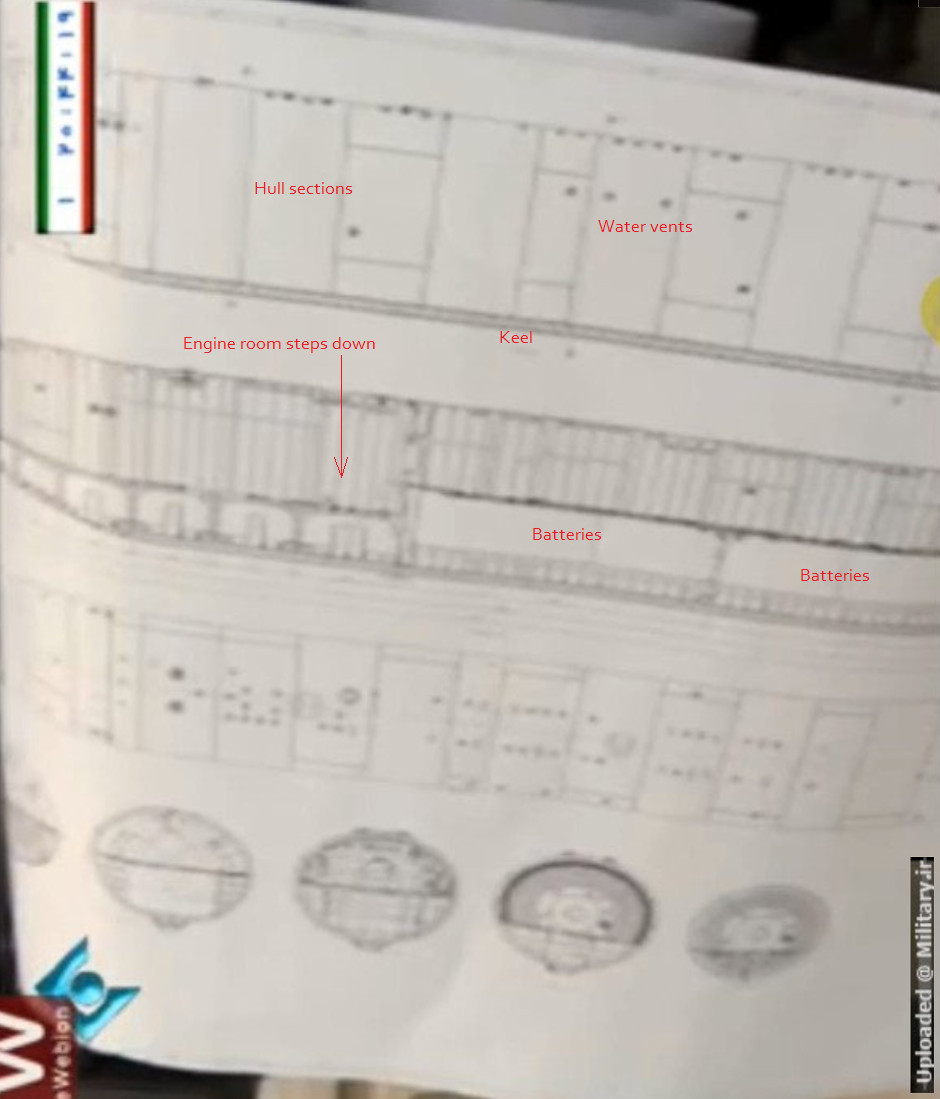 Helpfully, we got a glimpse of some construction plans. There is a lot this doesn't show, and yet a lot we can deduce:

Below the torpedo tubes is space for circular sonar arrays with asmaller set mounted above them. The sensor suite of a boat this size will be relatively limited but still much more powerful than on the smaller Ghadir. The sail is set quite far back along an unusually stepped forward casing which barely rises above the top of the hull at the bow, before rising up halfway along to allow the forward hydroplanes to be mounted. The sail has a blended leading edge similar to the latest American boats. Curiously there is an external ladder up the forward part of the sail rather than a hatch, suggesting a diver lock-out is built into it like on the Ghadir.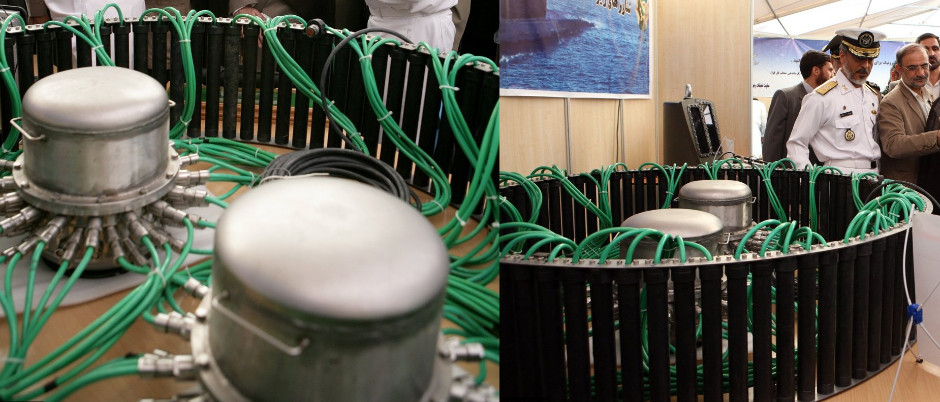 An Iranian made circular sonar array consisting of vertical staves. This layout is similar to WW2 and 1950s Soviet designs.

Behind the sail the casing extends in a more conventional manner, with a hatch down to the engine room part way along it. This is a luxury not afforded to the crew of the Ghadir. The tail is conventional with a cruciform arrangement and a five-bladed screw-back propeller which could well be the same type as on the Ghadir. Unlike the Russian supplied KILO submarines operated by the Iranian Navy she appears to be a single-hull design. Having said that, there are a series of flood holes along her beam whose exact placement are hard to explain but will relate to the ballast tanks.

---
Related articles (Full index of popular Covert Shores articles)



SBS Archimedes SDV



INS Arihant, Indian SSBN and .2



History of Israeli subs



North Korean SSBN program - Sinpo Class





Taedong-B 'Kajami' ('Zulfikar') submersible boat




Al-Sabehat 15 Swimmer Delivery Vehicle and related development