The IRGC's Newest And Most Powerful Warship: A Balanced Look

Iran's IRGC (Islamic Revolutionary Guard Corps) has a reputation for hyperbolic military claims. Their latest asset, Shahid Roudaki isa merchant ship repurposed as a forward operating base. It has been subject of excited reporting in Iranian Media. There is much about it which is open to challenge. Yet behind all the noise, there are potential serious implications. the IRGC is evolving its capabilities, particularly in power projection.

So, as always there are two things to do. A) break through the propaganda and knee-jerk reactions, from both promotors and detractors. B) Step back and take a balanced look at the real impact on IRGC capabilities.

Iran may have two or three Sea Base ships shortly, depending on whether Saviz is retired.

Saviz, stationed in the Red Sea. Nominally civilian but strongly suspected to be operated by the IRGC for intelligence and support of Houthi forces in Yemen. See Covert Shores and USNI
Shahid Roudaki
A new 230m long ship being converted. See below.
The Hype
Shahid Roudaki was paraded for the media with an assorted array of weapon systems aboard. These included four interceptor boats with multiple launch rocket systems (MLRS). A mobile launcher for the 3rd Khordad surface-to-air missile system. A Bell 412 helicopter, six Ababil-2 drones and two small quadrotor drones. And four twin Qader anti-ship missile launchers. It looked impressive but several systems were on trailers, just parked for display. Do they represent real capabilities?

The Qader anti-ship missile launchers appear bolted to the deck. This is an Iranian version of the Noor missile, which is itself based on the Chinese C-802 family. The C-802 family s a respectable anti-ship missile which has been used in combat. However the radar for this system appears to be a 2031 road-mobile system. It is parked on the deck which offers a relatively short radar horizon and also a limited arc of coverage. If the missiles are a permanent fit we should expect to see the radar attached to the superstructure in the normal way.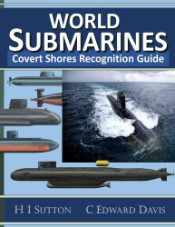 Get The essential guide to World Submarines
This Covert Shores Recognition Guide Covers over 80 classes of submarines including all types currently in service with World Navies.
Check it out on Amazon

The interceptor boats are typical of those used by the IRGC-N (N for navy). Their other forward operating base, the Saviz, also has small boats aboard. But the boats are on trailers and there doesn't seem to be a crane for putting them over the side. again they were parked there to give the impression. In reality Shahid Roudaki may need modifications for launch and recovery. Possibly they would only be aboard for transportation to a forward operating base in a port.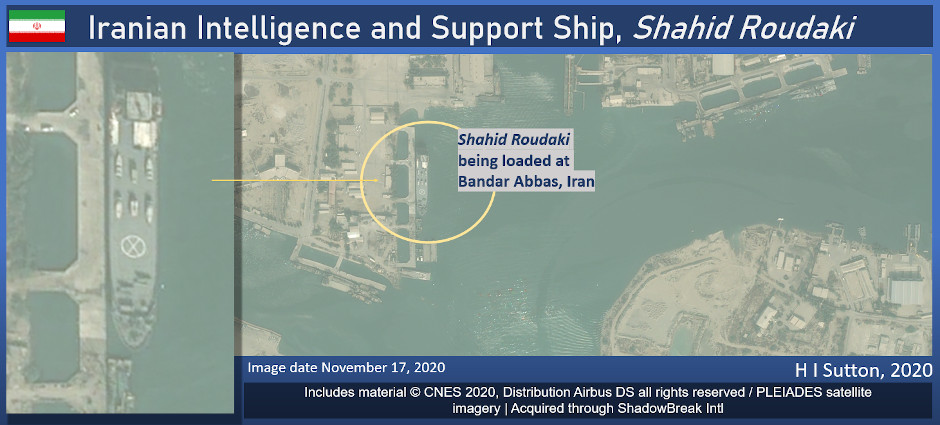 The air defenses are questionable. A single 3rd Khordad launcher does arguably eclipse the air defenses of regular Iranian Navy warships, but it may be difficult to use.

The drones are more credible. These could be launched from the deck and represent a favored capability of the IRGC. The quadrotors would be short ranged but still have some utility.

See more images of her HERE
What does she bring to the IRGC?
The IRGC is a ideological force separate from Iran's regular military. It was founded in 1979 following the revolution and played an active role in the Iran-Iraq War of the 1980s. It has grown in power and eminence since and now rivals the Army and Navy in some respects. The naval branch, IRGC-N, is an asymmetrical force. Until now focused on the shallow waters of the Persian Gulf. For this it relies on large numbers of comparatively unsophisticated systems. More recently it has fielded increasing numbers of anti-ship missiles, and even a unique catamaran. The Shahid Roudaki is the largest declared warship to date (declared because Saviz is larger).

Shahid Roudaki therefore represents and increase in capability for the IRGC-N. It extends its range out into the Indian Ocean and Red Sea. But without escort from the Iranian Navy it would be a sitting duck in a shooting war (although it is questionable how much protection the Iranian Navy offers anyway). So it is really a ship for limited war scenarios.

But that doesn't make it useless. In fact while the IRGC-N has been limited to local operations in the Persian Gulf, the IRGC as a whole is active further afield. They have interests in Syria for example. So she may turn up in the Mediterranean to support IRGC efforts ashore. Or provide intelligence to proxy forces in conflicts which Iran is technically not involved in (per the Saviz in Yemen).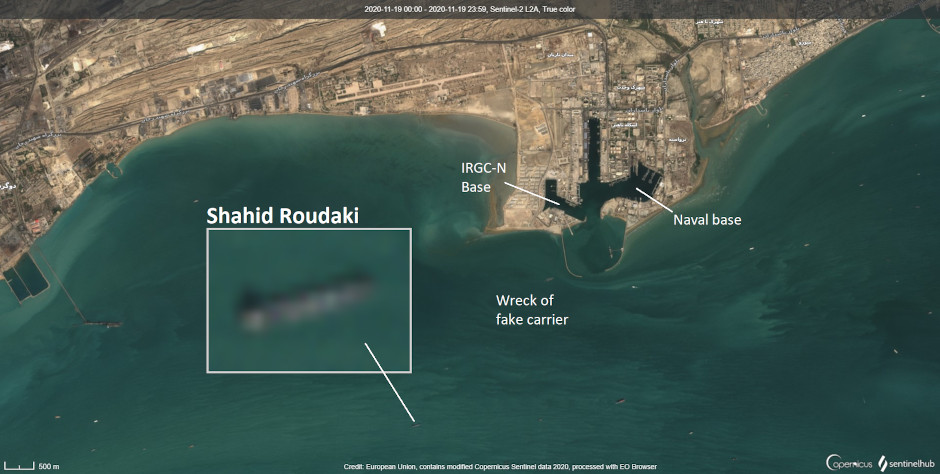 CLICK for HIGH-RESOLUTION image.

The IRGC's activities abroad are generally covert, although their involvement in Syria has become more overt. But having this gray-painted Forward Base ship signals that the winds are changing. The IRGC is likely to play a more visible role in future conflicts. Or in supporting foreign regimes, or distributing 'aid' for example. And we should also consider whether a gray ship will be better for arms supply to isolated regimes. These angles need more consideration.

Therefore, while the ship itself may be less impressive than the propaganda surrounding her, she does represent a new capability for the IRGC. And one which they may put into practice very soon.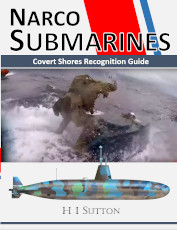 The World's ONLY Guide to
Narco Submarines
10 years of research, analyzing over 160 incidents, condensed into a handy guide. This unique book systematically breaks down the types and families. With detailed taxonomy, recognition 3-views, profiles and photos. Available on Amazon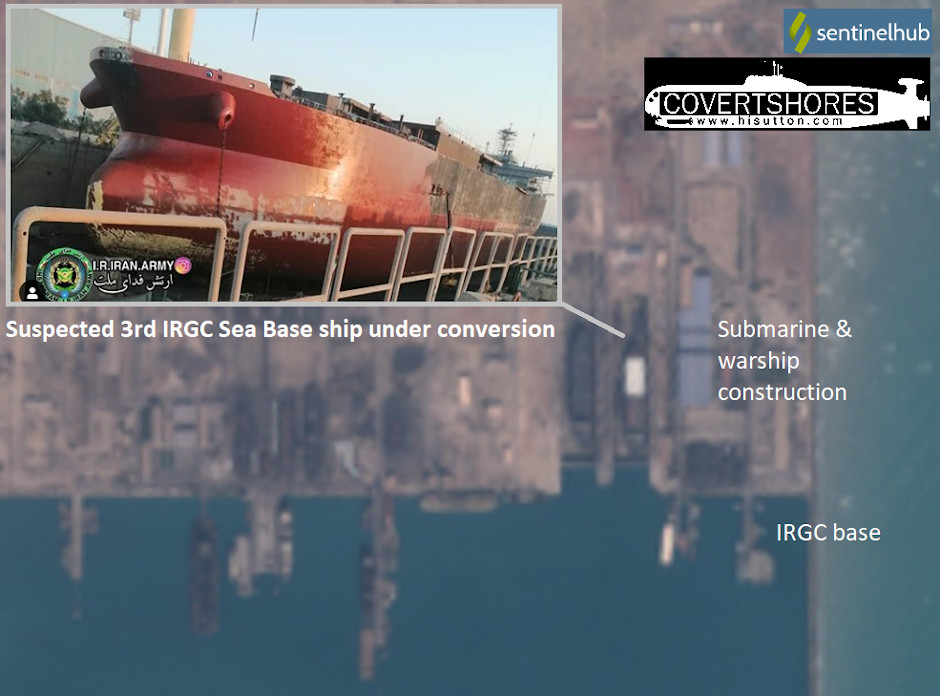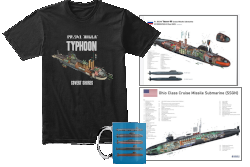 Covert Shores Posters, T-shirts, Mugs
and more featuring exclusive Covert Shores original artworks and design...Available on TeeSpring

This may help cover the overheads of the website

Galaxy F, merchant ship
Although described by Iranian media as a "homegrown oceangoing warship", Jane's analysts have provisionally identified her as the GALAXY F which was built in Italy. GALAXY F was a roll-on/roll-off container ship which was recently up for sale. According to data from MarineTraffic, the ship left IR ISOICO, west of Bandar Abbas in Iran on August 21. It was destined for Singapore, to return to Bandar Abbas. The OSINT picture on her movements is currently a bit muddied and we cannot say for certain, at this stage, that it is her. But GALAXY F is a strong candidate and even if not, the design is essentially identical.

GALAXY F, Panamanian Flagged, IMO: 9048471, MMSI: 371544000
Vessel Type: Ro-Ro/Container Carrier
Year Built: 1992
Gross Tonnage: 8,707
Summer DWT: 8,924 t
Length Overall: 150.01 m (492 ft)
Beam: 21.6 m (71 ft)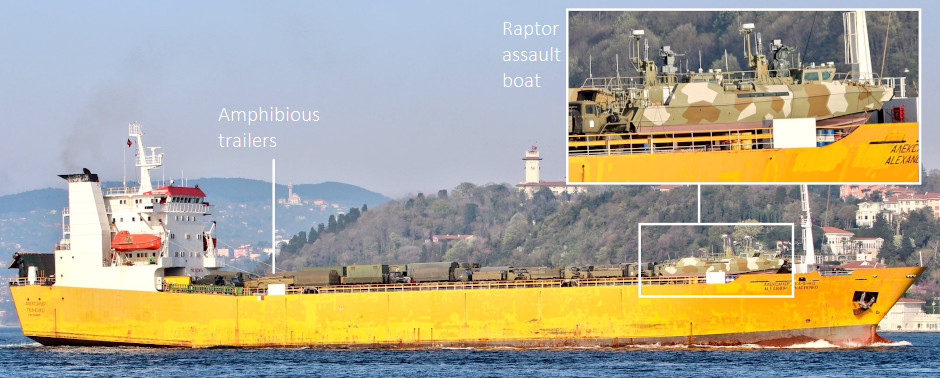 Shahid Roudaki's smaller sister ship Alexandr Tkachenko (now ISLAND EXPRESS, IMO 8716954) has been charted by the Russian Govenment. It is seen here delivering vehicles to the Russian armed forces in Tartus. Photo by Yörük Işık

---
Related articles (Full index of popular Covert Shores articles)



Iranian Fateh Class submarine w/Cutaway



Chinese Type-093 Shang Class Submarine



Iranian Nahang Class midget sub



Iranian XLUUV




Taedong-B 'Kajami' ('Zulfikar') submersible boat


Explosive Boats world history


Narco Subs 101. w/Cutaway


LTTE Sea Tigers' sneak craft and midget subs