Comments and corrections welcome.

Russian ice-breaking submarine design


Russia is building extensive seabed networks of both hydrocarbon extraction and defense related infrastructure in Arctic waters, including under the ice cap. Maintenance of these structures is hampered by storms and high seas, ice flows and ice cap. Surface ships are therefore sorely limited in application for several months of the year, leaving the seabed infrastructure vulnerable.

In 2017 famous Russian submarine design bureau, Malachite, patented a special purpose submarine design for underwater technical works. In particular, the submarine is intended for the maintenance and repair of underwater mining complexes on the Arctic shelf. The submarine is also covered on their website.


Malachite is not the only Russian submarine Design Bureau hoping to cash-in on the arctic rush. Rubin has proposed several designs, and even Lazurite (who have not had submarine orders since the Cold War!) have got in on the game.

The malachite design is interesting because it features a unique ice-breaking bow and is completely ice-hardened, with fragile elements like the twin propellers ('screws') hidden in shrouds and further protected below a wider aft casing.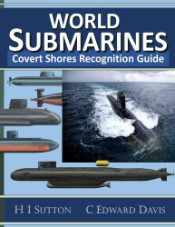 Get The essential guide to World Submarines
This Covert Shores Recognition Guide Covers over 80 classes of submarines including all types currently in service with World Navies.
Check it out on Amazon

The large sail includes an integral hangar for a docked dry submersible, and there are three Remotely Operated Vehicle (ROV) interfaces; one under the keel, one on top of the bow and one in the port side. There is also a large grab-arm which fully retracts into the bow. Saturation divers are able to exit from the bottom of the submarine and are provided with an internal hyperbaric chamber for compression, living and decompression.

Specifications
Standard displacement: 3,000 tons
Length: 82.5 meters
Beam: 10.4 meters
Draft: 8.3 meters
Operating depth: 400 meters
Speed: 13 knots surface, 12 knots submerged
NPP power: 4 MW
Power of main propellers 2 x 1,300 kW
Ice category: Arc5
Endurance: 30 days
Crew: 35
Submersibles: 1
ROVs: 3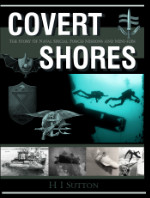 The ultimate book of Special Forces subs Covert Shores 2nd Edition is the ONLY world history of naval Special Forces, their missions and their specialist vehicles. SEALs, SBS, COMSUBIN, Sh-13, Spetsnaz, Kampfschwimmers, Commando Hubert, 4RR and many more.
Check it out on Amazon

CLICK IMAGE FOR HIGH-RESOLUTION: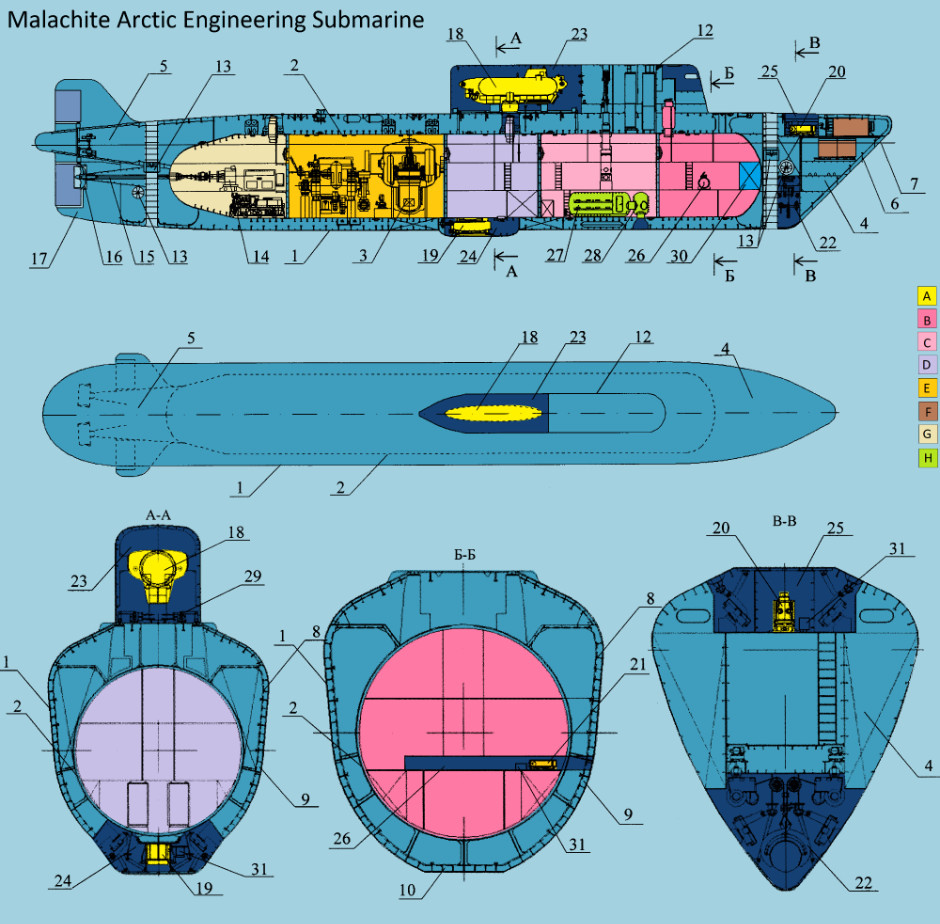 Key:
1. Ice-hardened outer hull
2. Line of outer hull
3. Nuclear power plant
4. Ice-breaking bow capable of breaking solid ice up to 0.8-1.2 m thick
5. Protective (from ice) casing above props
6. Bow
7. Waterline
8. Bow
9. Lateral ice strengthened belt
10. Keel
11. Reinforced casing
12. Reinforced casing
13. Thrusters
14. Electric motors
15. Prop shafts
16. Main thrusters
17. Vertical stabilizer
18. Manned submersible
19. Lower Remote Operated Vehicle (ROV)
20. Upper Remote Operated Vehicle (ROV)
21. Lateral (port) Remote Operated Vehicle (ROV)
22. Load-lifting claws
23. Autonomous hangar
24. Autonomous hangar
25. Autonomous hangar
26. Autonomous hangar
27. Hyperbaric chamber for saturation divers
28. Lock-out trunk
29. Hydraulic actuator
30. Compensation tank
31. Cable drum

Colored sections
A. Smaller vehicles (manned & unmanned)
B. Forward occupied compartment
C. Second occupied compartment
D. Third occupied compartment
E. Reactor compartment
F. Sonar (Tbc)
G. Engineering compartment
H. Hyperbaric chamber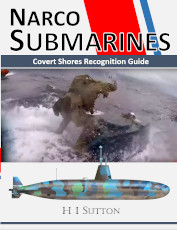 The World's ONLY Guide to
Narco Submarines
10 years of research, analyzing over 160 incidents, condensed into a handy guide. This unique book systematically breaks down the types and families. With detailed taxonomy, recognition 3-views, profiles and photos. Available on Amazon



---
Related articles (Full index of popular Covert Shores articles)



Yantar spy ship loitering over undersea cables


Russia seeks submarine advantage in Arctic (HARMONY system, GUGI special mission subs)



USS Jimmy Carter (SSN-23) Special Mission submarine



NR-1



USS Parche spy sub par-excellence. w/Cutaway



BS-64 Podmoskovye Special Mission (spy) Host Submarine



Project 09852 Belgorod Special Mission submarine (spy sub). w/Cutaway



Russian unbuilt spy submarine MPS



Russian Losharik spy sub



Russian Seismic Survey sub



Project 1910 UNIFORM Class deep diving spy sub



USS Halibut. w/Cutaway



USS Seawolf (SSN-575)



Russian X-RAY Class spy sub