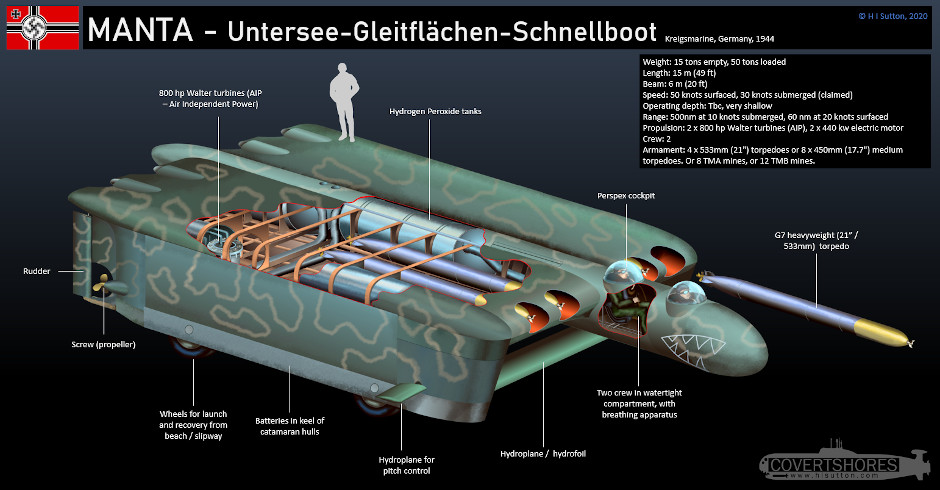 Original Cutaway. CLICK for high-resolution image.

Manta high-speed hydrofoil midget submarine, Germany, 1944
Untersee-Gleitflächen-Schnellboot Manta


If necessity is the mother of invention, desperation is the mother of crazy invention. As the situation in Europe worsened for Nazi Germany during World War Two, the Kriegsmarine turned to ever more desperate ideas. Influenced by the frogmen exploits of their Italian allies, and the X-Craft operations of the British, they started building a range of midget submarines.

There were several designs including the Neger, Marder, Hecht, Biber and Seehund. These one / two man midget submarines were intended to sink Allied invasion fleets. In reality they achieved poor results. But rather than abandon this line of development, the German designs got ever more desperate. And interesting.

Possibly the most ambitious was the Manta. The designers hoped to combine the transit speed of a speedboat with the stealth and survivability of a submarine. To do this it would need to combine several advanced technologies which Germany had been developing. Air Independent Propulsion (AIP) and hydrofoils.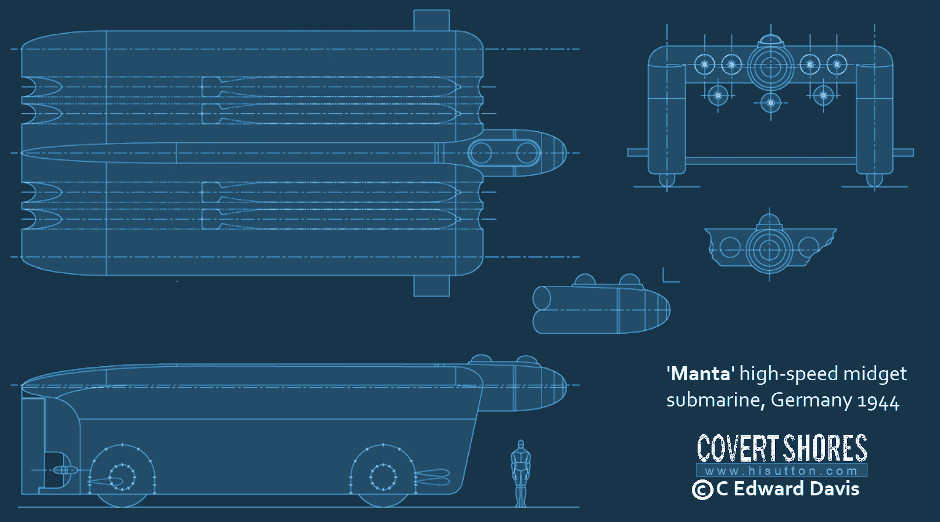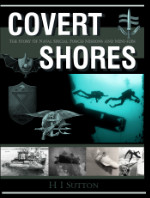 THE book on Special Forces subs Covert Shores 2nd Edition. A world history of naval Special Forces, their missions and their specialist vehicles. SEALs, SBS, COMSUBIN, Sh-13, Spetsnaz, Kampfschwimmers, Commando Hubert, 4RR and many more.
Check it out on Amazon

A radical design, the Manta was to be able to manage 50 knots on the surface and 30 knots underwater. The hydroplanes were mounted so low that they may have acted similarly to hydrofoils. This would have lifted the body out of the water for higher surface speed. Nazi Germany had already been experimenting with hydrofoils. The mine laying VS-6 design had been tested in 1941 and could reach 47 knots.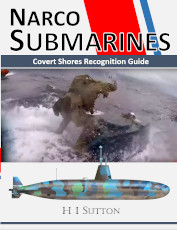 The World's ONLY Guide to
Narco Submarines
10 years of research, analyzing over 160 incidents, condensed into a handy guide. This unique book systematically breaks down the types and families. With detailed taxonomy, recognition 3-views, profiles and photos. Available on Amazon



It had a unique trimaran configuration with the central hull carrying two crew with perspex bubble canopies. The outer hulls each mounted an electric motor and had wheels. This was for self-launch, a concept developed in the Schwertal tracked midget submarine. The armament of 4 21" (533mm) heavyweight torpedoes or 8 17.7" (450mm) aviation torpedoes was to be carried in the "wings" between the hulls. Additional torpedoes could possibly be carried under the wings (Tbc). This may have affected performance.

Specifications
Weight: 15 tons empty, 50 tons loaded
Length: 15 m
Beam: 6 m
Draft: tbc
Speed: 50 knots surfaced, 30 knots submerged
Operating depth: Tbc, very shallow
Range: 500nm at 10 knots submerged, 60 nm at 20 knots surfaced
Propulsion: 2 x 800 hp walter turbines (AIP), 2 x 440 kw electric motor
Crew: 2
Armament: 4 x 533mm (21") torpedoes or 8 x 450mm (17.7") medium torpedoes. Or 8 TMA mines, or 12 TMB mines.

German Engineer Hellmuth Walter had been working on a new form of propulsion which promised very high underwater speeds. Instead of using batteries and an electric motor to power the U-boat, his AIP (Air Independent Propulsion) used decomposing hydrogen-peroxide to produce steam. This in turn drove a turbine and turned the propeller. This process did not require a fresh air supply so the motor could be run while the submarine was submerged. Walter first patented the basic idea of AIP in 1925, but it took years for his ideas to gain traction.

Gradually he was taken seriously and he was able to build an experimental submarine in 1939 called the V-80. This was capable of an incredible 23 knots submerged (some sources say 28 knots) compared to the typical 6-8 knots of regular submarines. The outbreak of war slowed development but eventually an operationally capable boat was produced, the Type- XVII u-boat. The Manta, like many of the later midget submarine concepts, would have used two of these motors.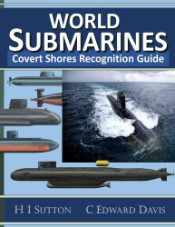 Get The essential guide to World Submarines
This Covert Shores Recognition Guide Covers over 80 classes of submarines including all types currently in service with World Navies.
Check it out on Amazon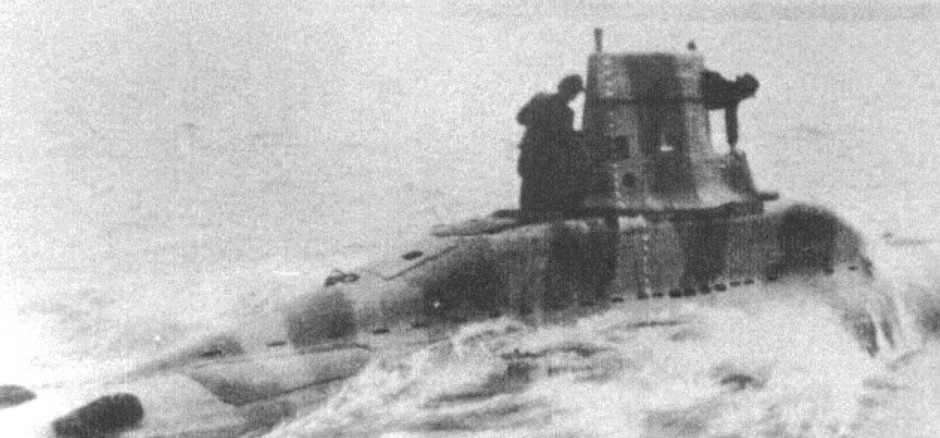 Walter V80 experimental high speed submarine, 1943. This was the first submarine with Walter AIP.

Although a serious project, the ambitious Manta was never built. A small design model was built, which together with documents is where our information comes from today.

---
Related articles (Full index of popular Covert Shores articles)



Type-XXIXH stealth U-Boat. w/Cutaway



Swedish A21 Flundran AIP attack submarine



British SSN(R) next generation Royal Navy SSN



Surcouf Cruiser Submarine w/Cutaway



Japanese Ha201 Sen-Taka-Sho fast attack submarine of WW2



First DDS - Type-IIIA U-Boat



MSV-75 midget sub design



WW2 German Delfin midget submarine with AIP



Narwal / Orca Dry Combat Submersible (UWTG)



Sweden's nuclear powered submarine project (A-11A)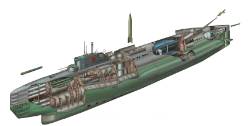 Stalin's Super Sub, Project P-2