Share:



When it was launched in 1929, the French cruiser submarine FS Surcouf (NN-3) was without parallel in the World, and remained the largest and most heavily armed until the final years of World War Two.

The concept of a cruiser submarine was influenced by the German Navy's unrestricted U-boat warfare of World War One. French planners envisioned a submarine which roamed the ocean, far away from port, picking off enemy merchant ships. This requirement, initially known as **Project Q", would require a very large boat with provisions for up to 90 days at sea. The armament would have to be both conomic and effective, so large naval guns were preferred over torpedoes, although the latter was still carried.

Original artwork. CLICK for high-resolution image: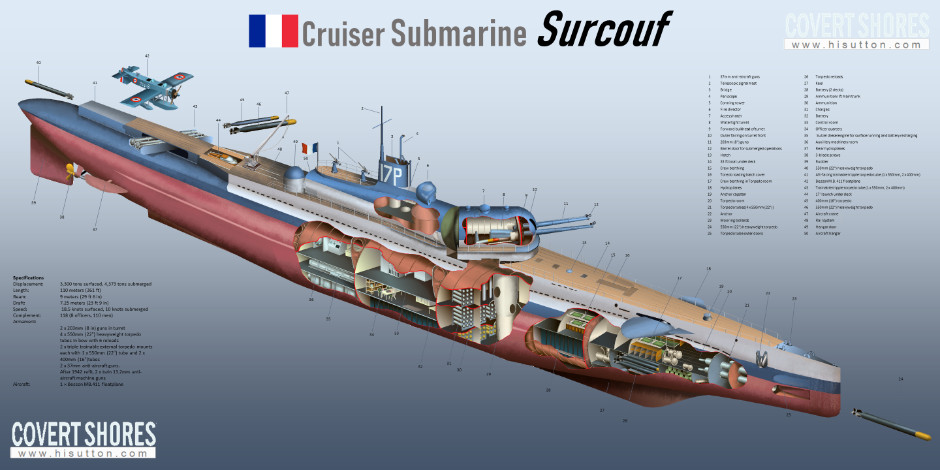 The hull was laid down in December 1927 and launched on 18th October 1929. She entered service with the French Navy in May 1934.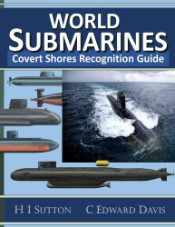 Get The essential guide to World Submarines
This Covert Shores Recognition Guide Covers over 80 classes of submarines including all types currently in service with World Navies.
Check it out on Amazon

Specifications:
Displacement: 3,300 tons surfaced, 4,373 tons submerged
Length: 110 meters (361 ft)
Beam: 9 meters (29 ft 6")
Draft: 7.25 meters (23 ft 9")
Speed: 18.5 knots surfaced, 10 knots submerged
Depth: 80-110 meters operating depth, 491 meters crush depth.
Range: ~7,000-10,000 nautical miles. ~70 nautical miles submerged on battery power @ 4.5 knots.
Complement: 118 (8 officers, 110 men)
Armament: 2 x 203mm (8") guns in turret, 4 x 550mm (22") heavyweight torpedo tubes in bow with 6 reloads, two triple trainable external torpedo mounts each with 1 x 550mm (22") tube and 2 x 400mm (16")tubes. 2 x 37mm anti-aircraft guns. After 1942 refit, 2 x twin 13.2mm anti-aircraft machine guns were fitted.
Aircraft: 1 × Besson MB.411 floatplane

Firepower
Surcouf was designed around the heavy cruiser armament of 203mm (8") guns, which was the largest calibre allowed under the Washington Treaty. It was considered more economical to engage merchant ships with guns rather than torpedoes as many more rounds could be carried. The guns also had a longer range and could be directed by the aircraft. Surcouf was also equipped with a range finder which rotated with the turret and was positioned sideways for underwater streamlining.

The guns could fire 26 km (28,000 yards) with aircraft direction, or 16 km (17,000 yards) using the periscope and fire director. The ammunition and charges were stored separately below the gun and hoisted into the turret via a single ammunition lift. The rounds and charges were mated in the turret.

The guns were in a fully enclosed turret which was integral to the pressure hull. To prevent flooding through the gun barrels, there were muzzle doors which could be opened and closed from within the turret, similar to on torpedo tubes. The gun could be trained and fired within 3.5 minutes of surfacing. One of the limitations of the gun turret was that it was only stable in light seas.



Airpower
Surcouf was the first submarine in the world to be built with a designed-in aircraft capability. A single hangar under the sail could accommodate a collapsible floatplane for reconnaissance and fire direction. The aircraft could only be launched and recovered while the submarine was surfaced.



The seaplane was originally intended to be a Besson BM.35 but the improved
MB.411
was developed. This was a very compact monoplane with a large central float and two small outriggers under the wings. In order to reduce the hangar requirements she had an unusual tail with the larger art of the vertical rudder below the fuselage instead of above it.
Fate
In 1930 the Treaty for the Limitation and Reduction of Naval Armament (aka London Naval Treaty) placed restrictions on submarines. France (and other signatories) was not allowed to possess more than three large submarines, with a surface displacement limit of 2,800 tons. Submarine gun armament was not to exceed 6.1" (150 mm). Surcouf, which was larger and more heavily armed than allowed by the terms, was specifically excepted. But it meant that no more submarines of the same design could be built.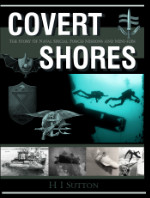 The ultimate book of Special Forces subs Covert Shores 2nd Edition is the ONLY world history of naval Special Forces, their missions and their specialist vehicles. SEALs, SBS, COMSUBIN, Sh-13, Spetsnaz, Kampfschwimmers, Commando Hubert, 4RR and many more.
Check it out on Amazon

Early in World War Two Surcouf served in the Caribbean and off the West Coast of Africa. She was being refitted in Brest when Germany invaded France. She was able to escape to England, running on the surface a single engine. Initially she remained under French control, but British forces seized her on 3rd July 1940 to prevent her falling into German hands with the French Armistice. Three British submariners and one French officer died during a scuffle as the boat was seized. In August Surcouf's refit was completed and she entered service with the Free French.

On 2nd February 1942 she departed Halifax, Canada, heading south towards the Panama Canal. The plan was to sail through the canal and on to Sydney, Australia, via Tahiti. She was last reported on the night of 18/19th February 1942, about 70 nautical miles north of Cristóbal, Colón. The cause of the disappearance has never been satisfactorially established although reports at the time pointed towards the American freighter Thompson Lykes which reported hitting a semi-submerged object. The entire crew perished and the wreck remains uncharted.

Other Cruiser Submarines




The Royal Navy's HMS X-1 was launched six years before Surcouf and had similar dimensions, but only ~75% the displacement. She also had much smaller 5.25" (133 mm) guns, albeit four of them mounted in two turrets. Unlike Surcouf the turrets were not sealed and could only be crewed when the submarine was surfaced. She did not have an aircraft as the first experiments with carrying aircraft on submarines only took place in 1925 on HMS M2. X-1 suffered reliability issues and was not aligned to the interwar arms limitation treaties so she was retired in 1935 and never saw World War Two.

The US Navy built two cruiser submarines, V-5 Narwhal and V-6 Nautilus in the late 1920s. These were similar to other US Navy fleet submarines but emphasized larger caliber 6" guns for surface engagement of enemy shipping. The guns were mounted externally one in front and one behind the sail like most other submarines of the time. The deck was very wide to allow gun crews to operate with maximum efficiency.

1. 2. 3.

HMS X-1, 2. V-5 Narwhal, 3. I-15

Unlike the French, British and Americans, the Imperial Japanese Navy put cruiser submarines into serial production. These were typified by the 18-boat I-15 Class built in the 1940s. These also had an integral hangar for a seaplane, complete with a catapult so that it did not have to be placed into the water to be launched. Therefore the hangar was forward and the large 5.5" gun was behind the conning tower. Unlike the Surcouf the design emphasized torpedo armament with six forward firing 21" (533mm) heavyweight torpedo tubes with an impressive 17 rounds.

---
Related articles (Full index of popular Covert Shores articles)



SMX-31 future submarine concept ('The Electric') w/Cutaway



Type-IIIA U-Boat



Type-XXIXH stealth U-Boat. w/Cutaway



Japanese Ha201 Sen-Taka-Sho fast attack submarine of WW2



SNLE-3G next-generation French SSBN



BS-64 Podmoskovye Special Mission (spy) Host Submarine



Comex Sagittaire midget submarine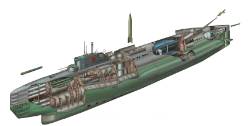 Stalin's Super Sub, Project P-2. w/Cutaway



AN-1 submarine aircraft carrier


Nautilus 2020 Luxury Private Submarine. w/Cutaway


Cutaway of Jules Verne's Nautilus. w/Cutaway


Turbinia, the first steam turbine boat (1894)