Share: _ _

This article is one of a series documenting and analyzing narco-sub incidents and trends. Ref. previous articles from:
May 2016, October 2016, June 2017, March 2018, April 2018, July 2018, August 2018, September 2018, October 2018 & November 2018

Original artwork. CLICK for high-resolution image: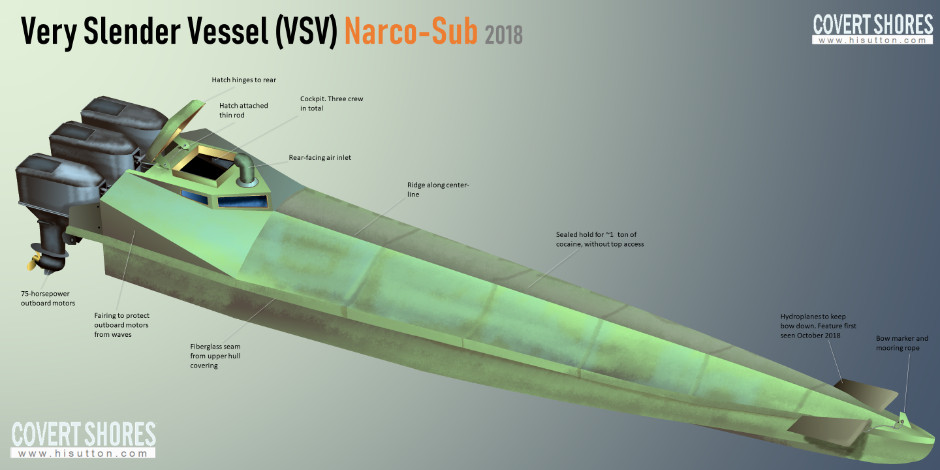 CLICK for high-resolution image:

Narco-sub intercepted by USCG
22nd October 2018



Coast Guard Cutter James (WMSL-754) intercepted an evolved-converted-speedboat family Low Profile Vessel (LPV) in the Eastern Pacific. Ref. https://www.dvidshub.net/image/4900721/coast-guard-offload-185-tons-cocaine-port-everglades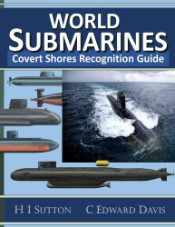 Get The essential guide to World Submarines
This Covert Shores Recognition Guide Covers over 80 classes of submarines including all types currently in service with World Navies.
Check it out on Amazon

New development in Narcosub VSVs
31st October 2018



US Coast Guard Cutter Campbell intercepted a VSV (Very Slender Vessel) narco-sub in the eastern Pacific Ocean. At first glance the design has the unmistakable hallmarks of the 'reduced cockpit' VSV family (see lineage poster): a) it is a crudely finished VSV with a small single-person cockpit centrally at the rear with b) an acutely angled fairing for outboard motors, and C) the hatch opens aft (whereas most other families hinge forward) .

However, it appears to have fixed hydroplanes added near the bow. Although some early LPVs had hydroplanes, this feature is a new development in modern LPVs.
Ref. https://www.dvidshub.net/image/4984468/coast-guard-cutter-campbell-crew-with-suspected-drug-smuggling-boat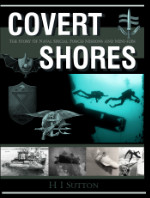 Learn EVERYTHING about Special Forces subs Covert Shores 2nd Edition. A world history of naval Special Forces, their missions and their specialist vehicles. SEALs, SBS, COMSUBIN, Sh-13, Spetsnaz, Kampfschwimmers, Commando Hubert, 4RR and many more.
Check it out on Amazon

Second VSV with hydroplanes
18th November 2018



US Coast Guard Cutter Hamilton intercepted a VSV in the Eastern Pacific Ocean. Family and modification per 31st October.
Ref. https://www.dvidshub.net/image/4979554/coast-guard-cutter-hamilton-counter-drug-patrol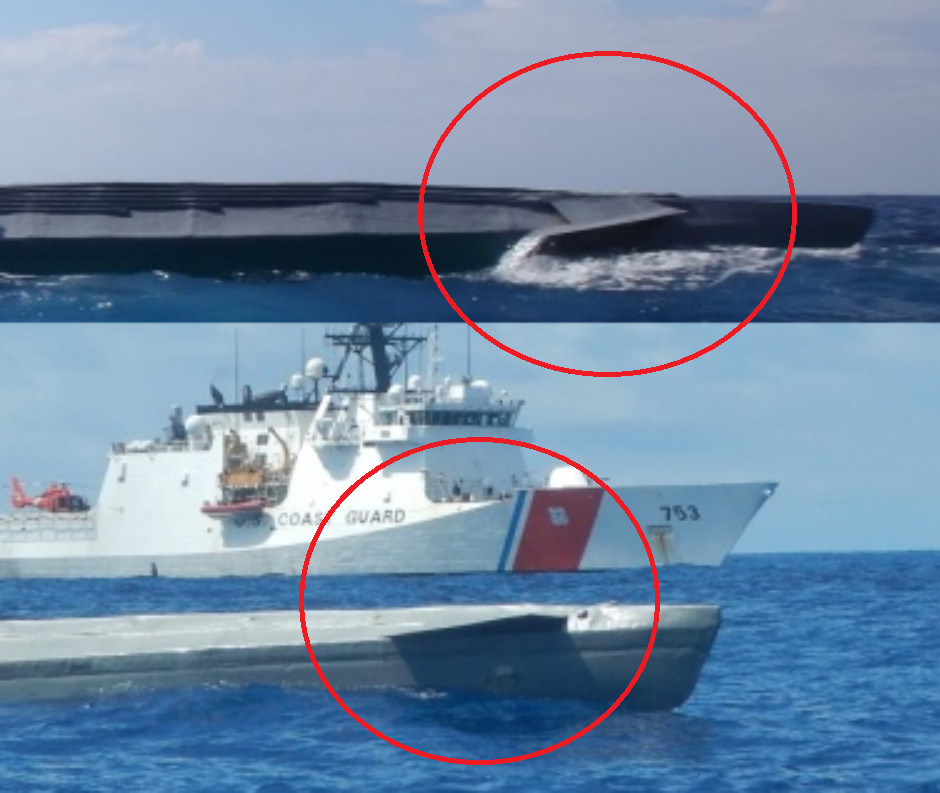 ---
Related articles (Full index of popular Covert Shores articles)


Narco Subs 101


Armored Stealth Boat used for car smuggling by Chinese organized crime


Cutaway of Jules Verne's Nautilus


LTTE Sea Tigers' sneak craft and midget subs


Nautilus 2020 Luxury Private Submarine. w/Cutaway


Cutaway of Jules Verne's Nautilus. w/Cutaway


Turbinia, the first steam turbine boat (1894)