Share:

US Navy Submarine Aircraft Carrier design



Original Artwork, CLICK for HIGH RESOLUTION:


In the late 1950s the US Navy experimented with the concept of aircraft carrying submarines armed with jet fighters. Several submarines capable of carrying aircraft-sized cruise missiles had been built as a stop-gap and contingency to ballistic missile submarines: converted fleet boats USS Tunny and Barbero were fitted with external hangars on the aft deck for trials, each carrying two Regulus-I missiles. These were followed by two diesel-electric cruise missile submarines of the Grayback Class were put into service, each with four missiles, and one submarine of the Halibut Class with five missiles. If these boats could carry such large missiles, then the US Navy supposed that they could alternatively carry manned aircraft.



Regulus-I missiles displayed aboard USS Halibut, and the larger Regulus-II tested aboard USS Grayback.

Initially the idea was to built aircraft which could be launched from the existing boats, but soon the larger purpose-designed AN-1 concept was born. Based on the Halibut Class, the AN-1 would carry eight fighters. The aircraft would be a tail-sitting Vertical Take-Off and Landing (VTOL) design with the same overall size footprint as the Regulus-II missile. The aircraft would be carried in two internal hangers similar to those on USS Halibut, and rolled out of the hanger to vertical launch positions while the boat is surfaced. The launch boosters would be carried in separate smaller hangers and mated with the aircraft on the launch rail. Four aircraft could be launched in under 6 minutes, or all eight in under 8 minutes.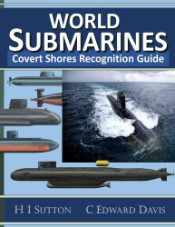 Get The essential guide to World Submarines
This Covert Shores Recognition Guide Covers over 80 classes of submarines including all types currently in service with World Navies.
Check it out on Amazon


AN-1 Specifications
Displacemet: 9,260 tons surfaced, 14,700 tons submerged
Length: 498.5 ft
Beam: 44.25 ft
Operating Depth: tbc
Speed: 16 kt
Endurance: unlimited
Propulsion: 15,000 shp Pressurized Water Reactor
Crew: 149 + 12 pilots and 2 fight crew
Aircraft: 8 x Boeing Mach-3 VTOL fighters
Armament: 6 x bow 21" (533mm) heavyweight torpedo tubes plus 8 reloads, and two stern short 21" (533mm) torpedo tues with six reloads

The AN-1 was much larger than halibut, with a four decks enclosed in a fully double-hull. The forward hangar also incorporated the bow torpedo tubes.



CLICK for HIGH RESOLUTION: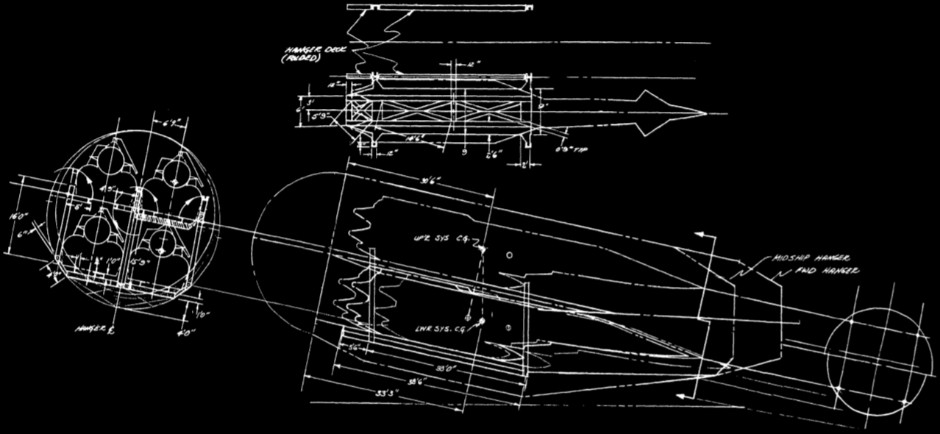 Earlier aircraft carrying submarines
The concept of aircraft carrying submarines was not new although examples are rare. The first aircraft launched from a submarine was a Parnall Peto floatplane from the Royal Navy's HMS M-2 which was fitted with an experimental hangar in 1925. This was followed by the French Navy's Surcouf cruiser submarine in 1934 which had a hangar for a Besson MB.411 floatplane for reconnaissance. The Japanese also equipped some cruiser submarines with float planes and the most impressive design was the I-400 which carried three Aichi M6A1 Seiran floatplanes. These were for strike missions as well as reconnaissance.



HMS M-2 launching a Parnall Peto floatplane, French submarine Surcouf with a Besson MB.411 floatplane on the aft casing (note also the large gun turret forward), and the Japanese I-400 Class floatplane carrying submarine.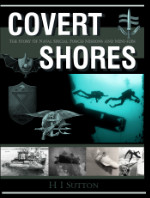 The ultimate book of Special Forces subs Covert Shores 2nd Edition is the ONLY world history of naval Special Forces, their missions and their specialist vehicles. SEALs, SBS, COMSUBIN, Sh-13, Spetsnaz, Kampfschwimmers, Commando Hubert, 4RR and many more.
Check it out on Amazon

Flying Carpet
Initially relatively conventional fighter aircraft were envisioned, including modified Grumman F11F Tiger fighters and the unbuilt Douglas Model 640. But with the supersonic age rapidly changing the face of aviation, Boeing designed a new Mach-3 fighter for carriage by the AN-1. The fighters would be launched vertically on a stack of three 23,000 lb Wright SE-105 turbojets using regular aircraft-carrier grade JP-5 jet fuel. Two of the three engines would be attached as a 'flying carpet' detachable booster phase which would fall away once the aircraft was airborne and could be recovered for reuse.



Grumman F-11F Tiger, F-11F with Flying Carpet, and Boeing Mach 3 VTOL fighter concept.

Original Artwork, CLICK for HIGH RESOLUTION:


Boeing Mach-3 VTOL fighter Specifications
Length: 70 ft (unpacked)
Wingspan: 21.1 ft overall (unpacked)
Height: 19.5 ft (unpacked)
Speed: Mach 3
Weight: 15,380 lb empty, 32,630 lb max
Propulsion: Wright SE-105 with JP-5 fuel, 23,000 lb thrust
Crew: 1
Armament: tbc

Fate
The US Navy soon lost interest in aircraft carrying submarines and the AN-1 and other designs never made it off the drawing board.

---
Related articles (Full index of popular Covert Shores articles)



US Navy's Super Cruise Missile Submarine: USS Permit's Original Design w/Cutaway



USS Jimmy Carter (SSN-23) Special Mission submarine



USS Parche spy sub par-excellence. w/Cutaway



USS Seawolf (SSN-575)



SMX-31 future submarine concept ('The Electric') w/Cutaway



Project 885 'YASEN' (Severodvinsk Class) SSGN. w/Cutaway



Sturgeon Class SSN. w/Cutaway