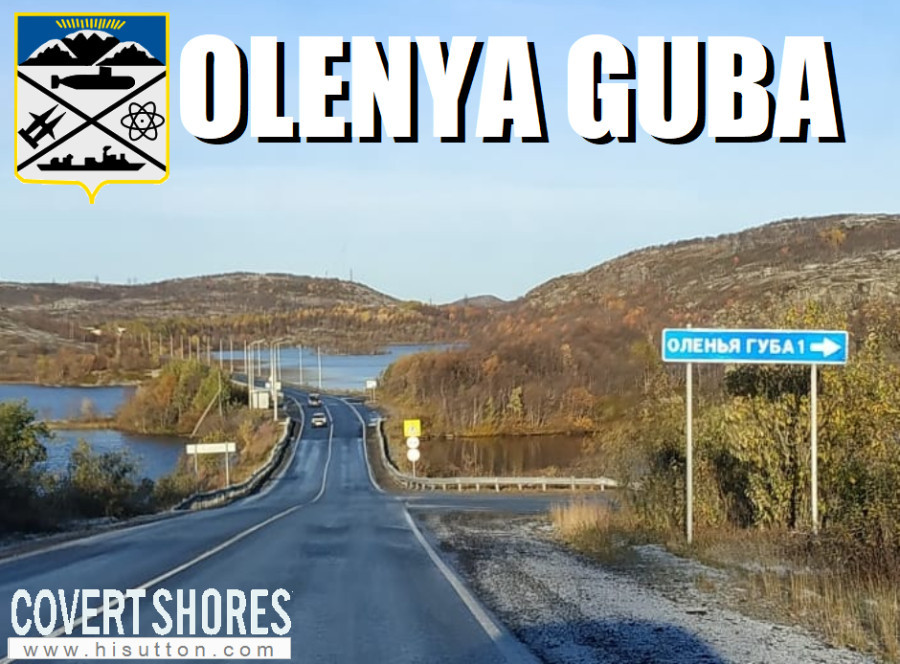 Updates
● Beluga whale pens moved
● BS-64 returned to Olenya Guba less than a week after Losharik Accident



Fresh satellite imagery recently made available on Google Earth confirms that Russian Navy's Beluga Whale pens have been moved to a stable position near the entrance of the Olenya Guba (Оленья Губа) secret submarine base near the Kola Peninsula. These pens were most likely involved in the whale which turned up in Norway in May. Additionally they confirm that the special mission host submarine BS-64 Podmoskovye returned to its home base of Olenya Guba very shortly after the Losharik submarine accident on July 1st.

Olenya Guba, meaning Deer Bay, is the main submarine operating base for the 29th Separate Brigade of submarines of the Northern Fleet. This unit operate a range of Special Mission submarines (read 'Spy submarines') for GUGI (Main Directorate Deep Sea Research). Other GUGI assets including the enigmatic and controversial Yantar 'hydrographic 'research ship' are also based there.

The two beluga whale pens which were taken to Olenya Guba earlier this year have been moved from the piers near the submarine hangar to a new position near the entrance to the bay. They are outside the perimeter security fence and only accessible by boat.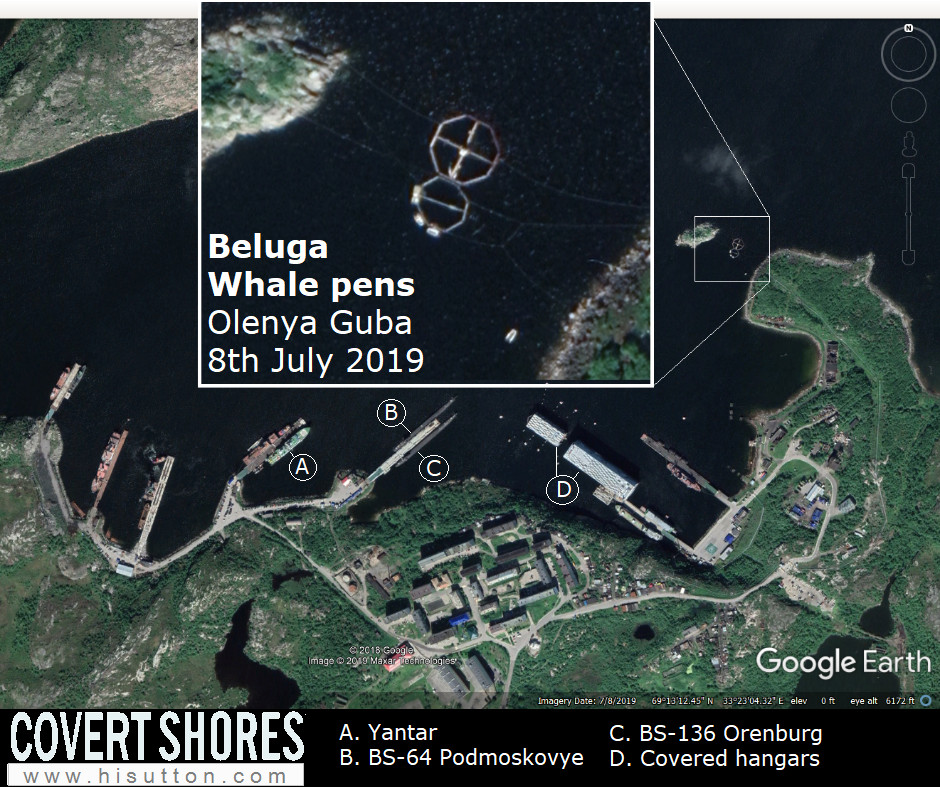 Both of the pens are now confirmed to have been moved from Tonya Bay around April this year, and certainly prior to the Beluga turning up in Norway. This supports the theory that the whale most likely escaped during, or soon after, the move. Tonya Bay imagery now on Google Earth: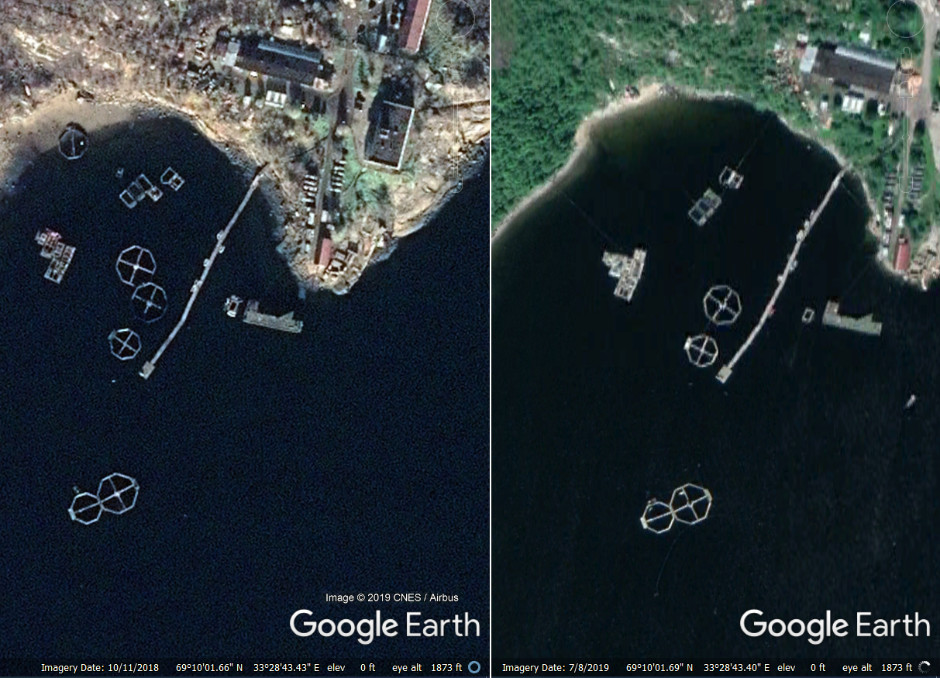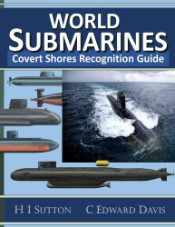 Get The essential guide to World Submarines
This Covert Shores Recognition Guide Covers over 80 classes of submarines including all types currently in service with World Navies.
Check it out on Amazon

In July, images emerged on Russian social media that appear to show a plan for three beluga pens at a new pier even nearer to the entrance of the bay, nearby to the current position. These documents have not been verified but appear credible: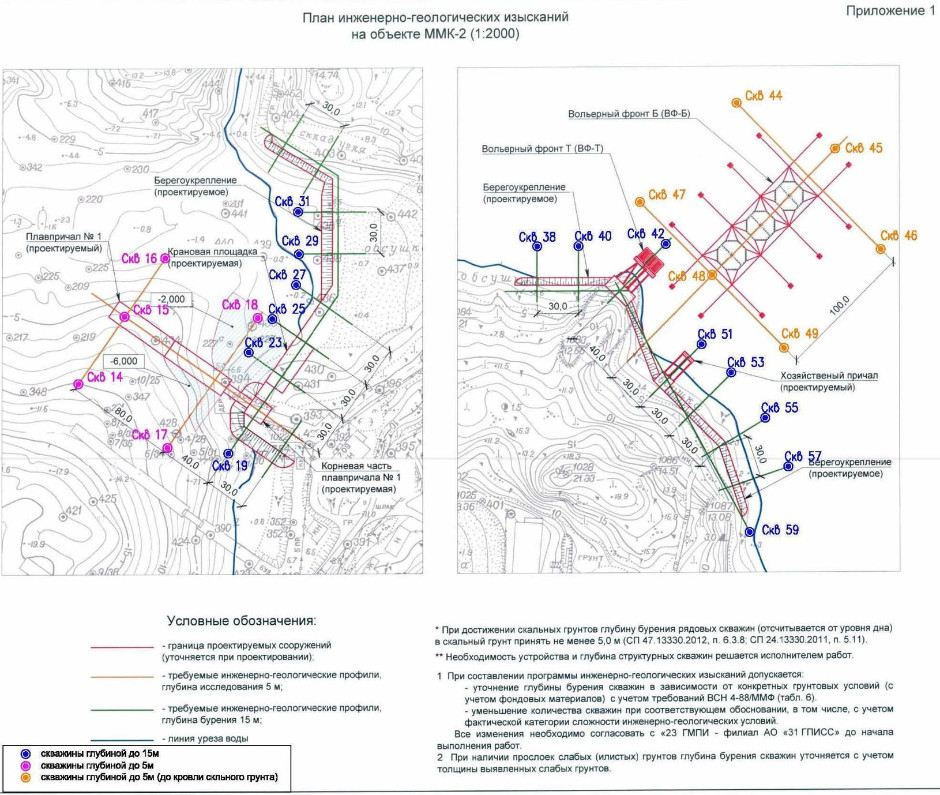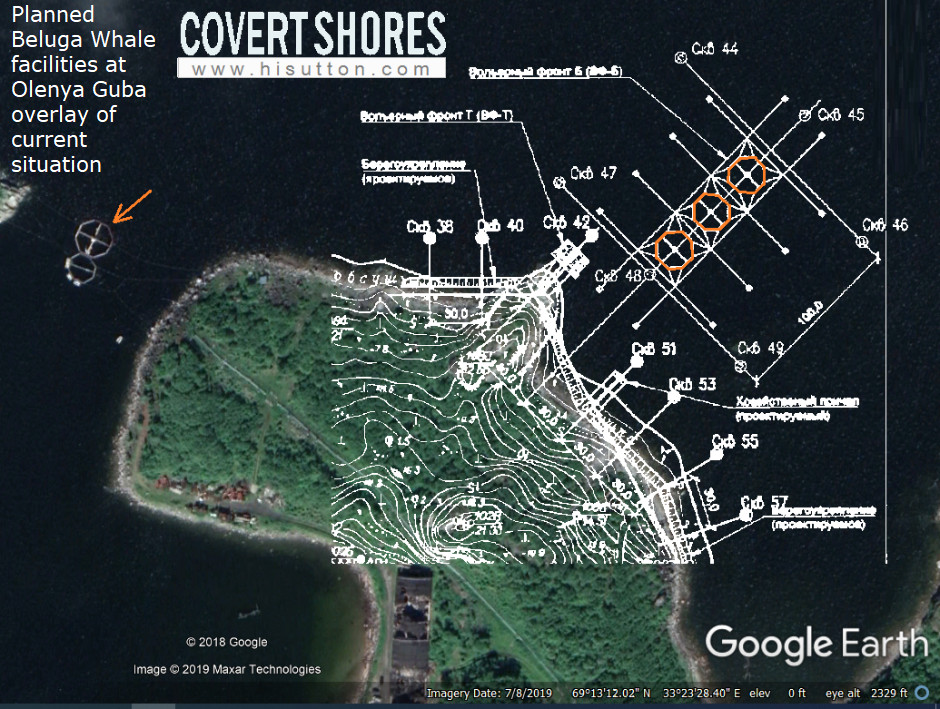 BS-64 returned to Olenya Guba less than a week after Losharik Accident
The fresh imagery also confirms that BS-64, the host submarine for Losharik during the 1st July accident which cost 14 Russian hydronauts (elite deep-diving submariners) their lives, returned to Olenya Guba shortly after the bodies were removed in Severmorsk. The submarine actually left Severomorsk a few days before this satellite pass. The Losharik midget submarine however has gone to Severodvinsk where it is awaiting major repairs: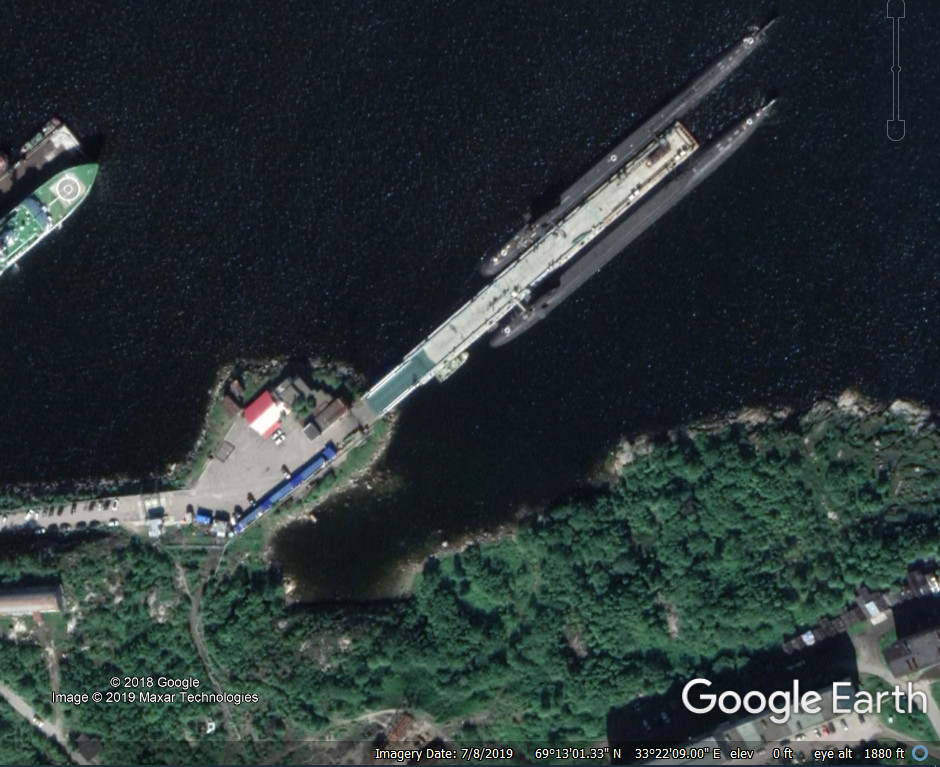 BS-64 (upper) and BS-136 (lower) at their usual pier in Olenya Guba. July 8th 2019.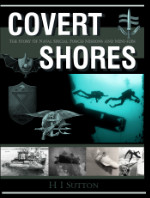 The ultimate book of Special Forces subs Covert Shores 2nd Edition is the ONLY world history of naval Special Forces, their missions and their specialist vehicles. SEALs, SBS, COMSUBIN, Sh-13, Spetsnaz, Kampfschwimmers, Commando Hubert, 4RR and many more.
Check it out on Amazon


---
Related articles (Full index of popular Covert Shores articles)



Russian Navy Beluga whale



BS-64 Podmoskovye Special Mission (spy) Host Submarine



Russian Losharik spy sub



North Korean Modified-Romeo Class ballistic missile submarine



Poseidon Intercontinental Nuclear-Powered Nuclear-Armed Autonomous Torpedo, and countering it



Project 09852 Belgorod Special Mission submarine (spy sub). w/Cutaway



Chinese Sailless Submarine



Project 685 MIKE Class deep-diving SSN. w/wreck guide



NR-1



USS Parche spy sub par-excellence. w/Cutaway



Russian Seismic Survey sub



Project 1910 UNIFORM Class deep diving spy sub



USS Halibut. w/Cutaway



USS Seawolf (SSN-575)



Russian X-RAY Class spy sub



Russian Sarov experimental sub