Russia's fleet of Seabed Warfare submarines



New poster shows current fleet of Special Mission submarines based at Olenya Guba (Deer Bay) in the Arctic Circle. The submarines are operated by 29 Squadron of the Russian Navy on behalf of the Main Directorate of Deep-Sea Research - GUGI (Military Unit 40056).

Two very large host submarines, based on modified DELTA-III/IV Class ballistic missile submarines, transport smaller 'Deep Sea Stations' to their targets. The smaller submarines are carried in special recesses under the keel of the host submarine. The nuclear-powered Deep Sea Stations are able to dive to depths of between 1,000 meters and 3,000 meters, in order to conduct operations on cables or devices on the seabed.

Two older UNIFORM Class Deep Sea Stations (AGS) are designed to operate independently of the host submarines.

Original artwork, click for HIGH-RESOLUTION: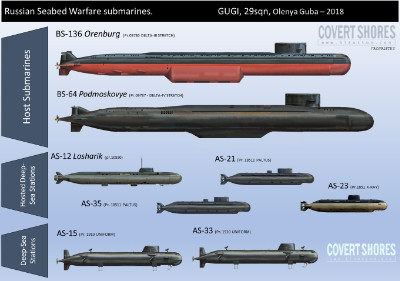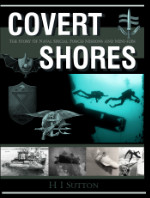 THE book on Special Forces subs Covert Shores 2nd Edition. A world history of naval Special Forces, their missions and their specialist vehicles. SEALs, SBS, COMSUBIN, Sh-13, Spetsnaz, Kampfschwimmers, Commando Hubert, 4RR and many more.
Check it out on Amazon

---
Related articles (Full index of popular Covert Shores articles)



USS Jimmy Carter (SSN-23) Special Mission submarine



NR-1



USS Parche spy sub par-excellence. w/Cutaway



BS-64 Podmoskovye Special Mission (spy) Host Submarine



Project 09852 Belgorod Special Mission submarine (spy sub). w/Cutaway



Harpsichord AUV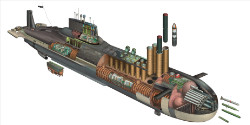 TYPHOON Class SSBN. w/Cutaway



Poseidon Intercontinental Nuclear-Powered Nuclear-Armed Autonomous Torpedo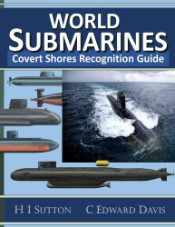 Get The essential guide to World Submarines
This Covert Shores Recognition Guide Covers over 80 classes of submarines including all types currently in service with World Navies.
Check it out on Amazon



Russian unbuilt spy submarine MPS



Russian Losharik spy sub



Russian Seismic Survey sub



Project 1910 UNIFORM Class deep diving spy sub



USS Halibut. w/Cutaway



USS Seawolf (SSN-575)



Russian X-RAY Class spy sub



Russian Sarov experimental sub