OSINT: Russian Navy Movements in Kola Peninsula, July 2020


A collage of Sentinel satellite imagery (from Sentinel hub) of the Russian Northern Fleet in the Kola Peninsula. ESA make available a range of imagery from their satellites including Sentinel-2. This is lower resolution than many other satellites but makes frequent, almost daily, passes of most locations of interest. Even though it is low resolution, a trained eye can identify submarines on the surface, and of course warships.

OSINT (Open Source Intelligence) provided by Frank Bottema (Twitter) and @MatchlessMan410 (Twitter).

Original graphic. CLICK for high-resolution image.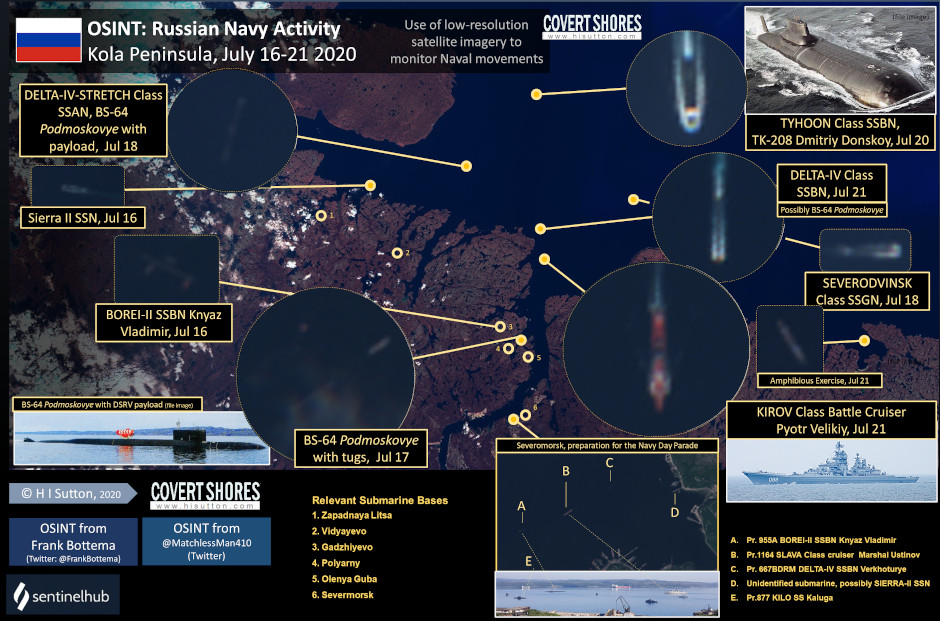 Of particular interest, the GUGI special mission submarine BS-64 Podmoskovye is seen leaving Olenya Guba on July 17, assisted by at least two tugs. She is seen again the next day on the surface in the Motovsky Gulf. In this image she appears to have a payload on her back.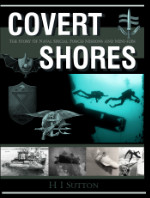 The ultimate book of Special Forces subs Covert Shores 2nd Edition is the ONLY world history of naval Special Forces, their missions and their specialist vehicles. SEALs, SBS, COMSUBIN, Sh-13, Spetsnaz, Kampfschwimmers, Commando Hubert, 4RR and many more.
Check it out on Amazon


There was a submarine rescue exercise in Motovsky Gulf around this time, involving the Pr.1855 Priz-class deep-submergence rescue vehicle AS-34. See photo below. It is unclear whether BS-64 was involved, but she can carry a DSRV on her back, so this may be the payload seen. Alternatively it may relate the Shelf seabed nuclear power plants, or a seabed sonar array system.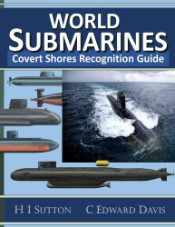 Get The essential guide to World Submarines
This Covert Shores Recognition Guide Covers over 80 classes of submarines including all types currently in service with World Navies.
Check it out on Amazon


---
Related articles (Full index of popular Covert Shores articles)



BS-64 Podmoskovye Special Mission (spy) Host Submarine



SIERRA-II Class SSN



Project 09852 Belgorod Special Mission submarine (spy sub). w/Cutaway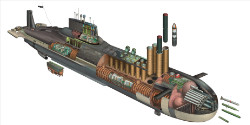 TYPHOON Class SSBN. w/Cutaway



Project 885 'YASEN' (Severodvinsk Class) SSGN. w/Cutaway



Project 685 MIKE Class deep-diving SSN. w/wreck guide



Project 955A 'BOREI-A' Ballistic Missile Submarine. w/Cutaway



Project 705 'ALFA' class attack submarine. w/Cutaway



USS Jimmy Carter (SSN-23) Special Mission submarine



Russian Losharik spy sub



Russian X-RAY Class spy sub



Russian Sarov experimental sub