Russian Navy submarine force outlook 2020-40 (Part 1: SSBN/SSDN)


Russia's submarine fleet is fighting back from a construction and readiness low-point following the fall of the Soviet Union and subsequent economic woes. Throughout this it has remained one of the largest and most potent submarine forces on the planet and has always showed signs of regaining its past greatness. But progress so far has been slow. Outward signs are that it the pace is picking up however; two large submarines of new classes have been launched in the last year, the first of the latest generation BOREI-II ballistic missile submarine (SSBN) and the unique Belgorod drone carrying submarine (SSDN). And the first SEVERODVINSK-II (aka Yasen-M) cruise missile submarine (SSGN) was launched in 2017 and is undergoing trials. More BOREI-IIs and SEVERODVINSK-IIs are under construction. And the next SSDN, Khabarovsk is expected to be launched next year also. So the pace of renewal is picking up.

This new generation of Russian submarines are more potent than the boats which they replace and are, in broad terms keeping pace with equivalent NATO capabilities (caveats apply).

Judging the longer-term outlook, out to 2040, is not straightforward however. Will the increase in new production in recent years translate into a larger force going forward? Will construction happen in the volumes and timelines put out in the Russian Media? And are there trade-offs and gaps in the plan? This article shares a background analysis and force estimates distilled from assessment of multiple sources.

Overall, the CASD fleet is set to increase with the SSBN fleet likely to stay stable with 10 boats, added to by a minimum-hull fleet of SSDNs:



Note: The last Pr.941 TYPHOON Class SSBN, TK-208 Dmitriy Donskoy is only used for tests and is not included in these estimates. It has been in service 37 years.

Strategic submarine forces
Russia's Continuous At-Sea Deterrent (CASD) has traditionally been shouldered by nuclear powered ballistic missile submarines (SSBNs). The planned production of BOREI-II SSBNs to completely replace the current generation of DELTA-IV SSBNs shows that this will remain the case.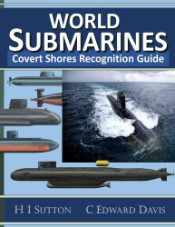 Get The essential guide to World Submarines
This Covert Shores Recognition Guide Covers over 80 classes of submarines including all types currently in service with World Navies.
Check it out on Amazon

Taking the SSBNs first, a total of 10 are confirmed (three BOREI-I, already on service, and seven BOREI-II of which one is undergoing trials and the rest have yet to be launched). This makes sense because the current CASD is maintained by 10 submarines and the DELTA-IVs are in need of replacement. Media reports from May 2018 claimed a total fleet of some 14 BOREIs. Russian state media is very unreliable on submarine topics, especially when citing anonymous sources, so these reports should be assessed carefully.



Recent photograph of lead BOREI-II SSBN, Knyaz Vladimir (K-549) from Oleg Kuleshov (Twitter, website)

Only eight BOREI-I/II are confirmed which would still provide four for each fleet (Northern & Pacific) which should be enough to maintain a CASD, especially since each fleet provides a backup to the other. Both Britain and France have been running their deterrence forces with just four boats. In this more modest scenario, the duration of individual Russian deterrence patrols would likely increase similar to the NATO norm.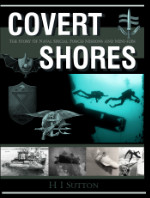 THE book on Special Forces subs Covert Shores 2nd Edition. A world history of naval Special Forces, their missions and their specialist vehicles. SEALs, SBS, COMSUBIN, Sh-13, Spetsnaz, Kampfschwimmers, Commando Hubert, 4RR and many more.
Check it out on Amazon

Meanwhile four Poseidon -carrying submarines are planned, each carrying six rounds. The first, K-329 Belgorod (Pr.09852) , was launched in April. Regardless of the final number of BOREIs, Poseidon is a diversification of the deterrence rather than a replacement for the SSBNs. The Russian Ministry of Defense consistently claims that Poseidon has both tactical and strategic applications.


The second SSDN, Khabarovsk (Pr.09851), will be a new class designed specifically to carry the weapon. An image leaked by the Russian Ministry of Defense in 2015 suggests that it is closely related to the BOREI-I design but with the missile compartment removed and the Poseidon carried ahead of the sail, likely in the same configuration as on Belgorod. The last two, Pr.09853, are possibly an evolution of Khabarovsk but with features derived from the BOREI-II design.

---
Related articles (Full index of popular Covert Shores articles)






+





Nuclear Missile submarines



Project 885 'YASEN' (Severodvinsk Class) SSGN. w/Cutaway



SNLE-3G next-generation French SSBN



Project 955A 'BOREI-A' Ballistic Missile Submarine. w/Cutaway



HUSKY Class future attack submarine



Project 09852 Belgorod Special Mission submarine (spy sub). w/Cutaway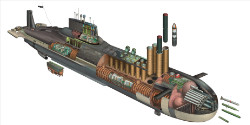 TYPHOON Class SSBN. w/Cutaway



North Korean Gorae Class SSB



P.09851 KHABAROVSK and KANYON (Status-6)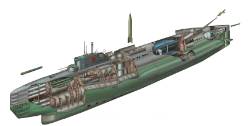 Stalin's Super Sub, Project P-2. w/Cutaway



INS Arihant, Indian SSBN and .2