The SubSkimmer is possibly one of the most innovative underwater craft ever designed for the infiltration of Special Forces. It combines the characteristics of a rigid-inflatable (RIB) with an underwater scooter and is better understood as a submersible boat rather than a typical Swimmer Delivery vehicle (SDV). First built in the early 1980s, it has been widely exported and version are still in production today.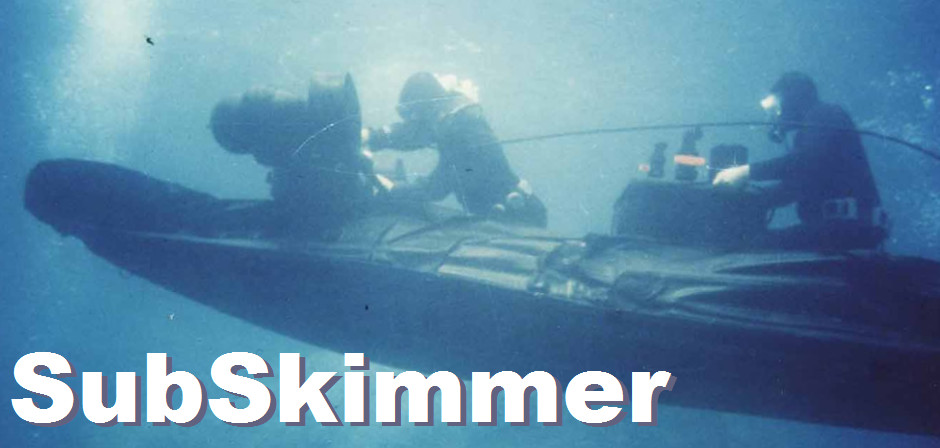 Development
The SubSkimmer was originally designed by Submarine Products of Hexham, England, which was known for making rebreathers and other diving equipment. The company was founded in 1959 by a retired naval officer, Lt.Cdr. Hugh Oswell who like many former personnel, believed he could commercialize a few ideas from his years of service. His main product was the Black Prince, a cheap civilian sports diving air regulator similar to the Aqualung type but without infringing Cousteau's patent. The firm also produced the less well known Oxymax military closed / semi-closed rebreather which was designed by Ian Mayo.

During the 1960s Submarine Products began experimenting with various unusual designs for underwater craft including pedal-powered Perspex encased contraptions similar to some recreational toys sold today. On the military front this led to the unusual SubCat design in the 1970s.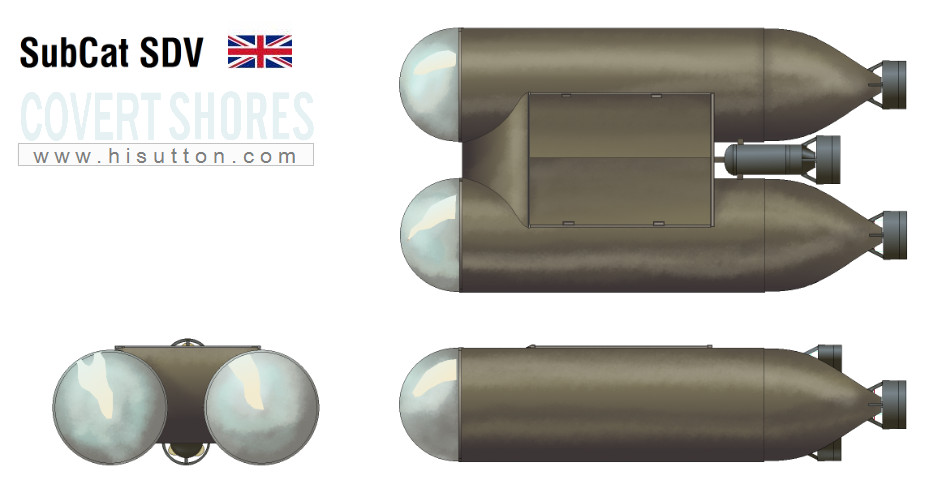 See main SubCat article:

SubCat SDV

Submarine Products next underwater craft was even more unusual and did make it off the drawing board however. The SubSkimmer was based on a rigid inflatable (RIB) hull with a means of sinking and running submerged. RIB technology was itself incredibly new in the late 1970s and even Special Forces did not widely use them, let alone submersible ones.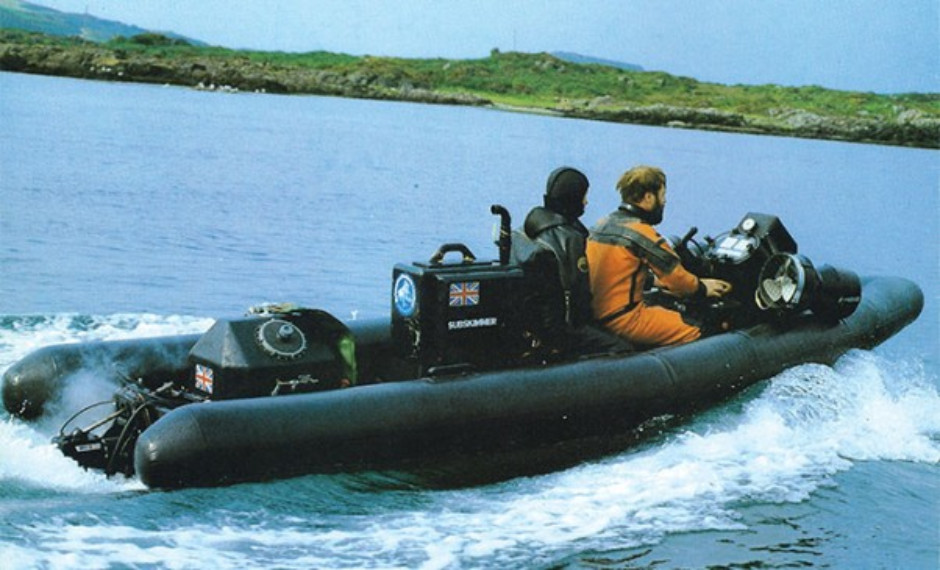 The hull was big enough for four divers, with the driver sitting near the front with a large steerable handlebar which provided both the control console and a mounting for two small electric thrusters. Therefore no rudder or hydroplanes were required.

At the rear a small outboard motor was mounted in a water-tight container with a snorkel which could allow it to run partially submerged. Amidships the batteries were carried in a large box-like compartment. The rest of the crew ordinarily sat on the inflated tubes at the sides with one man sitting facing the outboard motor behind the battery compartment. On the surface with the tubes inflated the SubSkimmer performed like a typical small RIB with a 25kt maximum speed and 140km (100 miles) range. Once the craft approached within radar range of the target it would deflate the tubes and ballast down so that it ran awash. Because of the snorkels the outboard engine could still be used, giving it a 5kt speed. Once it approached within audible range it could switch to the electric motors which provided 3-3.5kt while awash. With the snorkels sealed the craft could then fully submerge to avoid radar and visual detection and proceed at a modest 2kt, limited because of the exposed position of the divers and high water resistance.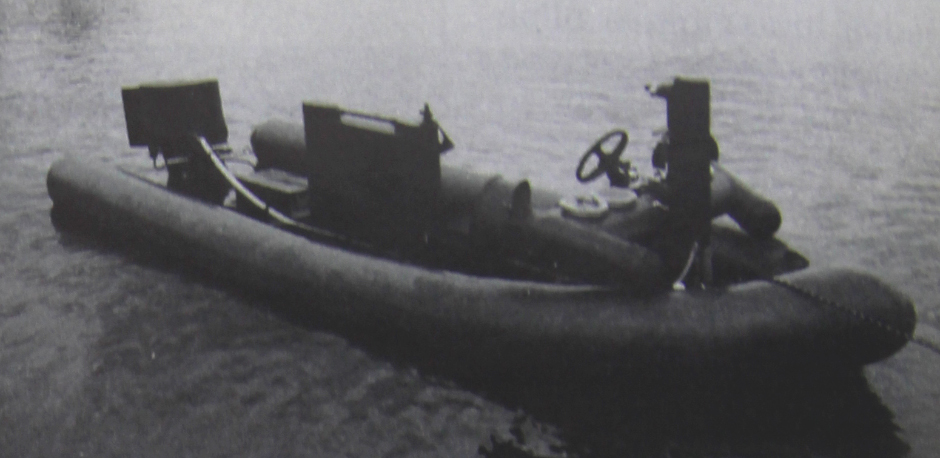 Taken as a whole the concept was almost unique in every respect. Its strengths lay in its versatility and carry capability rather than its underwater performance or capability. It is reasonable to presume that the form of the craft provided more drag than other SDVs which were optimized for underwater travel, which combined with other factors also made it comparatively noisy. Therefore it was not particularly suited to sabotage missions or operations involving stealth against sophisticated defenses, but it could easily operate in the environments most special operations are conducted in, making a more covert entry than an inflatable boat or canoe. It was thus more of a transport than a raiding craft; a true jeep of the sea in a way that had been much talked about but not realized before.

It was particularly suited to covert insertion of Special Forces patrols cross-beach missions. The prototype was demonstrated in England in early 1982, just before the Falklands War. Despite what might appear as magical timing, it was in no way ready for service in the conflict and the SBS were far too focused on the tasks at hand to try to develop any additional capabilities in a hurry. Although the concept is enticing on paper, it really wasn't what the SBS needed, being much too slow underwater for use in the North Sea.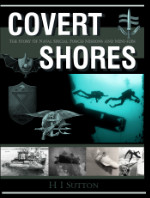 THE book on Special Forces subs Covert Shores 2nd Edition. A world history of naval Special Forces, their missions and their specialist vehicles. SEALs, SBS, COMSUBIN, Sh-13, Spetsnaz, Kampfschwimmers, Commando Hubert, 4RR and many more.
Check it out on Amazon

SSK-96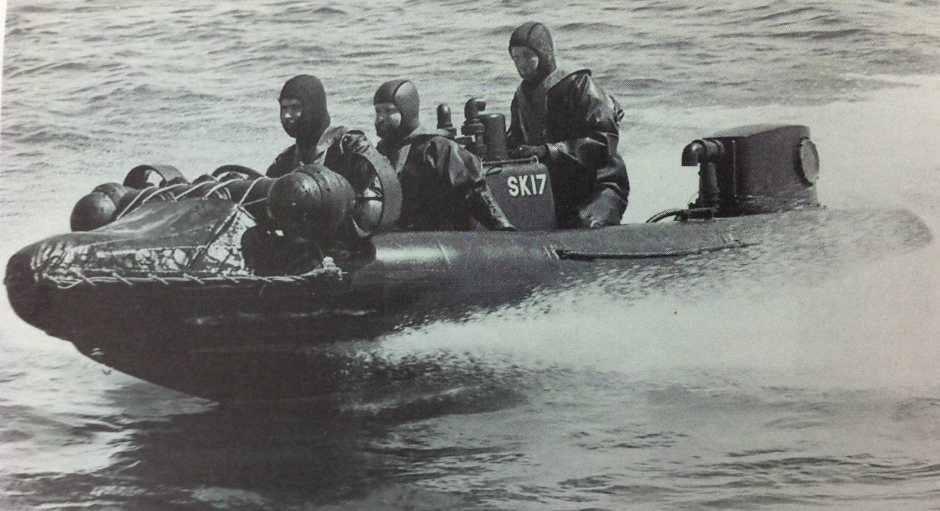 The prototype was followed by the production model SubSkimmer-96 (SSK-96) which was very similar but a more polished design, with streamlined thrusters and easier controls. It was about the same length as a Zodiac inflatable boat or canoe at 5.3m (17ft) and could carry four or five divers. On the surface it was powered by a single gasoline powered two-stroke three-cylinder 90hp commercial outboard motor, and used the same battery and thruster configuration as the prototype. Underwater endurance was about 10km (6 miles) which would have taken about three hours at 2kt. British forces never purchased the craft and it was left to try its luck on the export market.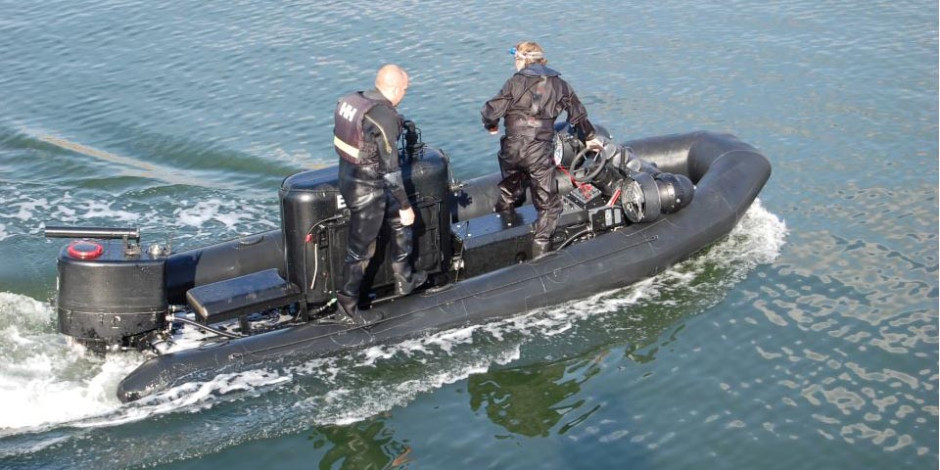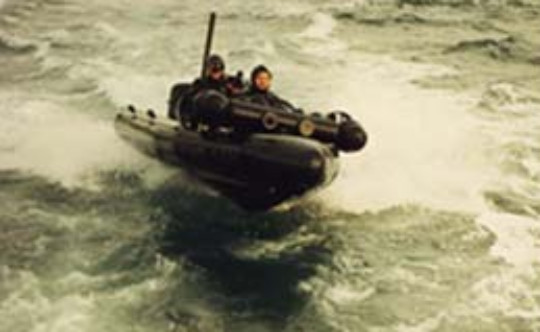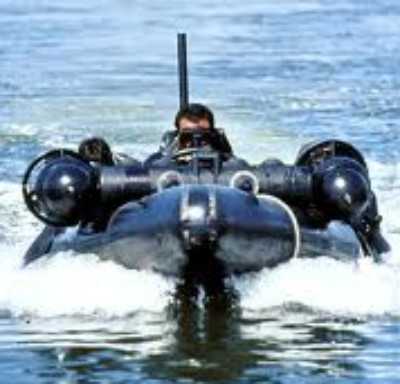 As a completely commercial development it wasn't classified and like many commercial SDVs it did not count as a weapon and could be sold to almost any country just like a regular boat. The utility, relative low sophistication and low cost made it very attractive to overseas customers, especially ones without a submarine capability to transport regular SDVs. It sold well in the developing world where many countries were developing their naval Special Forces during the 1980s. Even for these customers the craft was so cheap that during a conflict it could be treated as expendable like a canoe or inflatable boat. If the mission warranted it, the craft could be used and then discarded on the seabed while the Special Forces crew infiltrated deep inland. The type was also marketed as an underwater search and rescue (SAR) craft for coast guards.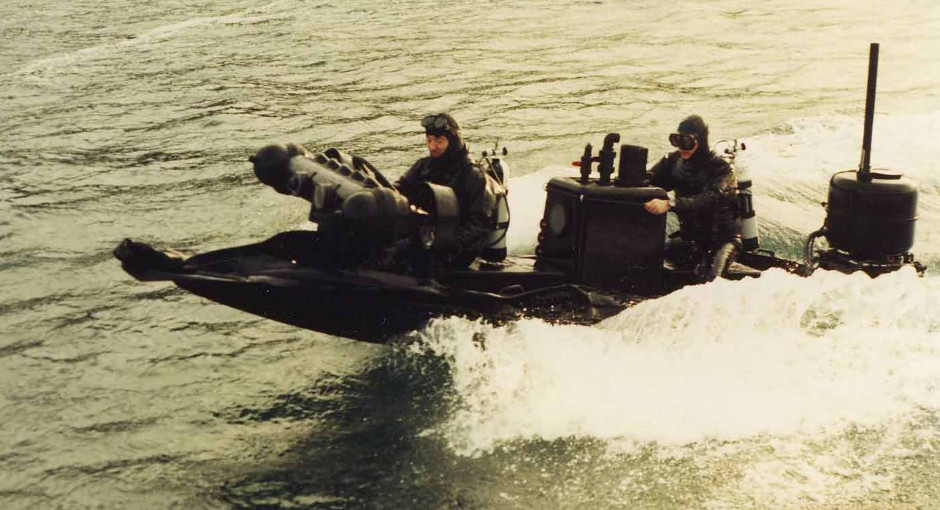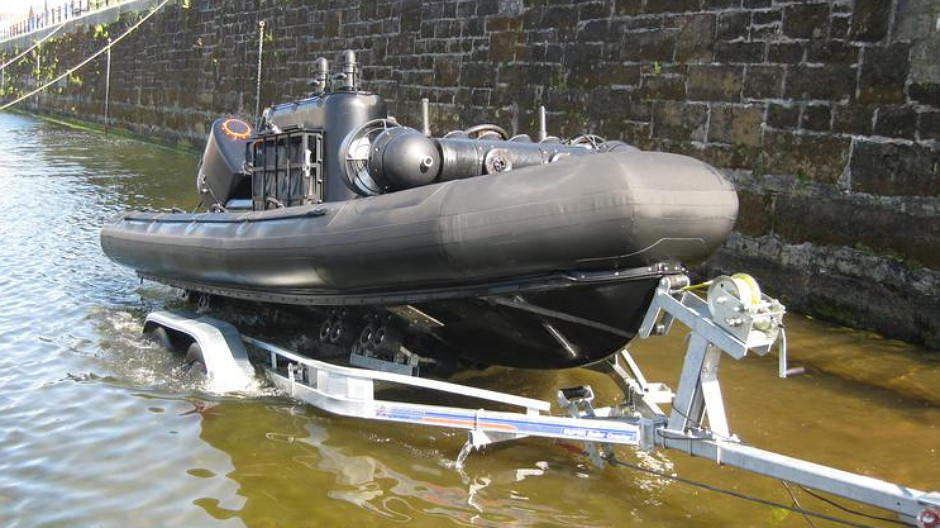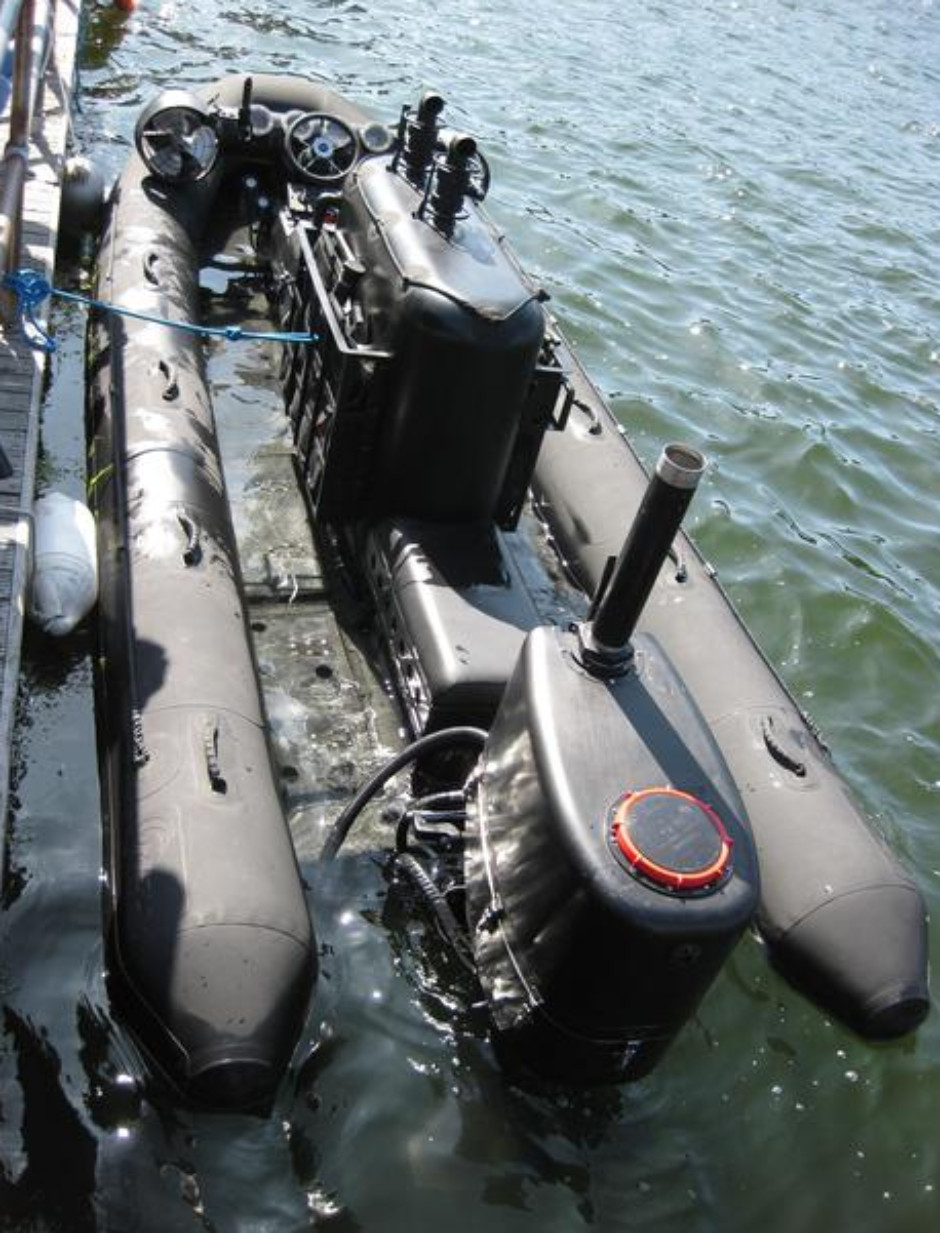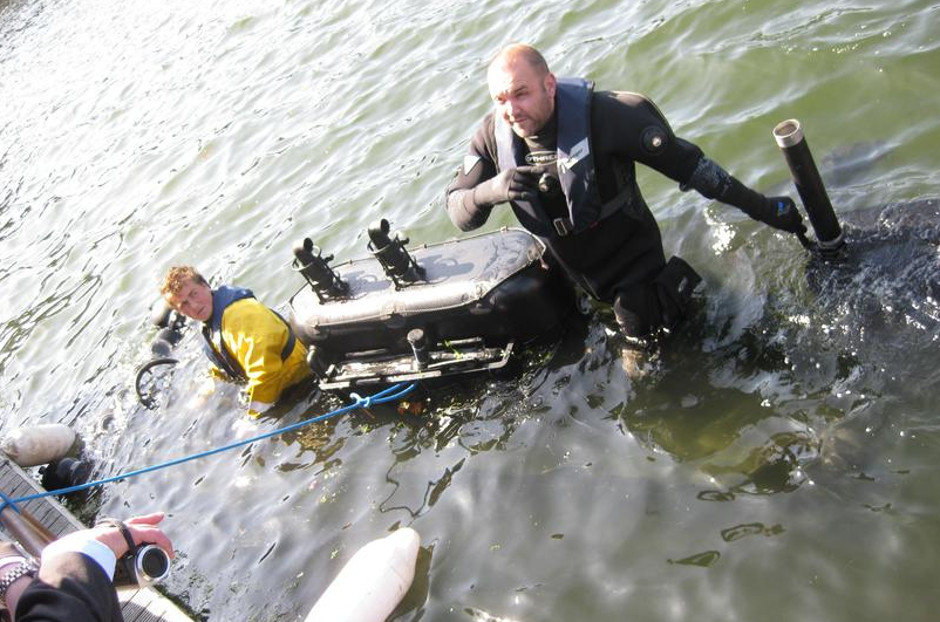 SSK-180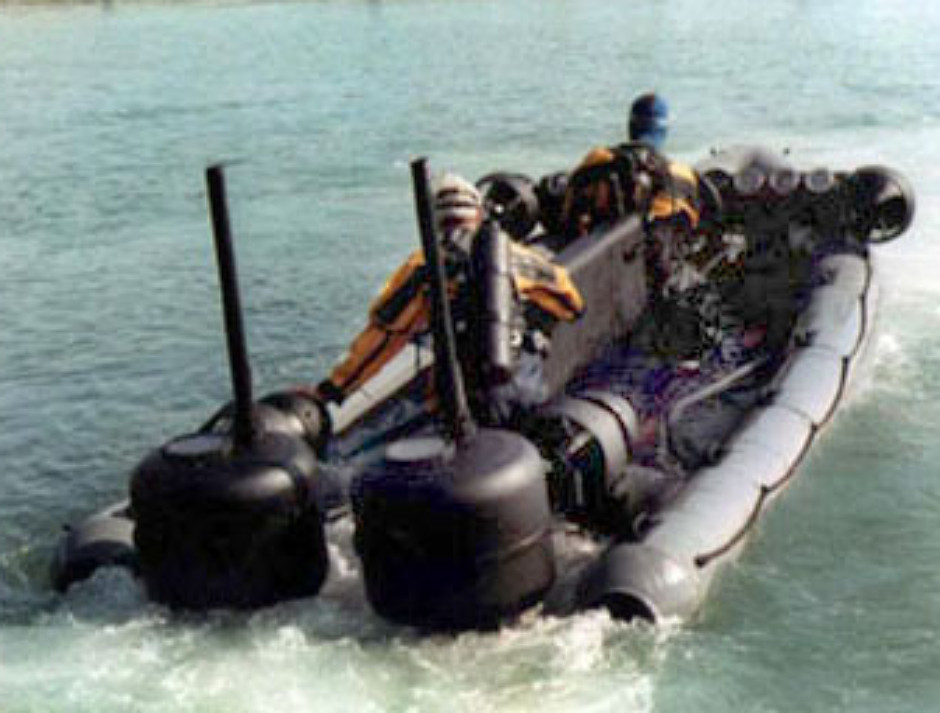 The SSK-96 was soon followed by the larger second generation SSK-180 which differed primarily in having twin outboard motors which allowed it to carry six divers. It also had a second pair of thrusters mounted near the back of the craft to provide better underwater power, although speed was still limited by the exposed divers. Operationally and technologically it was similar but more reliable.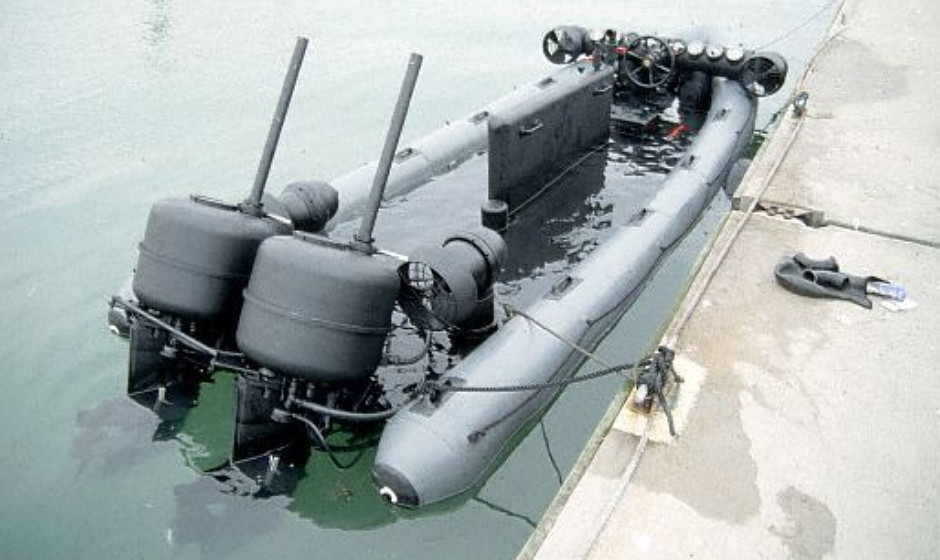 Although sales of the craft were solid Submarine Product's main business of diving equipment suffered a series of setbacks during the 1980s and the company folded in 1990. The SubSkimmers had always been built by subcontractors and a succession of small companies kept the design on the market throughout the 1990s, and it continued to rack up export successes.


SSK-680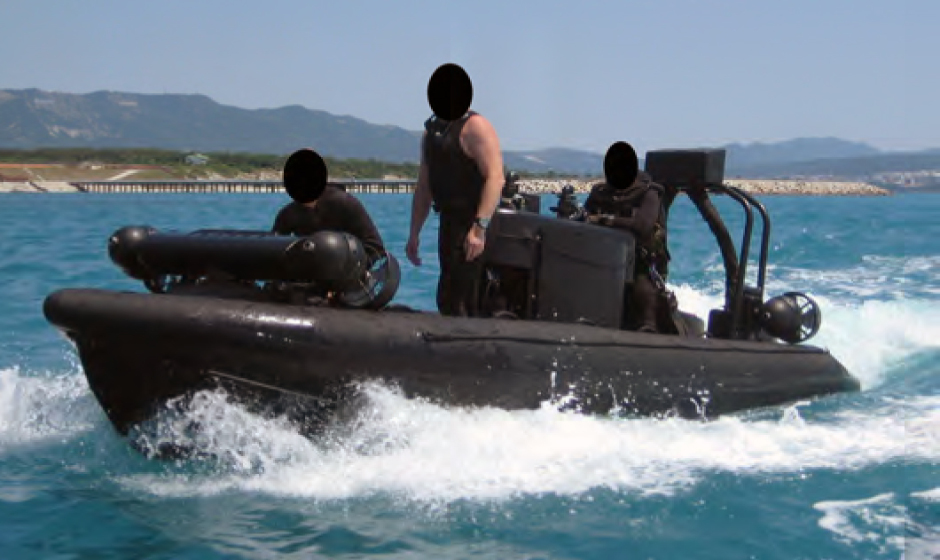 The current manufacturer of the SubSkimmer is Marine Specialized Technology (MST) who are well known in the boat and defense industry for their RIBs. In the early 2000s MST took over the SubSkimmer and set about modernizing it. Previous 1990s upgrades had concentrated on replacing components with more modern off-the-shelf equipment, so MST undertook a complete bottom-up redesign starting with the hull.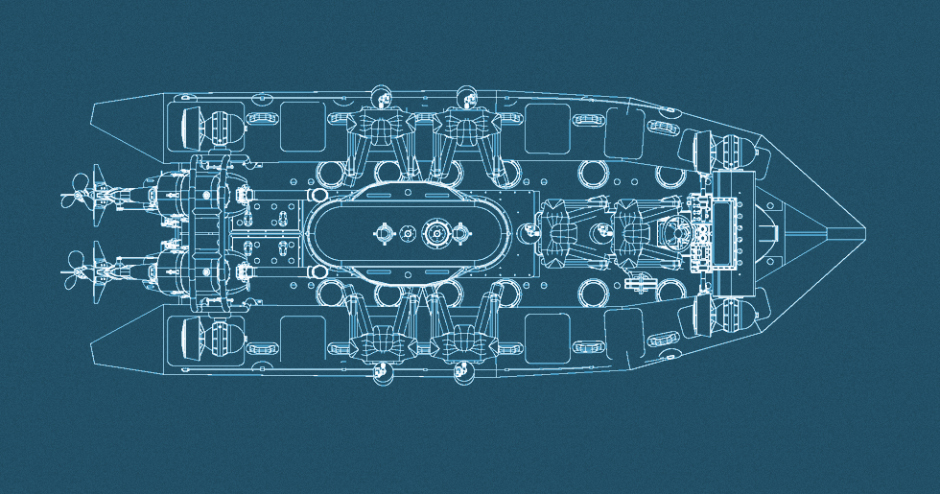 The resulting fourth-generation SSK-680 is outwardly recognizable as a SubSkimmer but features a much more hydrodynamic slender hull form representing cutting edge RIB design. The craft is 6.8m (22ft) long and can carry eight divers. Details are sensitive so not a lot can be said about the SSK-680, but it is continuing to enjoy export success.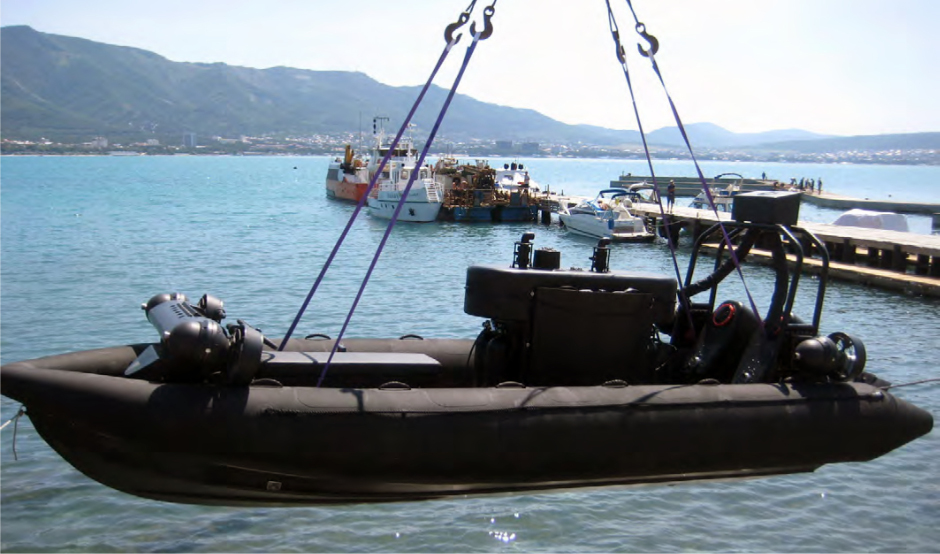 SSK-1100
Placeholder. Latest generation craft developed by MST significantly more capable than previous versions. Currently at prototype stage. Details to be added after type is revealed to public. From what I've seen of this design it is going to be very interesting.

Influenced designs
To be added.

---
Related Articles



British SDV developmemts in 1960s (Dick Tuson)




Cos.Mo.S Nessie Fast SDV submersible boat




COMSUBIN's submersible boat




Naval Spetsnaz in Hybrid Warfare (Russian SDVs and DPVs)



Sleeping Beauty (Motorised Submersible Canoe) of WW2




SubCat SDV




Ortega Mk.1 Swimmer Delivery Vehicle




Triton-NN Submersible Boat





Taedong-B 'Kajami' ('Zulfikar') submersible boat