New Variant Of China's Yuan Class Submarine, Possible Type-039C

As I reported in Naval News on May 12, China appears to have built a new variant of the Type-039A Yuan family of submarines. A candid photograph, taken from a moving vehicle on a bridge, shows the submarine on the slipway at Wuchang shipyard in Wuhan. I have not yet been able to corroborate the image with other public sources, so caution is needed. However, Google Earth satellite imagery does show three submarine hull sections in the latest (February 2021) imagery.

The new variant appears to have a substantially redesigned sail. This is partly obscured by the bridge, but it appears to have a chine running along the upper part. It is also possible that the shadow is part of a scaffolding around the sail, but this seems less likely. The chined sail is similar to the Swedish A-26 Blekinge class. If correct, this is likely to be the main visual identification point.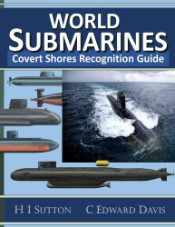 Get The essential guide to World Submarines
This Covert Shores Recognition Guide Covers over 80 classes of submarines including all types currently in service with World Navies.
Check it out on Amazon

There are also a number of more subtle changes. The upper rudder may be reshaped and the limber holes generally more tidy than previous iterations.

The submarine does not appear to be longer than the Type-039A & B models. This suggests that a vertical launch system for cruise missiles has not been added.

China may also have been experimenting with new propulsion technologies such as lithium batteries. This is one explanation of the Sailless Submarine. So a new variant may incorporate some propulsion improvements over the earlier types.

---
Related articles (Full index of popular Covert Shores articles)



Chinese Type-093 Shang Class Submarine w/Cutaway



Chinese MS200 midget submarine



Chinese Sailless Submarine



Chinese Sea Wing UUV (Glider)



Chinese HSU-001 LDUUV