UPDATED - version 2.3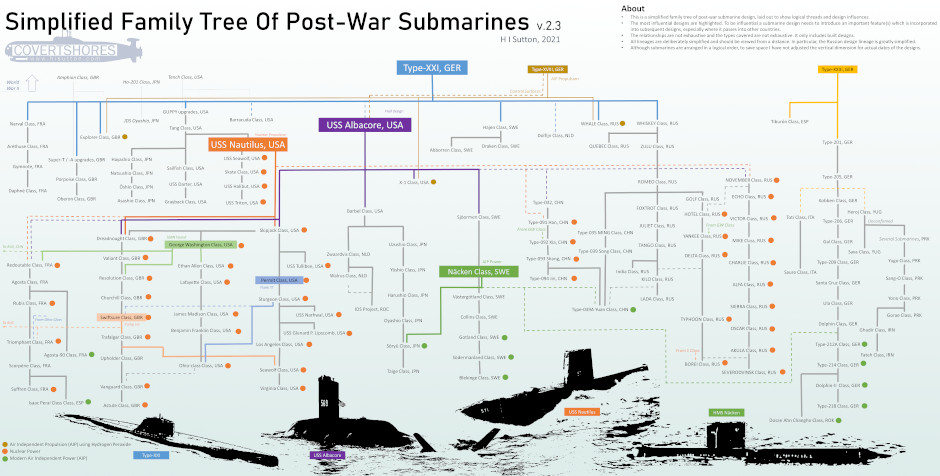 Click for high resolution.

World Submarines Family Tree
I would like to share this resource I built as part of my research into submarine design history. Similar to my Narco Submarine Taxonomy (book here), I am trying to make map out which designs influenced which others. And from there which designs can be said to be the most influential submarines. This is a nuanced topic and the map is only intended as a starting point.

Sometimes the relationships between designs are plain for all to see, such as the follow-on classes. Other times the influences were clear because we know that the designers of one boat were inspired by designs elsewhere. For example the Swedish Sjöormen Class benefited from access to the USS Albacore. And other times the influence is inferred (shown as weaker links on the chart).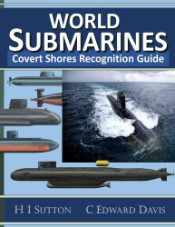 Get The essential guide to World Submarines
This Covert Shores Recognition Guide Covers over 80 classes of submarines including all types currently in service with World Navies.
Check it out on Amazon

However the family trees are deliberately simplified. To take an example which may be familiar to most readers, the most recent US Navy SSNs are listed in series as Los Angeles Class leading to the Seawolf class and finally the Virginia Class. It could be argued that the Virginia follows Los Angeles, which is closer in role and equivalency, with only influences from Seawolf. But that would be too complicated and doesn't add much. What is more interesting in these submarines is where they got the influence for the Pump Jet propulsion from (see the chart!).

Hopefully this is interesting and useful. I hope to do a poster version (my store is at TeeSpring), once I have reflected on any corrections which might be needed. Feedback welcome.

---
Related articles (Full index of popular Covert Shores articles)






+





Nuclear Missile submarines

















World survey of AIP submarines






World survey of Special Operations Craft


Explosive Boats world history


Narco Subs 101. w/Cutaway


LTTE Sea Tigers' sneak craft and midget subs















World guide to Heavyweight Torpedoes