Unmanned Underwater Vehicles (UUVs) found off Chinese Coast


China recently held its annual awards for fishermen who alerted authorities when discovering unfamiliar devices (e.g. UUV/AUV) in their nets. (Chinese media) The devices may have been operating in international waters, but still in China's backyard, as they see it. Of interest are the unmanned underwater vehicles (UUVs, aka AUVs). However devices which appear to be in the numbers have also included bombs, torpedoes, buoys, rifles and other curiosities.

This poster has been used to inform fishermen of the reward scheme. It uses internet sourced images of UUVs. Only the LBS-G glider (bottom center) was actually 'caught' by China, and not by fishermen. Note that the LBS-G is essentially the same vehicle as the Slocum Glider (top right):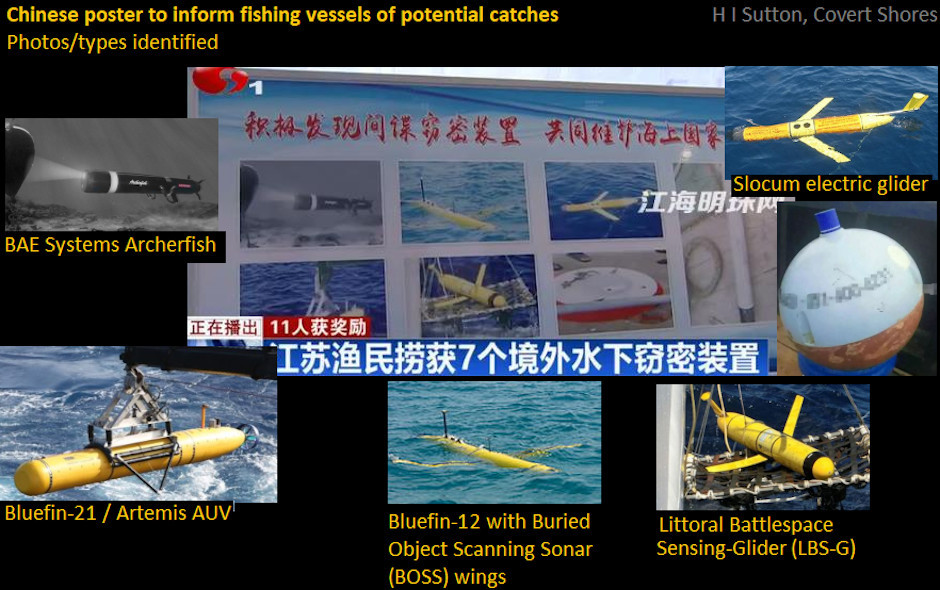 In 2012 a fishing boat from Hainan Island discovered a torpedo-shaped drone in the South China Sea. That titanium drone had satellite communications and cameras. It was reported as an American device in Chinese media. It is broadly similar to a Kongsberg REMUS 600 but I have not been able to identify this model.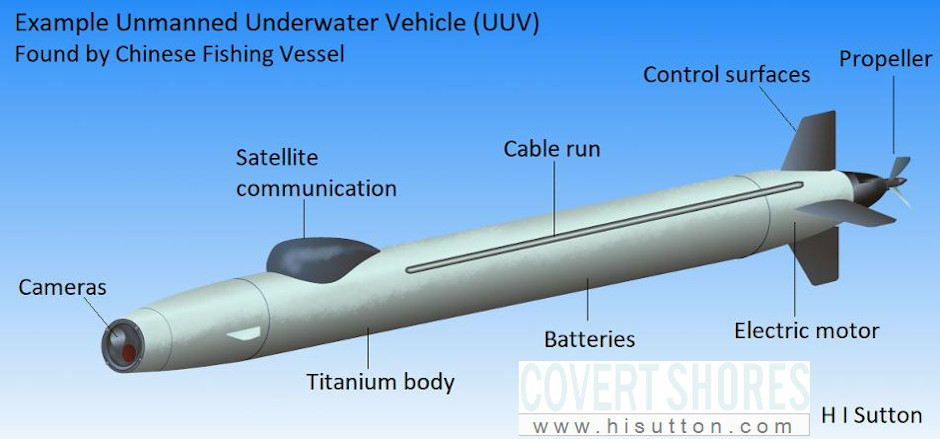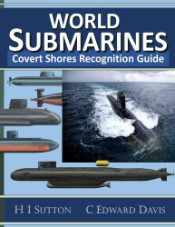 Get The essential guide to World Submarines
This Covert Shores Recognition Guide Covers over 80 classes of submarines including all types currently in service with World Navies.
Check it out on Amazon

In 2017 a possible Remus 100 UUV was discovered in Lianyungang, Jiangsu Province. (Example media report). It was highly corroded.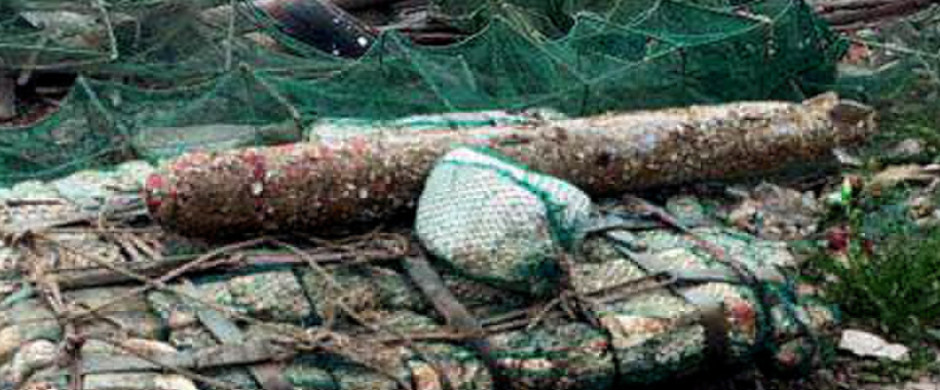 However, possibly this was actually a torpedo which had been recovered previously:


Media coverage from the 2019 event, when 4 fishermen (3 male, 1 female) were rewarded, showed an Edgetech DF-1000 sidescan sonar towfish (or variant) being pulled from the water.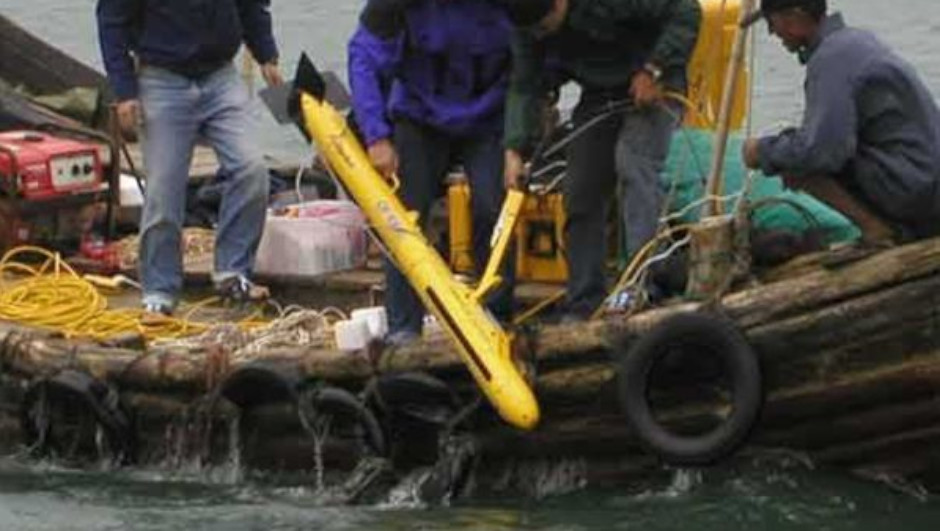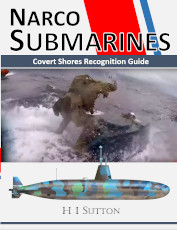 The World's ONLY Guide to
Narco Submarines
10 years of research, analyzing over 160 incidents, condensed into a handy guide. This unique book systematically breaks down the types and families. With detailed taxonomy, recognition 3-views, profiles and photos. Available on Amazon



The above photograph is probably posed. Another photo used by Chinese media to illustrate these events appears to be the same towfish but on a different ship: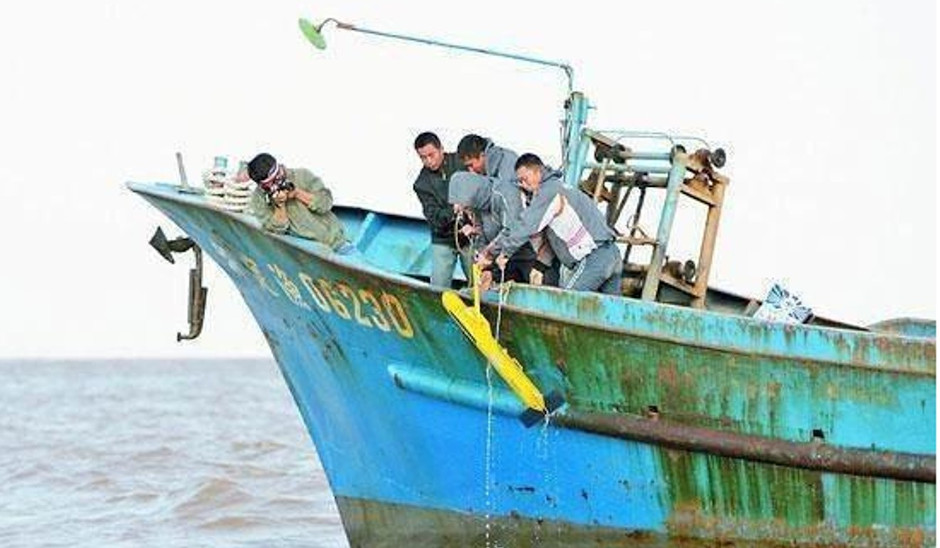 In December 2016 a Chinese vessel lifted a US Navy Littoral Battlespace Sensing-Glider (LBS-G) from the South China Sea. It was being recovered by the U.S. Navy oceanographic survey ship USNS Bowditch. After protest, it was later handed back to an American warship.

This image may be an UAV: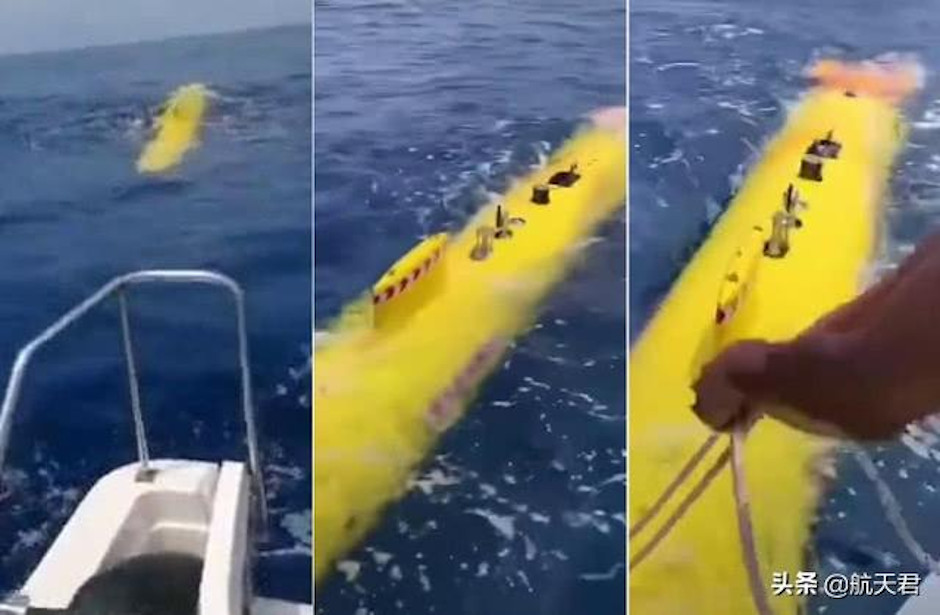 ---
Related articles (Full index of popular Covert Shores articles)



Chinese HSU-001 LDUUV



Garmoniya-GUIDE AUV



ASWUUV anti-submarine unmanned underwater vehicle


Biomimetic Underwater Vehicles



Poseidon Intercontinental Nuclear-Powered Nuclear-Armed Autonomous Torpedo, and countering it



XLUUV armed extra-large UUV



Russian Navy Beluga whale



Harpsichord (Klavesin) AUV



SwarmDiver micro-USV



Nerpa anti-diver UUV



Cephalopod armed extra-large UUV