Share:

Imperial Japanese Navy 'Kairyu' Class midget submarine


In the final months of World War Two, the Imperial Japanese Navy prepared a vast fleet of midget submarines to defend the home islands. Many of these designs crude and reflected the desperation of the times, but the Kairyū Class stands out. Roughly equivalent of the famed Seehund developed in Germany, the two-man 'sea Dragon' (海龍)was armed with two 450mm torpedoes and a 600 kg (1,300 lb) explosive charge in the nose for ramming attacks.

Original artwork - CLICK IMAGE FOR HIGH-RESOLUTION: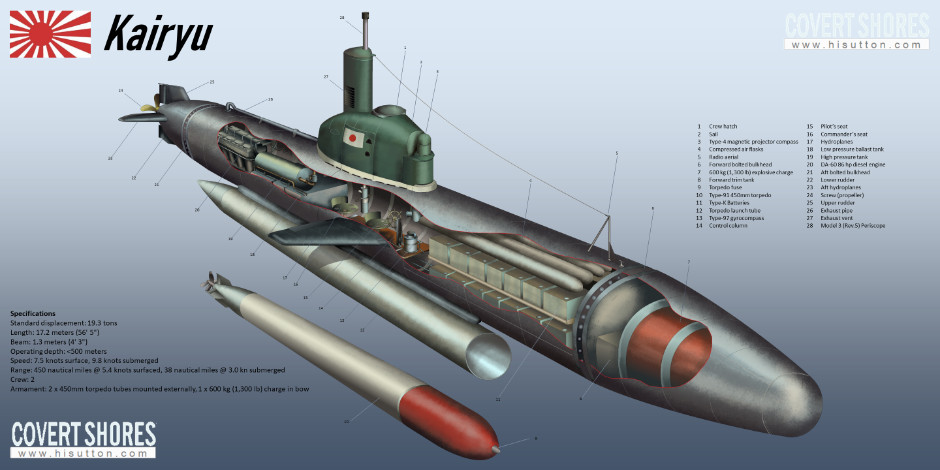 The most distinctive feature of the Kairyu were the large hydroplanes mounted amidships like aircraft wings which, together with a pointed nose optimized for underwater travel, probably made for a bumpy ride whilst on the surface.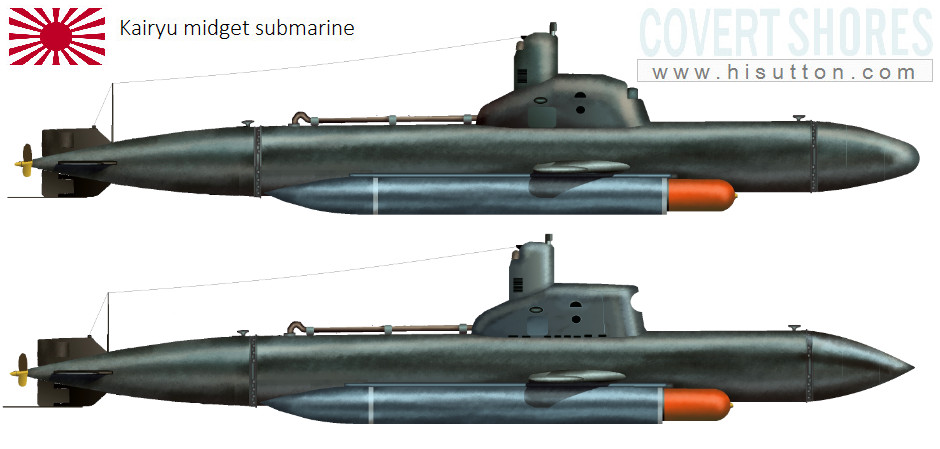 The lower profile shows alternative features found on some Kairyu. Note the pointed bow and viewing port instead of the projector compass in the leading edge of the sail.

Specifications
Standard displacement: 19.3 tons
Length: 17.2 meters (56' 5")
Beam: 1.3 meters (4' 3")
Operating depth: <500 meters
Speed: 7.5 knots surface, 9.8 knots submerged
Range: 450 nautical miles @ 5.4 knots surfaced, 38 nautical miles @ 3.0 kn submerged
Crew: 2
Armament: 2 x 450mm torpedo tubes mounted externally, 1 x 600 kg (1,300 lb) charge in bow


Over 200 craft were built out of 760 ordered and all were kept on the home islands to repel invasion. With the shortage of torpedoes many Koryu were equipped with a 600kg (1,300lb) charge intended for kamikaze use. When Japan surrendered, no Kairyu had seen action meaning that the design remains unproven.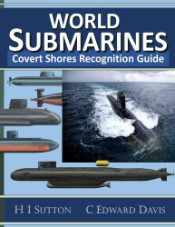 Get The essential guide to World Submarines
This Covert Shores Recognition Guide Covers over 80 classes of submarines including all types currently in service with World Navies.
Check it out on Amazon



---
Related articles (Full index of popular Covert Shores articles)



Japanese Ha201 Sen-Taka-Sho fast attack submarine of WW2



Japanese Ko-Hyoteki midget submarine of WW2 - Pearl Harbor attack



Surcouf Cruiser Submarine w/Cutaway



Type-XXIXH stealth U-Boat. w/Cutaway



Attack Class



Soviet Project 1015 'SPLC' Special Purpose midget submarine



Type-IIIA U-Boat



HDS-500 Midget Submarine



Chinese MS200 midget submarine



Mignatta first human torpedo



Decima MAS attack on New York 1943 (CA Class)