US Navy Submarine Seen At Diego Garcia, Indian Ocean


Diego Garcia, a small atoll in the Indian Ocean, often plays a geostrategic role. Its central location, combined with relative isolation, make it an ideal base. Although a British territory, it is used by both the U.S. Navy and Air Force. The base is already important today, and could become even more important if China expands its naval activities in the Indian Ocean. China already has a naval base in Djibouti on the Horn of Africa, and may build a base in Gwadar, Pakistan.

So the base's relevance was recently demonstrated when a US Navy submarine made a discrete port call there.

CLICK IMAGE FOR HIGH-RESOLUTION: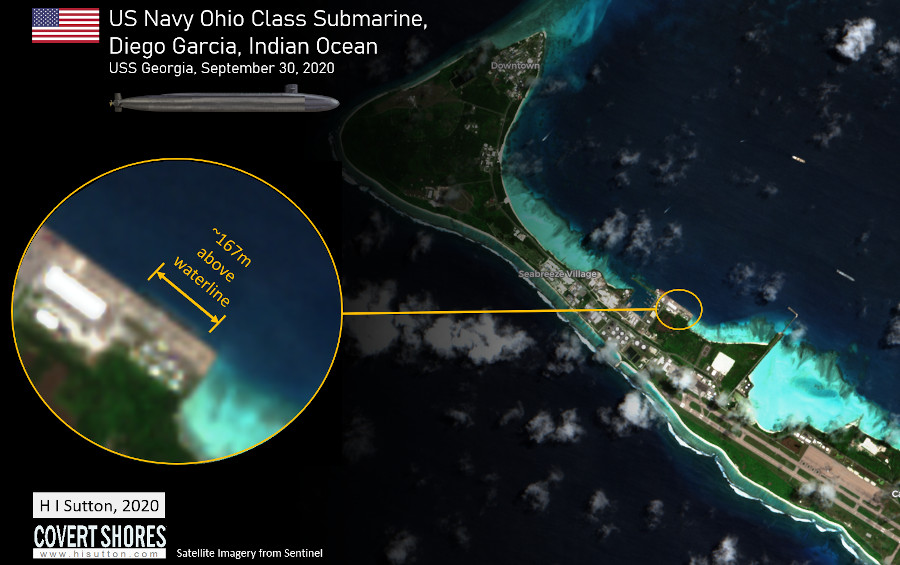 The USS Georgia (SSGN 729), an Ohio Class cruise missile submarine (SSGN), visited from September 25 to at least September 29. The submarine conducted a crew swap. Although the visit has since been publicized by the US Navy, the submarine was visible on commercial satellite imagery at the time.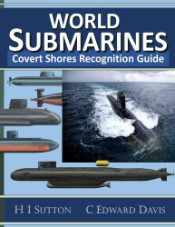 Get The essential guide to World Submarines
This Covert Shores Recognition Guide Covers over 80 classes of submarines including all types currently in service with World Navies.
Check it out on Amazon

The island is part of the Indian Ocean's Chagos Archipelago. It is over 1,100 miles (975 nm / 1,800 km) south of the tip of India. Yet it is close enough to potential hotspots to be a useful staging post for forward operations. This makes it critical important for the US, allowing it to project power in the Middle East and Africa as well as Indian Ocean, and maybe even South China Sea.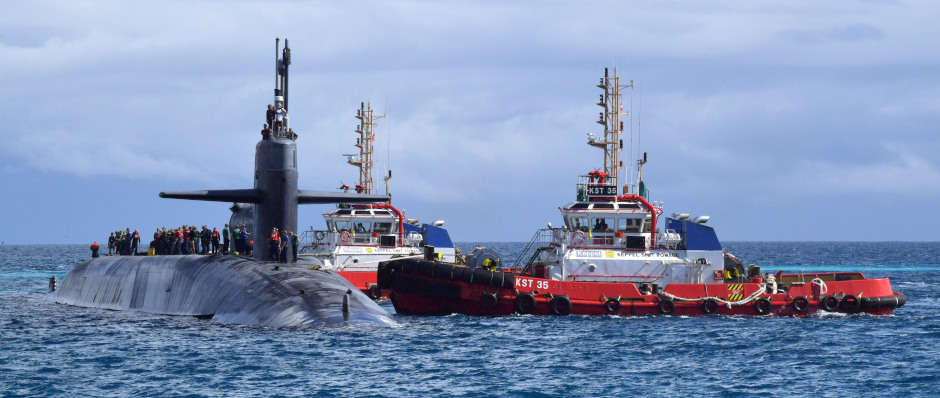 The USS Georgia (SSGN 729) pulls into port at Diego Garcia Sept. 25, 2020. PUS Navy photo by Seaman Apprentice Mariterese Merrique

The Naval Support Facility Diego Garcia provides logistic support to operational forces forward deployed to the Indian Ocean and Persian Gulf AORs.


---
Related articles (Full index of popular Covert Shores articles)



USS Jimmy Carter (SSN-23) Special Mission submarine



USS Parche spy sub par-excellence. w/Cutaway



Sturgeon Class SSN. w/Cutaway



Chinese Type-093 Shang Class Submarine



Iranian Fateh Class submarine w/Cutaway



Indian next-generation S-5 Class SSBN



Chinese Sailless Submarine