New Submarine Recognition poster
Essential reference for Journalists and surface navy alike.

"The Public are advised to familiarize themselves with the defining characteristics of both NATO and Russian submarines so as to avoid undue alarm at the sighting of friendly submarines, and may take necessary steps should an adversary's submarine appear. In the event of a hostile submarine being sighted, put on life jackets IMMEDIATELY and seek shelter in the nearest available shelter, ideally on dry land.

Original Artwork, CLICK for HIGH RESOLUTION: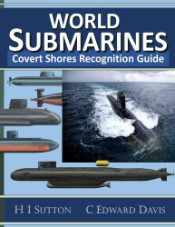 Get The essential guide to World Submarines
This Covert Shores Recognition Guide Covers over 80 classes of submarines including all types currently in service with World Navies.
Check it out on Amazon

---
Related articles (Full index of popular Covert Shores articles)



A-26 Class attack submarine. w/Cutaway






+





Nuclear Missile submarines

















World survey of AIP submarines



Sturgeon Class SSN. w/Cutaway



USS Jimmy Carter (SSN-23) Special Mission submarine



HUSKY Class future attack submarine



BS-64 Podmoskovye Special Mission (spy) Host Submarine



Project 09852 Belgorod Special Mission submarine (spy sub). w/Cutaway



Harpsichord AUV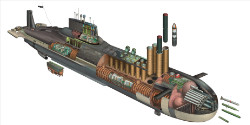 TYPHOON Class SSBN. w/Cutaway



SIERRA-I Class SSN



SIERRA-II Class SSN