SDV projects from WTD-71 Aquatechnik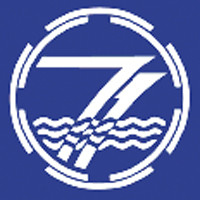 Two-man SDVs (Swimmer Delivery Vehicles) built and tested by Wehrtechnische Dienststelle WTD-71 (Technical Center for Ships and Naval Weapons, Marine Technology and Research) in Eckernforde.

WTD-71 developed several two-man wet subs for the Kampfschwimmers, Germany's famous Special Forces combat swimmers. In the 1980s the built a small enclosed craft with the crew sitting in tandem. The forward hydroplanes appear to be the same design as the later craft.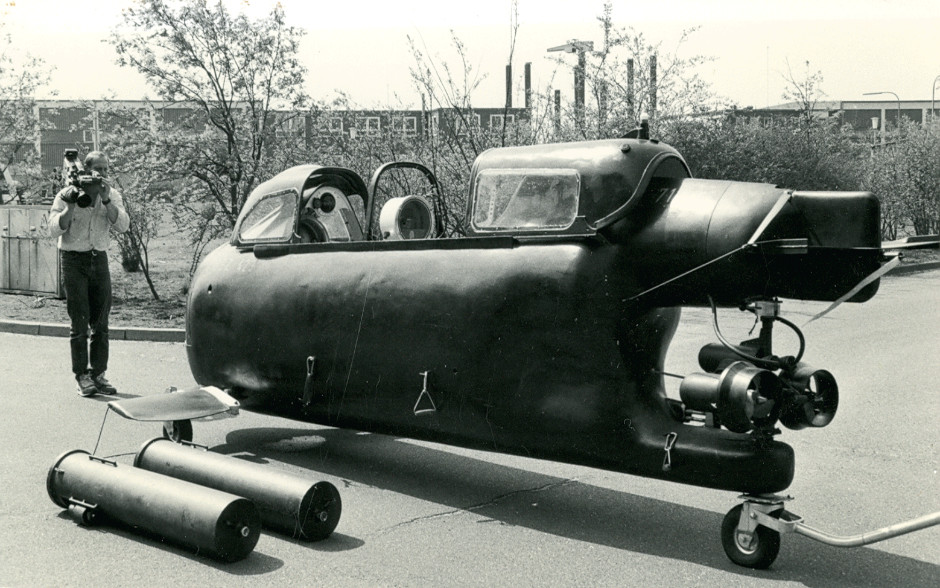 More recently they devised a very compact side-by-side design with the swimmers laying prone behind large watershields. Several of the craft were built but it did not enter service and two are now used to amuse and confuse visitors to their base. Very little is known about the type in the public sphere.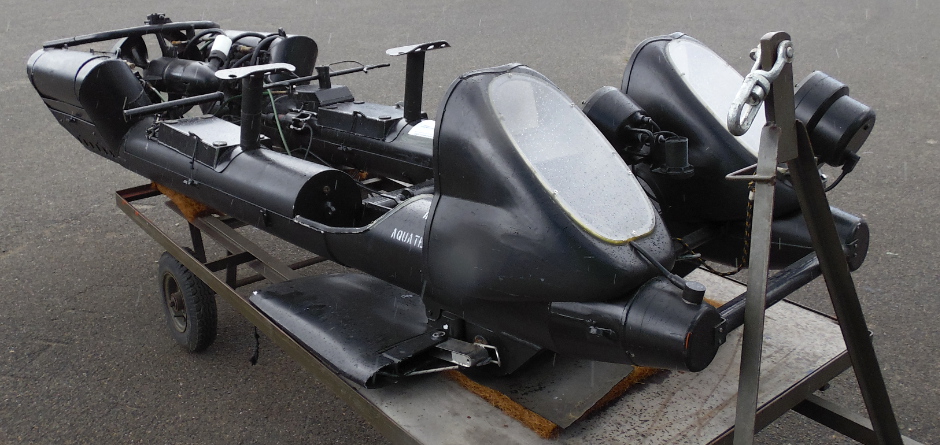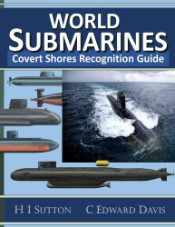 Get The essential guide to World Submarines
This Covert Shores Recognition Guide Covers over 80 classes of submarines including all types currently in service with World Navies.
Check it out on Amazon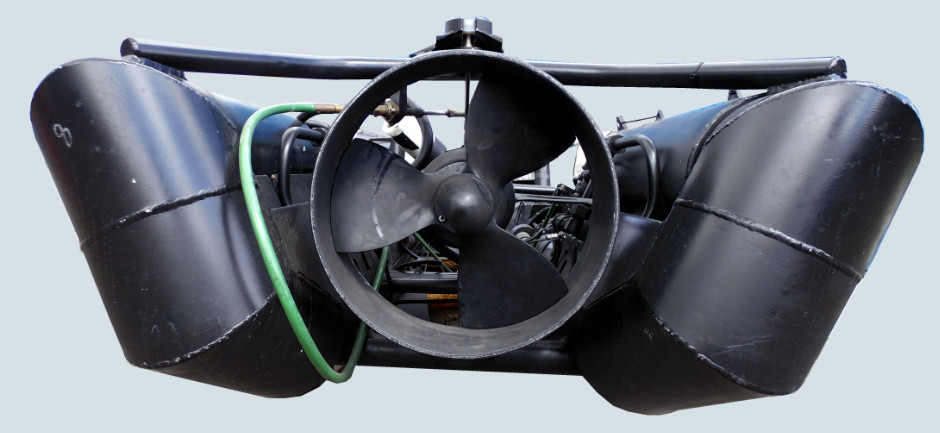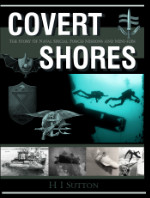 Learn EVERYTHING about Special Forces subsCovert Shores 2nd Edition. A world history of naval Special Forces, their missions and their specialist vehicles. SEALs, SBS, COMSUBIN, A-DYK, Sh-13, Spetsnaz, Kampfschwimmers, Commando Hubert, 4RR and many more.
Check it out on Amazon

The cut-outs in the forward fuselages is probably to allow fr the kampfschwimmers' Draeger rebreathers. The compass is mounted well in front of the hull where it is clear of the metallic fuselage and can be seen by the navigator. The DPVs (Diver Propulsion Vehicles) in the background are Bonex type, and the one on the trestle is from Multitec. The craft is propelled by a single steerable electric motor mounted centrally between two unusual 'U' shaped sealed battery pods.




Fate
The craft is now on display at Museum Fahrzeug in Bad Ischl, Austria:


---
Related articles (Full index of popular Covert Shores articles)



Narwal / Orca Dry Combat Submersible (UWTG)




Mignatta first human torpedo



Decima MAS attack on New York 1943 (CA Class)



Stidd Diver Propulsion Device (DPD)



Rotinor BlackShadow 730 and Divejet 414 Diver Propulsion Vehicles




British SDV developmemts in 1960s (Dick Tuson)




CSS-1 collapsible SDV




Gabler Sea Devil Swimmer Delivery Vehicle




Bonex HP and HP Shuttle Diver Propulsion Vehicles




Polish Blotniak SDV




Patriot 3M diver propulsion (Kraken, DAAPV, Jetboots)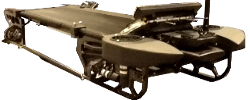 SharkMarine Mako DDS, Navigator, EagleRay etc



DSI Diver Delivery Craft (DDC)