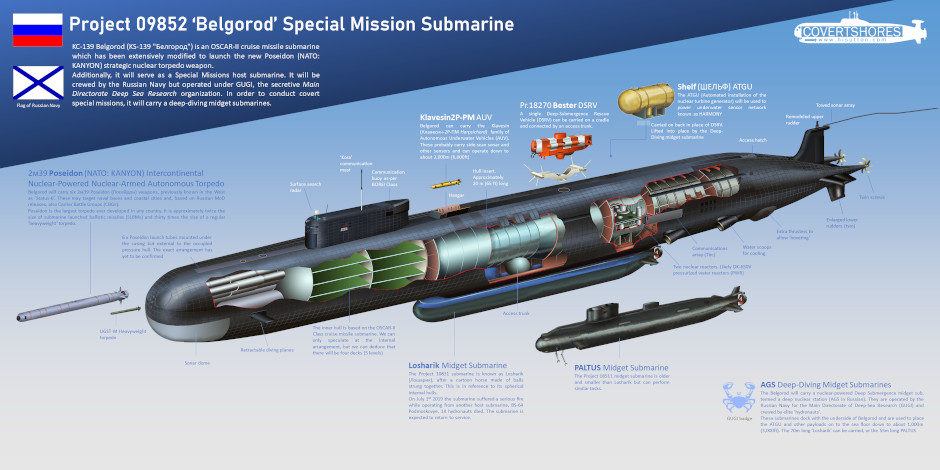 Original Artwork. Click for high resolution.

Russia's New Super Submarine, Belgorod (K-329)
Project 09852, K-329 Belgorod ("Белгород"). Nuclear-Powered Special Mission 'Auxiliary' Submarine (SSAN) and Nuclear-Powered Drone Hosting Submarine (unofficially 'SSDN')



Belgorod is one of the least understood submarines currently being built. It was launched in April 2019 and started sea trials on June 25 2021. It will be armed with the Poseidon strategic nuclear weapon, and also perform secretive seabed warfare missions. In this latter role it will be operated on behalf of the Main Directorate of Deep-Sea Research (GUGI). It is unclear which role will take precedence.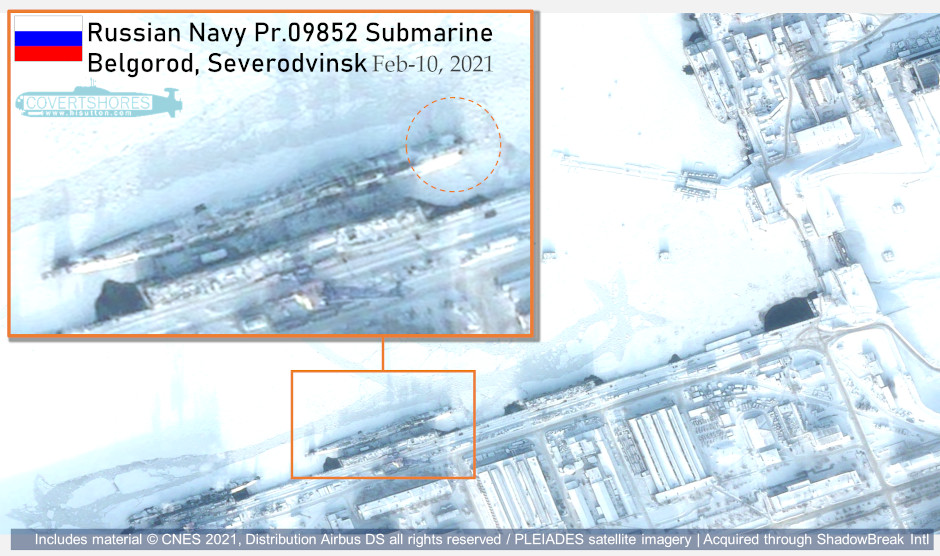 Airbus satelite image of Severodvinsk, Feb-10 2021. Includes material © CNES 2021, Distribution Airbus DS all rights reserved / PLEIADES satellite imagery | Acquired through ShadowBreak Intl. Click for high resolution.

Original artwork - CLICK for HIGH-RESOLUTION image:


6 x Poseidon nuclear weapons.
A nuclear-powered deep diving midget submarine docked under the keel for seabed warfare.
A DSRV rescue submarine on its back.
Other large payload options on its back including self-contained nuclear power plants.
Regular torpedoes and other submarine weapons
The November 19 2015 'leak' showing Belgorod (top left) and the 'Status-6' weapon (now named Poseidon):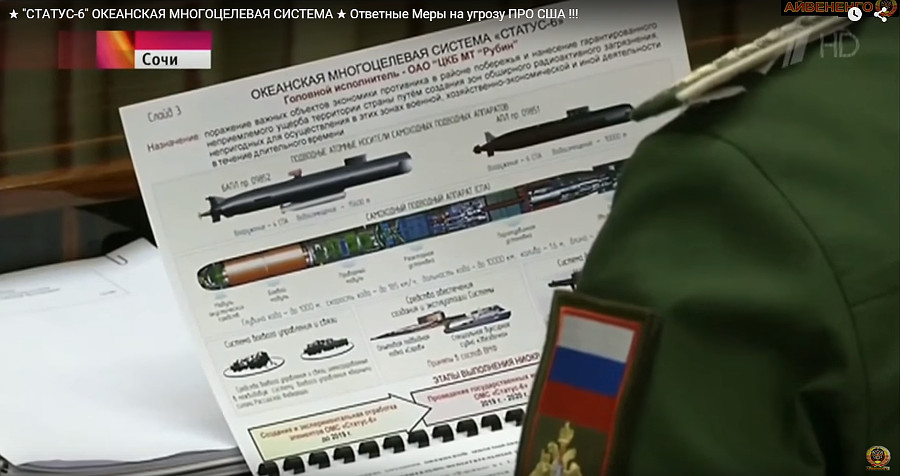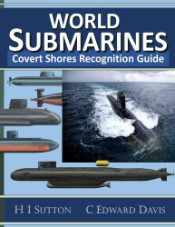 Get The essential guide to World Submarines
This Covert Shores Recognition Guide Covers over 80 classes of submarines including all types currently in service with World Navies.
Check it out on Amazon

Strategic Weapon Platform: Poseidon
Main article HERE
At around 2 meters (6.5 ft) in diameter and over 20 meters (65 ft) long, Poseidon (2м39 'Poseidon' (Посейдон)) is the largest torpedo ever developed in any country. It is approximately twice the size of submarine launched ballistic missiles (SLBMs) and thirty times the size of a regular 'heavyweight' torpedo.

Original artwork - CLICK IMAGE FOR HIGH-RESOLUTION: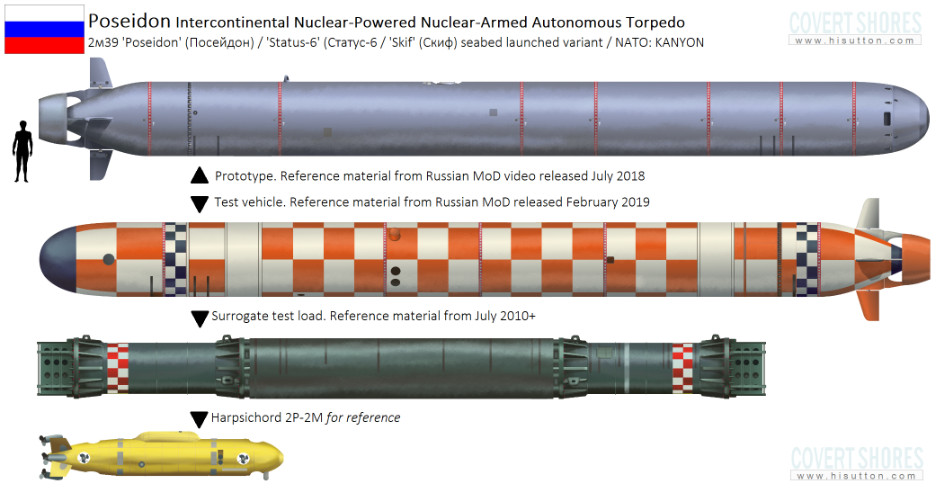 The weapon is primarily thought of as part of the nuclear deterrent. In this context it will act as a Second Strike weapon, hitting coastal populations centers like New York and Los Angeles. Its lack of reliance on satellites and the fact that it literally goes underneath missile defenses make it a slow but inevitable death. Critically, this is a diversification of Russia's nuclear deterrence. It is not a replacement for submarine launched missile and Russia is still planning to completely replace remaining older ballistic missile submarines with the new Borei-A (NATO: DOLGORUKIY Class) boats.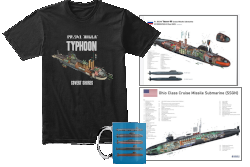 Covert Shores Posters, T-shirts, Mugs
and more featuring exclusive Covert Shores original artworks and design...Available on TeeSpring

This may help cover the overheads of the website

Russian official sources have repeatedly positioned it as a multi-purpose system with a tactical nuclear anti-ship role, shown striking carrier battle groups. Its usefulness against moving targets is less clear, but it must all the same be taken seriously. If anything this tactical-nuclear role makes countering this system more pressing since it undermines the traditional / mutually assured destruction' (MAD) argument for not developing direct counters.

Spy submarine: Seabed Warfare Capabilities
The special missions of Russia's seabed warfare submarines is shrouded in secrecy. It is often discussed in euphemism by the defense community. They are referred to by terms like "seabed warfare" and "underwater engineering." In layperson's terms this means laying sensor networks on the sea floor, and possibly wire taps on internet cables. Belgorod will act as a host submarine (aka mother ship) to smaller submarines engaged in these activities.

Russia is planning a new network of naval installations in the Arctic. Principally among these is the Harmony sensor network (loosely like the famous US Navy SOSUS system) on the sea floor.

The logical aim is to provide Russia with real-time tracking of the latest NATO submarines operating in northern waters. This addresses the NATO submarine advantage head-on and would allow persecution of prowling US-UK nuclear powered attack submarines. In doing so it should improve survivability for Russia's own nuclear armed strategic submarines.

The seabed elements will be laid and maintained by the Russian Navy's special mission midget submarines. The Russian term for these is "Autonomous nuclear deep-water stations" (avtonomnoy atomnoy glubokovodnoy stantsii), or AGS. This acronym has found its way into western terminology.

The AGS carried by Belgorod will likely include the 70m long 'Losharik' (AS-31) and 55m long PALTUS boats (AS-35 and AS-21). Although the dimensions sound respectable for most country's submarines, these are nuclear powered and very small on the inside. And because they use a much larger host submarine, like Belgorod, to carry them to their target they are generally considered midget submarines.



AS-31 Losharik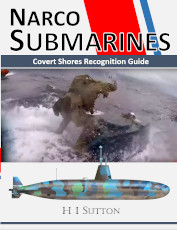 The World's ONLY Guide to
Narco Submarines
10 years of research, analyzing over 160 incidents, condensed into a handy guide. This unique book systematically breaks down the types and families. With detailed taxonomy, recognition 3-views, profiles and photos. Available on Amazon



Belgorod will also carry a Klavesin-29-M (Клавесин-2Р-ПМ, also known as Harpsichord) autonomous underwater vehicle (AUV). On 1st March 2018 the Russian Ministry of Defense published computer generated images of a Klavesin-2P-2M launching from Belgorod (http://vote.mil.ru/vote/oms.htm). The vehicle is launched from a wet-hangar on the submarine's back which was originally used to house a towed communications buoy. The images were actually first used by Rubin design bureau, who designed both the Harpsichord and the Belgorod submarine, in 2016: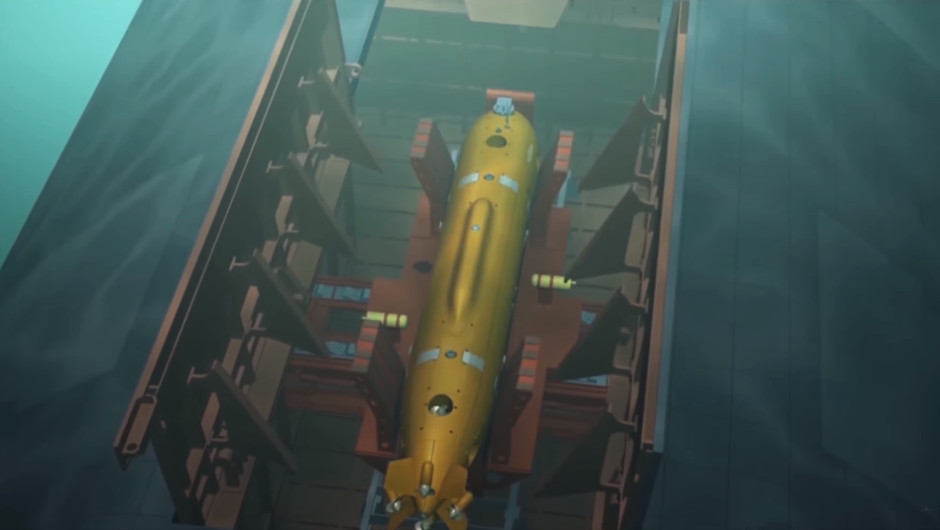 Russian MoD computer generated visual of a Klavesin-2P-PM AUV in the open hangar of Belgorod.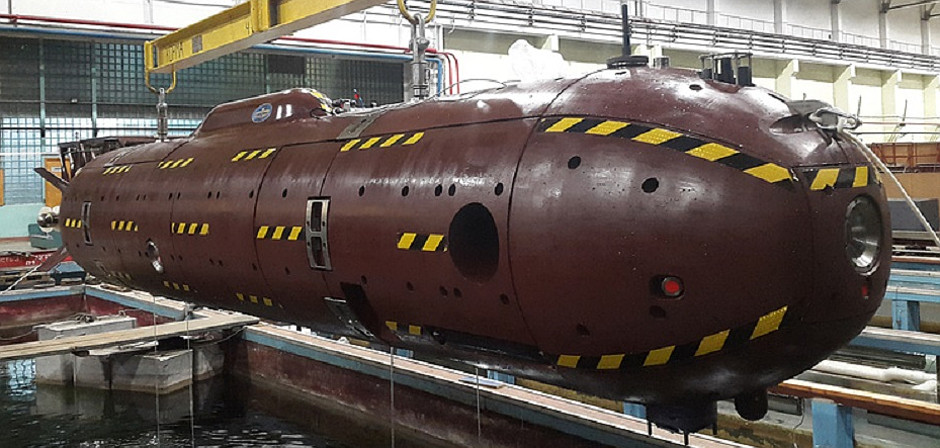 The Harmony network will consist of a multiple sonar arrays analogous to the famous US Navy SOSUS system (actually nothing like the vintage SOSUS in technology terms but a convenient analogy). Belgorod will carry elements of this network in the payload position on its back.

Russian sources have linked the payload to a self-contained nuclear power plant known as Shelf (ШЕЛЬФ). This may be used as a power plant for parts of the Harmony network.

Shelf developed by NIKIET, part of Russian nuclear energy agency ROSATOM. It is not yet clear if the SHELF refers to the power plant itself, a submarine project or the sonar system. But a hint is in the name: Russia commonly refers to the Arctic Ocean area by the geographic term Shelf because of a steep drop off into a Basin under the ice.

SHELF is an Automated ATGU (Атомная турбогенераторная установка: Nuclear Turbine Generator). It is 8m diameter by 14m (26ft X 46ft) 335 ton pressure container which can withstand being placed on the sea floor. The arrangement is described as an Energykapsule by the manufacturer. It can also be placed on dry land and has a range of potential military and civilian uses. It can be placed on the seabed to provide power for the Harmony sensor network or other sea floor infrastructure.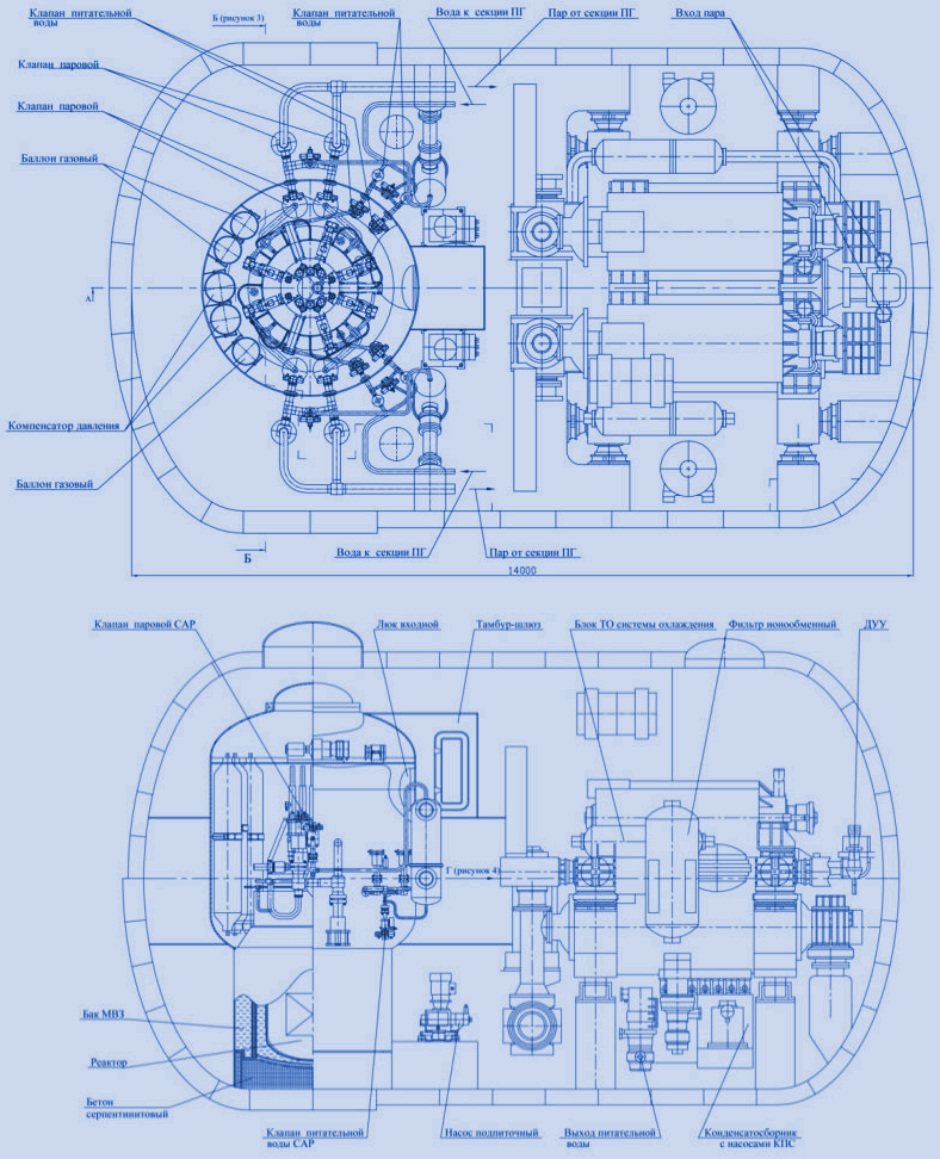 According to NIKIET the integral reactor allows for a simplified arrangement of the circulation path, reducing flow resistance and providing a relatively high power level when operating on natural circulation (at least 65% of the max). Official sources quote the power output as 6.4 megawatts, which is far more than would be required by a sonar network. Earlier NIKIET sources quoted a smaller low-density figure of 44 kW / l which would fit with the sensor network role. It has moderate heat fluxes and significant reserves of coolant boiling.

Another reactor design bureau, OKBM, is working on a much larger 'Underwater Uninhabited Nuclear Power Modules' (ПНАЭМ = PNAE) complex named 'Gidropress' (ГИДРОПРЕСС). The scalable 10-50MW reactor uses a lead-bismuth cooled fast reactor based on technology developed for the famous Project 705K ALFA Class submarine.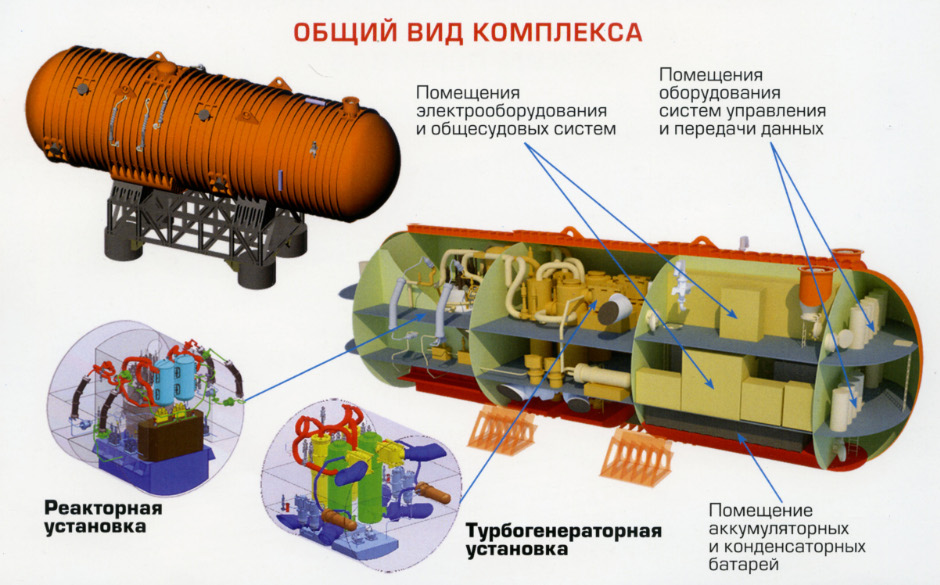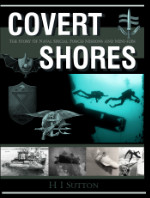 THE book on Special Forces subs Covert Shores 2nd Edition. A world history of naval Special Forces, their missions and their specialist vehicles. SEALs, SBS, COMSUBIN, Sh-13, Spetsnaz, Kampfschwimmers, Commando Hubert, 4RR and many more.
Check it out on Amazon

Deep-Submergence Rescue Vehicle
A Project 18270 "Bester" Deep-Submergence Rescue Vehicle (DSRV) can be carried in a cradle on the back.

The cradle and DSRV has been observed fitted to another Special Missions host submarine, BS-64 Podmoskovye. Additionally the outline of a DSRV-shaped object was visible on the back of Belgorod in the Nov-19 2015 slide 'leak' of Status-6 (now known as Poseidon). This silhouette of Belgorod has proven accurate so it should be taken as a strong indicator that Belgorod is also intended to carry the DSRV.

There are two interpretations to this capability. The first is that the DSRV will itself be used for placing or maintaining installations on the sea floor. The second is that the DSRV may be carried to provide a means of rescuing the Losharik or Paltus AGS if they get into trouble.

In support of the first, Malachite design bureau has shown concept artwork of the Bester working with new undersea infrastructure in the Arctic. The artwork was part of Project Hydraulic with the main customer as the Ministry of Industry and Trade (of the Russian Federation).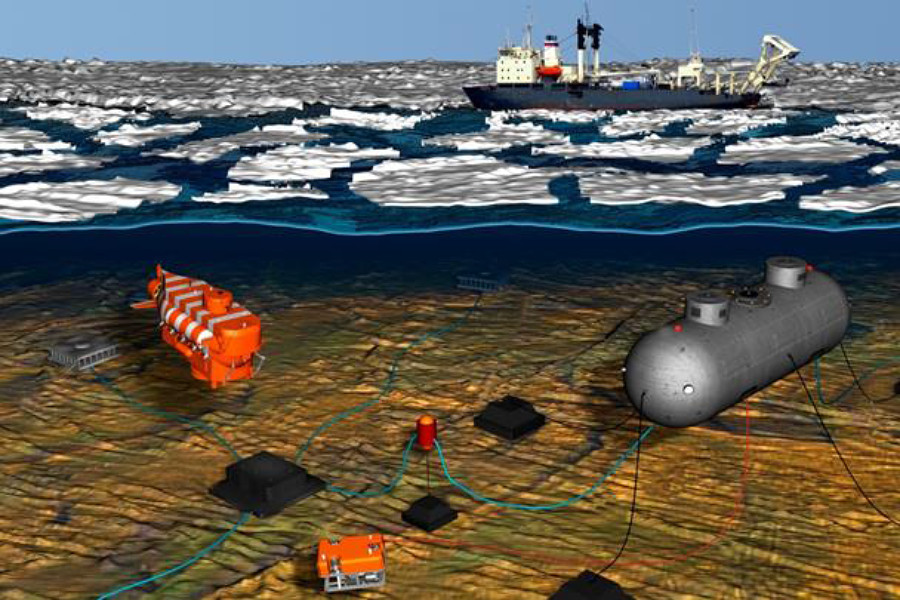 ---
Related articles (Full index of popular Covert Shores articles)



Russian Losharik spy sub



Yantar spy ship loitering over undersea cables



Project 1910 UNIFORM Class deep diving spy sub



USS Halibut. w/Cutaway



USS Seawolf (SSN-575)



Russian X-RAY Class spy sub



Russian Sarov experimental sub



Harpsichord (Klavesin) AUV



Project 09851 Khabarovsk Class Submarine. w/Cutaway



BS-64 Podmoskovye Special Mission (spy) Host Submarine



USS Jimmy Carter (SSN-23) Special Mission submarine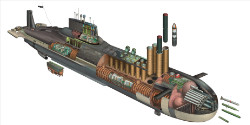 TYPHOON Class SSBN. w/Cutaway



Malachite Arctic Submarine concept



NR-1



USS Parche spy sub par-excellence. w/Cutaway