This article relies heavily on the advice of unnamed others. Information and corrections welcome. Contact the author HERE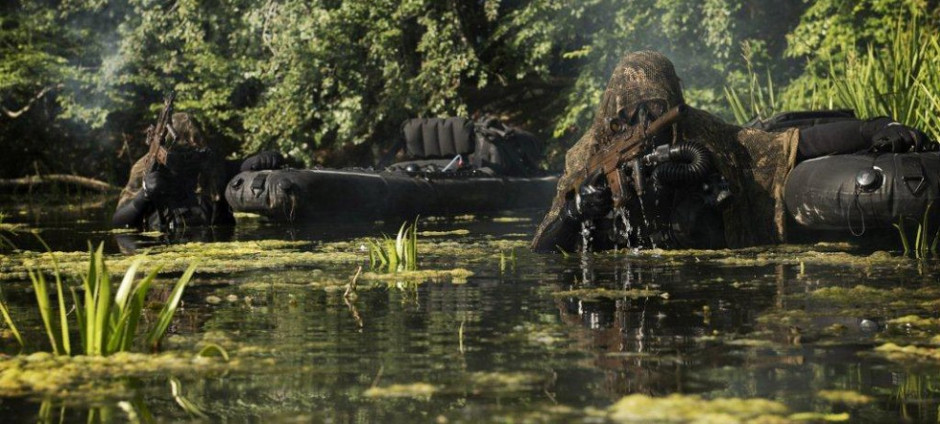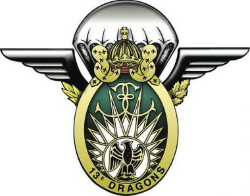 Nautiraid High Pressure Commando Mk.1


The HP (High Pressure) Commando Mk.1 inflatable kayak is currently in service with French Special Forces, particularly the Army's 13e régiment de dragons parachutistes (13e RDP). Although the unit is guarded about its operational equipment, this kayak has had some publicity.

Nautiraid have a long tradition of supplying kayaks to the French armed forces, with the SB Commando MK VI two-man kayak currently in service. The firm has enjoyed modest export success with its products competing with the ubiquitous Klepper Mk.13, US designed Long Haul Mark II Commando and British designed Wayland Mk.II Formoza 550XL Combat. The HP Commando is a unique product however and does not face very much direct competition.

The single seat craft is most suited to inland waterways, being particularly suited to the tropics where it can be used for long range reconnaissance. The fundamental advantage of the design is that it can be air-dropped with the commandos. France pioneered air-dropping regular folding kayaks but this was problematic inland where the kayaks could land in a tree or too far from the men.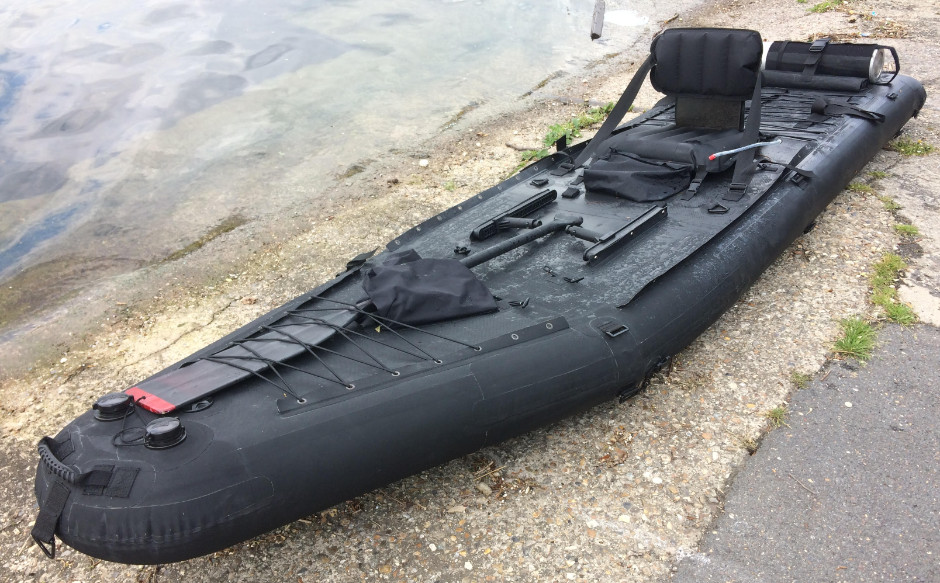 Once landed they are inflated with a 7L air SCUBA tank, which takes about 3 minutes. It is made of the same strong rubber as the CRRC (Combat Rubber Raiding Craft) which makes it quite robust. When the operators approach the Mission area they can sink the craft and hide it underwater. For this, there is a large valve at the front that enables the operator to quickly deflate and dissimulate the craft. Once the mission is accomplished they can recover the inflatable with the help of the second air tank.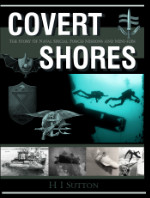 Learn EVERYTHING about Special Forces subsCovert Shores 2nd Edition. A world history of naval Special Forces, their missions and their specialist vehicles. SEALs, SBS, COMSUBIN, Sh-13, Spetsnaz, Kampfschwimmers, Commando Hubert, 4RR and many more.
Check it out on Amazon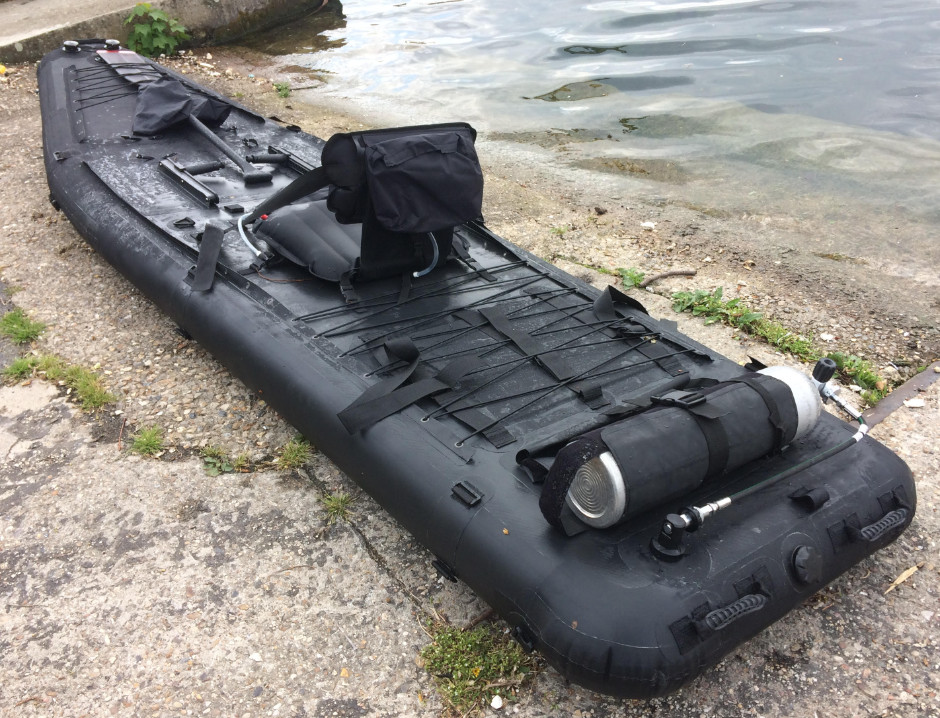 It is quite stable and it is possible to stand on it like a paddleboard.

Specification
Length: 3.5 meter
Beam: 1 meter
Draft: >0.2 meters
Weight (without air flask): 20 kg
Crew: 1
Cargo: 300 kg
Speed: TBC
Propulsion: normally human only, but sometimes fitted with electric motor
Armament: Infantry weapons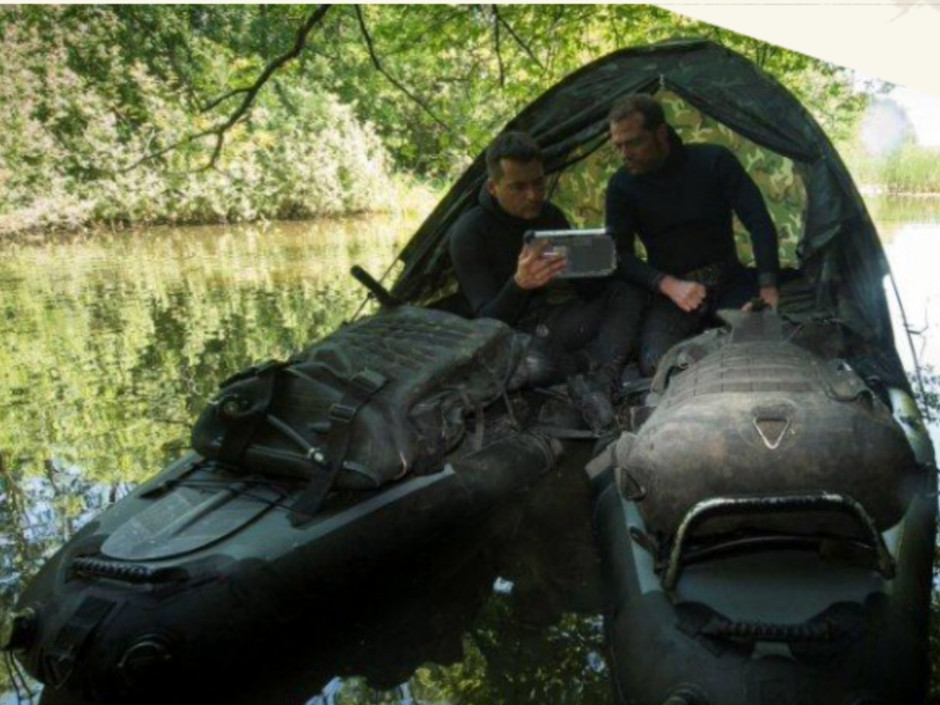 ---
Related Articles


USASOC folding kayaks


CIA maritime equipment - 1958
Return of the military canoe



Surface boards



DGSE's SDVs



Sphyrene and Coryphene SDVs



SWUV (/ PSM3G) advanced SDV



Rotinor BlackShadow 730 and Divejet 414 Diver Propulsion Vehicles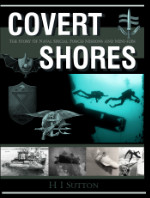 THE book on Special Forces subs Covert Shores 2nd Edition. A world history of naval Special Forces, their missions and their specialist vehicles. SEALs, SBS, COMSUBIN, Sh-13, Spetsnaz, Kampfschwimmers, Commando Hubert, 4RR and many more.
Check it out on Amazon






World survey of Special Operations Craft



WP-18 Tactical Strike Craft



Styx riverine Special Forces craft


Special Forces Jet Skis


Narco Subs 101