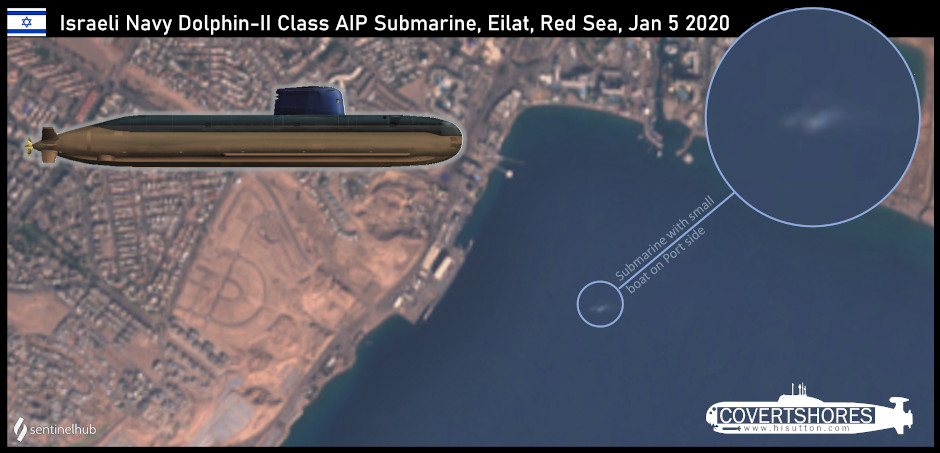 CLICK for HIGH-RESOLUTION image.

Israeli Submarine In Rare Deployment South Of Suez

An Israeli Navy Dolphin-II Class submarine has pulled in to Eilat, Israel's only Red Sea port. This is significant as it allows the Israeli Navy to deploy the submarine to the Red Sea, Indian Ocean or even Persian Gulf without first having to go through the Suez Canal.

Reports suggest that she passed through the Suez Canal on December 19, so she will have been in the Red Sea for over 2 weeks.



Image from shai levy (שי לוי) (Twitter)

The Dolphin Class are seen as the most potent vessels in the Israeli Navy. They are rumored to be equipped with land attack cruise missiles. These may have nuclear warheads and form part of Israel's deterrence.



Like the preceding Gal Class the Dolphins are a German submarine design. Planning for the replacement of the Gal Class started in the mid 1980s but was put off in the 1980s. During the 1991 Gulf War Israel was on the receiving end of Iraqi ballistic missiles. It transpired that German firms were partly responsible for supplying critical technologies to Iraq. For this an other economic reasons the German government decided to fund the Israeli replacement of the Gal Class. The new submarines would be far more advanced than the then-standard Type-209 submarines. Three Dolphin-I Class submarines were acquired and entered service from 1999; INS Dolphin, INS Leviathan and INS Tekumah.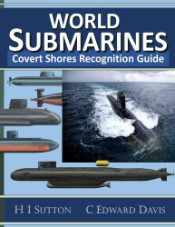 Get The essential guide to World Submarines
This Covert Shores Recognition Guide Covers over 80 classes of submarines including all types currently in service with World Navies.
Check it out on Amazon

The Dolphin-II class were improved, most significantly with the addition of Air Independent Power (AIP). The fuel-cell system is similar to that aboard the German Type-212A subs. This required the hull to be lengthened behind the sail which is the main identification features compared to the Dolphin-I.

Since publishing, additional photographs have come to light. Red.C Eilat News https://www.facebook.com/red.c.eilat/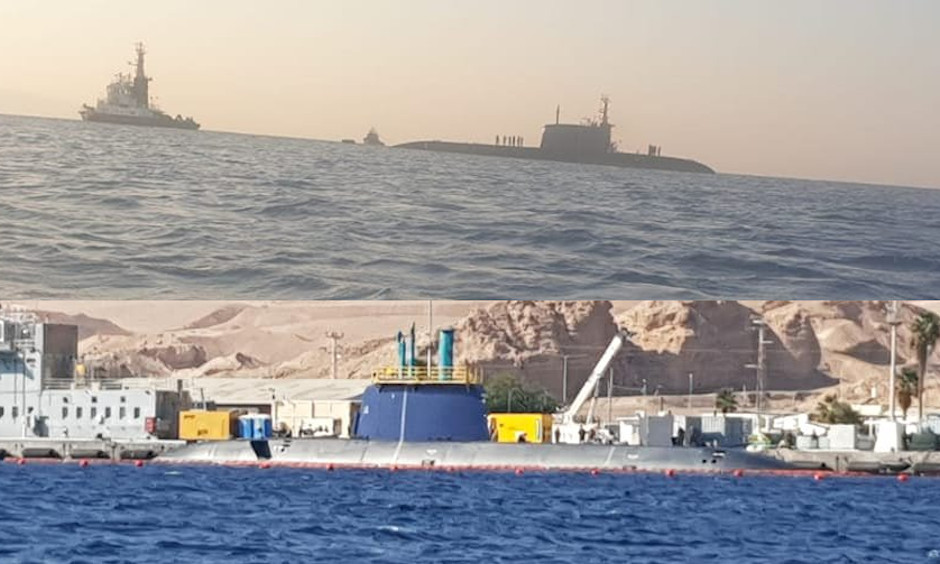 Dolphin-II Class Specifications
Displacement: 2,050 tons surfaced, 2,400 tons submerged
Length: 68.8m (226 ft)
Beam: 6.8 m (22 ft)
Draught: 6.2 m (20 ft)
Speed: 25 kts submerged
Test depth: At least 350 m (1,150 ft)
Complement: 35 + 15 passengers
Armament: Six 21" (533mm) torpedo tubes and four 26" (650mm) torpedo tubes. Twenty-one rounds in total including Seehecht torpedoes, Sub-Harpoon anti-ship missiles and Popeye LACMs,


Israeli Dolphin class submarines can carry a Special Forces hangar. This is believed to be the Italian-built Deep Guardian Shelter. Israel has a long-standing connection to Italian special forces and their suppliers. This includes CABI Cattaneo who build the Deep Guardian shelter. The submarine does not appear to have had the hangar fitted when she sailed in to Eliat.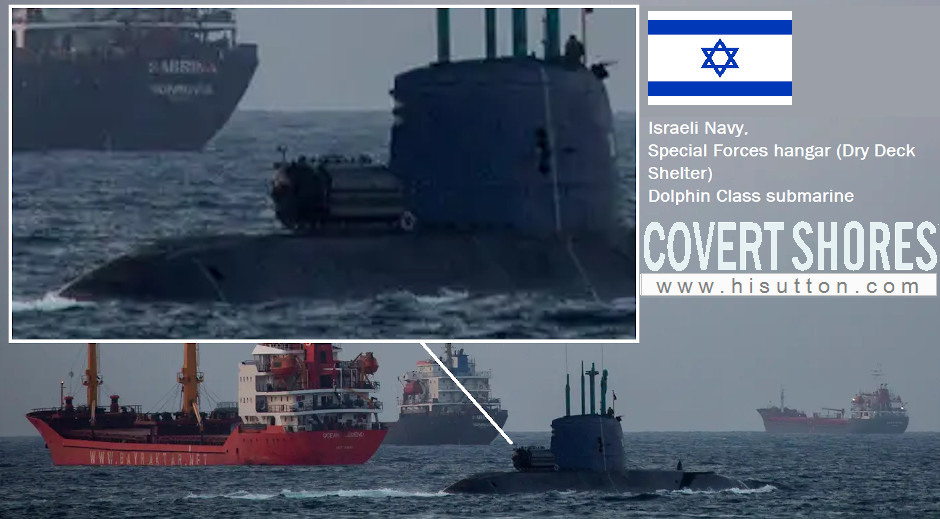 ---
Related articles (Full index of popular Covert Shores articles)



History of Israeli subs



Indian design for a Coastal Submarine for Special Forces



Iranian Fateh Class submarine w/Cutaway



Chinese Type-093 Shang Class Submarine




Type-212 AIP submarine w/Cutaway



A-26 Blekinge Class attack submarine. w/Cutaway


Explosive Boats world history


LTTE Sea Tigers' sneak craft and midget subs






World survey of Special Operations Craft



Deep Shadow SDV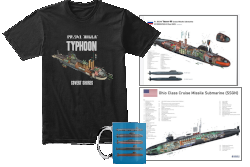 Covert Shores Posters, T-shirts, Mugs
and more featuring exclusive Covert Shores original artworks and design...Available on TeeSpring

This may help cover the overheads of the website