Share: _ _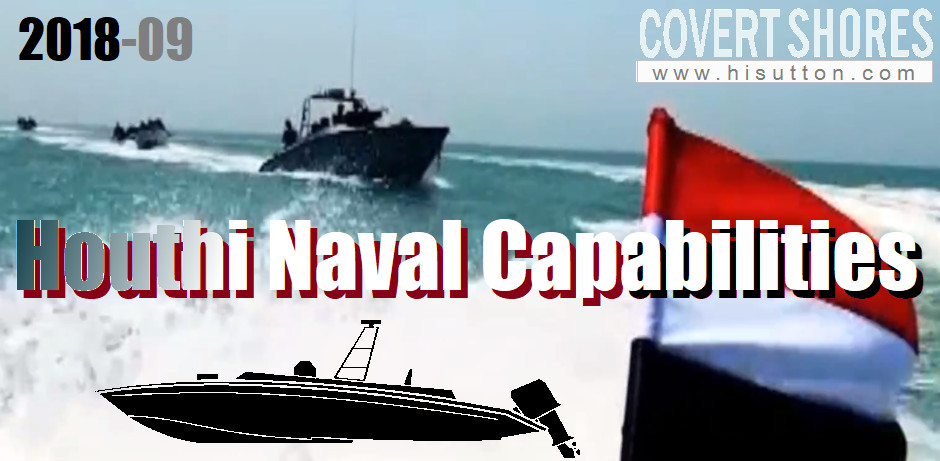 The Houthis have increasingly adopted an asymmetrical naval doctrine focusing on small boats and shore based anti-ship missiles. They have been aided and influenced by Iranian forces. The strategy has scored some modest successes but the advantage remains with the well-equipped Saudi-UAE coalition.

Blow Fish Low Profile Vessel (LPV)
On 7th September 2018 Yemeni naval forces intercepted a Houthi forces unmanned surface vessel in the Red Sea. The craft was stopped and steered to a deserted beach, where it was reportedly later destroyed.



The low profile vessel was reportedly laden with explosives suggesting that it was to be used to target shipping in the Red Sea. Alternatively it was being used to ferry supplies, or was intended to attack ports.

Although it bears some resemblance to craft built by LTTE in Sri Lanka, the vessel appears custom built with features which suggest that it is designed to run very low in the water, similar to a narco-sub. The open cockpits suggest that it can carry combat swimmers in addition to explosives. It is powered by a single 200 hp outboard motor, and is reportedly capable of 30 knots.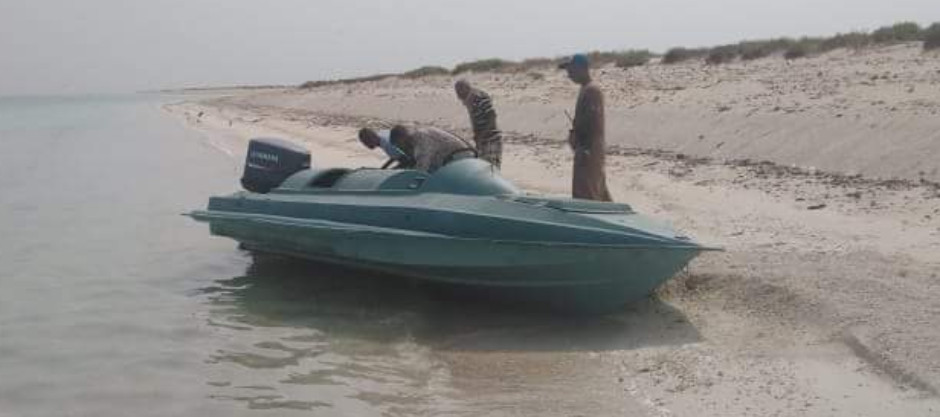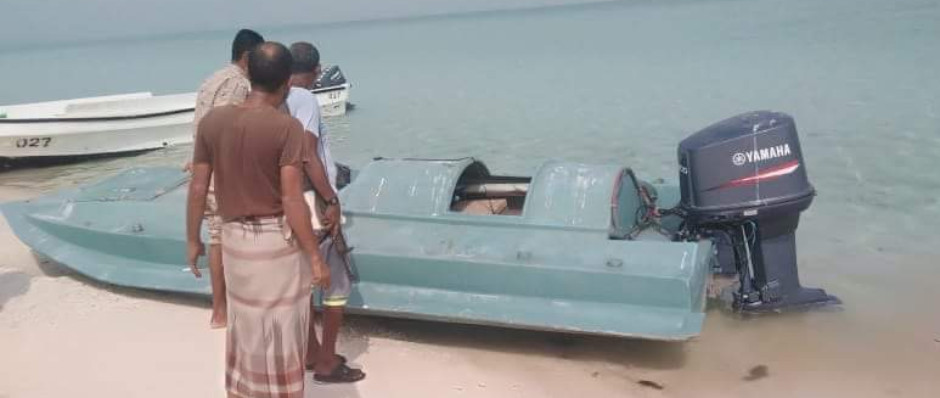 Update: A second example was found in July 2019. Article HERE.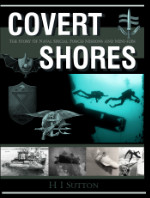 THE book on Special Forces subs Covert Shores 2nd Edition. A world history of naval Special Forces, their missions and their specialist vehicles. SEALs, SBS, COMSUBIN, Sh-13, Spetsnaz, Kampfschwimmers, Commando Hubert, 4RR and many more.
Check it out on Amazon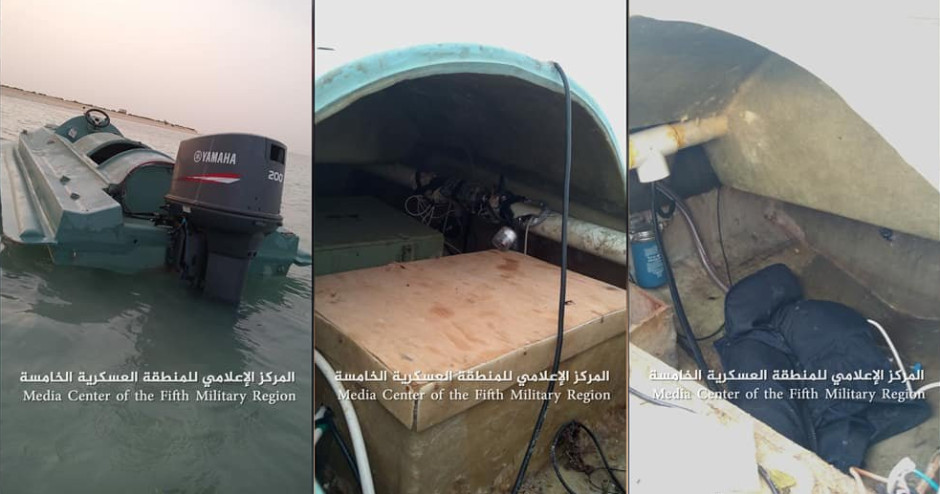 Explosive Boats



The attack on the Saudi Frigate al Madinah in the southern Red Sea on 29th January 2017 was carried out by a remotely operated explosive boat. The boat hit the stern of the frigate, killing two sailors and wounding three. These vessels are termed Water-Born Improvised Explosive Devices (WBIEDs) by some sources. Captured examples, which appear consistent with one another, are conversions of 10 meter boats made in by Al Fattan Ship Industry in UAE. According to Conflict Armament Research (CAR), the UAE donated 60 boats to Yemen before the outbreak of the war.



Explosive Boat specifications
Length: 10 meters
Beam: 2.3 meters
Draft: 0.43 meters
Crew: n / a (originally 2-3 when crewed)
Speed: 45 knots maximum, 35 knots cruising
Propulsion: 2 x 200hp L200A Yamaha outboard motors with 165 US Gallons of fuel
Warhead: 1 x 454kg hollow charge warhead from P-15 Termit (SS-N-2 STYX) anti-ship missile

Houthi explosive boats have been used to target warships (29th January 2017 and 26th April 2017) and ports (30th Jul 2017).

1. 2. 3.

1 & 2. Attack on the Saudi Frigate Al Madinah (702), 30th Jan 2017. 3. Aftermath of attack on UAE Nvy in Al-Mocha, 30th Jul 2017.



10 meter patrol boat from Al Fattan Ship Industry, UAE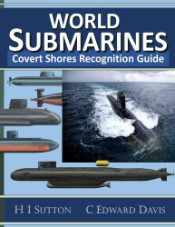 Get The essential guide to World Submarines
This Covert Shores Recognition Guide Covers over 80 classes of submarines including all types currently in service with World Navies.
Check it out on Amazon

Sea Mines



Sea mines pose a serious risk to shipping transiting the Red Sea and visiting Yemen's ports. The port of port of Hodeidah was targeted in mid-2017. They also pose a danger to local fishermen, with reports that eight were killed by a Houthi sea mine near Midi in February 2017.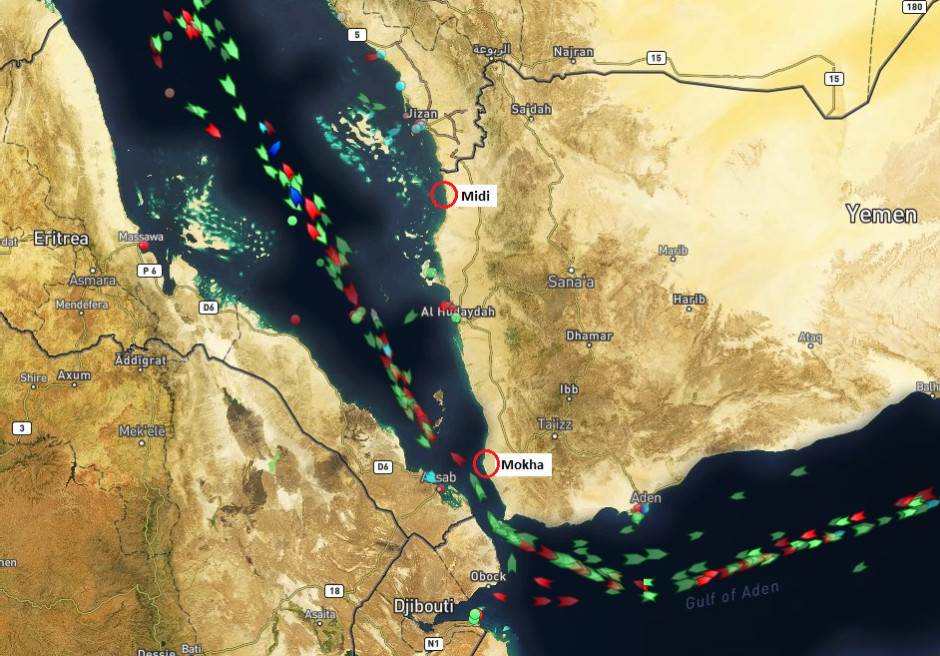 A real-time snapshot of Red Sea traffic from MarineTraffic.com, 25th March 2017

The main types are the KS-1 and Mersad (KS-2) moored contact mines which are manufactured locally by 'CMI'. Production started at least as early as January 2017. The two types are similar, differing only in details.



Click for related article: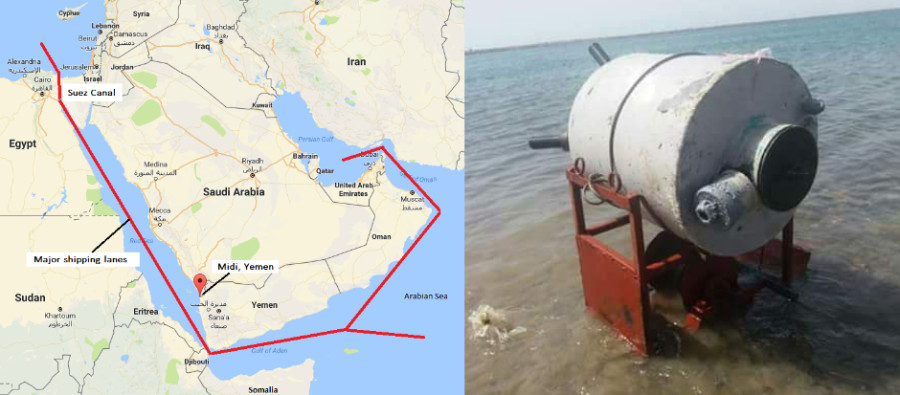 Combat Swimmers



The Houthi forces maintain at least one combat swimmer units. This unit uses regular civilian diving equipment and open-circuit ('air scuba') breathing apparatus. The unit can be used to help place mines, and for limited reconnaissance and shore raiding missions. They are equipped with regular AK-74 series rifles.



Other vessels



10 meter UAE built patrol boat being used as a gunboat

None of the Yemeni Navy's warships are serviceable. Houthi forces do use a number of small boats as regular patrol and reconnaissance craft however.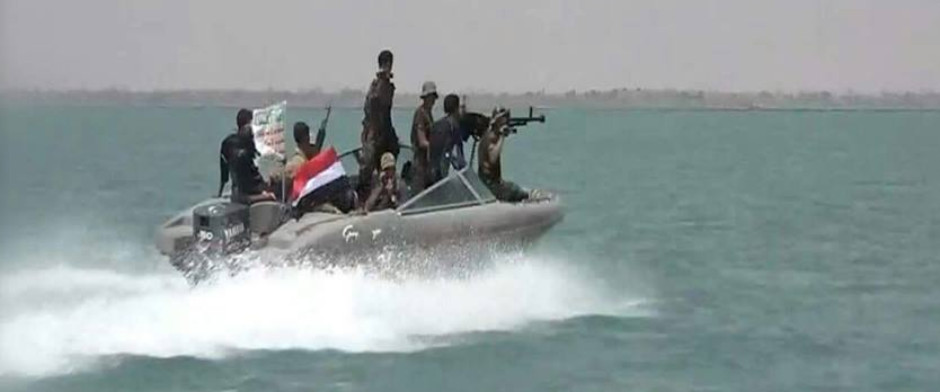 Civilian model speed boat being used as a gunboat

---
Related articles (Full index of popular Covert Shores articles)


Explosive Boats world history




CCH (Combat Craft Heavy) SEALION and Alligator Semi-Submersible Boats. w/Cutaway


Armored Stealth Boat used for car smuggling by Chinese organized crime


Narco Subs 101


LTTE Sea Tigers' sneak craft and midget subs






World survey of Special Operations Craft



WP-18 Tactical Strike Craft



Styx riverine Special Forces craft



Barracuda Special Forces interceptors


Special Forces Jet Skis



North Korean Very Slender Vessels (VSVs)